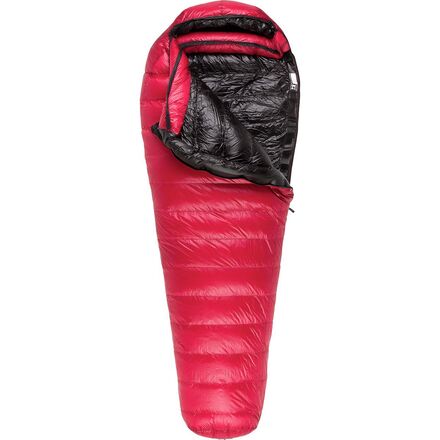 Community Images
Description
Low weight rules in the big mountains.
Climbing or traversing technical pitches with a massive load dangling behind you is a bad way to go through life. Western Mountaineering created the Alpinlite 20-Degree Down Sleeping Bag for alpine climbers and weight-obsessed backpackers who demand top-shelf quality and bottom-line weight savings. Though it packs the warmth of 850-fill goose down and a full draft collar, the Alpinlite 20 weighs in at just over a pound.
Highly breathable nylon shell fabric expels perspiration so that it doesn't condense in the down insulation and cause it to clump
Ultra-premium 850-fill down insulation retains your body's warmth and provides a higher warmth-to-weight ratio than any synthetic-fill insulation
Continuous baffles and a down-filled collar prevent energy-sucking drafts from zapping your slumber
Wider shoulder girth allows for extra layering in colder environments
Western Mountaineering bags are made in the USA
Share your thoughts
What do you think of the
Western Mountaineering
Alpinlite Sleeping Bag: 20 Degree Down
? Share a...
Might Ruin Your Climbing Trip
Familiarity:

I've used it several times
When Western says they only make quality products they are not lying. After 6 years of owning another down bag which was -20, I sold it an splurged on this one. How do you go from -20 to 20 and still intend to do mostly the same activities? Let me try to explain.

People tend to get hung up on the temperature ratings and this can create a lot of confusion. Instead I try to focus on the amount of down used, the quality, and how much room is in the bag. With Western its fairly easy because they only use good 850+ down. From there I look at competitors. Top quality competitors are using around the same amount of down to achieve this "20 degree" rating, 19 0z of down fill, some even get lower then 20 degrees with same amount of down fill.

More room = more comfort which also means its harder to heat and keep the heat in that dead space. I am a wider person by nature and therefore I needed this bag versus the other 20 degree bag from Western called the Ultralite. So the Ultra Lite has less room (shoulder circumference of 59" versus 64" with the Alpinlite) which means its easier to heat up but, not comfortable for someone my size 5'8" 200 lbs.

So around 19 oz of fill and a shoulder circumference of around 64" at 6' long because I need to be able to dry out extra clothes at night inside the bag, and or boot liners. This formula puts me in a comfortable bag that I can roll around in and within the temperature range I really want to use it in which is 0-40 degrees Fahrenheit.

Now which bag weighs the least and packs the most? On any camping trip where the tarp and sleeping bag are being used weight is instantly an issue. Add climbing ropes or skis and my poor little 35 L climbing/ski pack is crying at the site of my gear splay which I fully intend to stuff inside that bag. Look at a few other competitors out there in the same temperature rating, fill weight, and price point. Its almost impossible to find one that has the same shoulder circumference, can use only 19oz of down, and keep the weight under 2lbs. This is why Western bags cost a little more and in my opinion are the best out there.

So how do I plan to use it on 0 degree nights? By various layers and sleeping pads.
1. If its 0 degrees you have an insulated jacket and a fleece most likely. Wear that inside the sleeping bag and instantly its warmer in there. If it is a big belay parka then I would drape that over the bag as opposed to going inside as it will compress the down in the jacket and bag losing loft. Why waste all that weight to only use those layers on the climb or hike? Boot liners also great to toss in there. Sure you lose some of the comfort promised but, you get to use a lighter 20 degree bag in 0 degree temps.
2. Sleeping pads MATTER! On warmer nights I only roll with my Z-Lite foam pad, colder nights in the snow I use the NeoAir XTherm air pad and on really cold night, I use both.

I will say take this review with a grain of salt as temperatures and what is comfortable or acceptable is different for everyone. If it gets really cold, I might have a cold night which would suck but, its worth it to me to find that perfect balance and push the limits of the bag. Because it compresses so small and is so light, the chances of a successful climb go way up. With a smaller compressed bag, I can still use my lightweight climbing pack which means I dont need to carry two packs, a summit pack and the 60 L to carry everything to high camp. It being light matters a lot in regards to how my legs feel the next day. To push these limits of temperature ratings and what I can get out of 19oz of down I feel you can only use the best which is Western.

Picture is taken from CMC Camp with Grand Teton in the back round. The West is on fire and it produced a bunch of haze obscuring much of the landscape.

If you have anymore questions feel free to send me an email or call!

Bill Porreca
bporreca@backcountry.com
801-736-6398
Might Ruin Your Climbing Trip
Familiarity:

I've used it several times
Part 2! Site wouldnt let me finish my essay in one review!

Side notes about the company. Bags are made in the USA! They will re-stuff the bag full of down after years of use for a nominal fee. They will also over stuff bags to boost the warmth rating, and can be specific about where that extra down goes, like in a foot box . The re-stuffing of the bag after 20 years of use sold it for me, its not a heavy price tag at that point, its an investment into years of successful climbs and skis descents.

Definitely invest in a dry compression sack. My favorite is http://www.backcountry.com/sea-to-summit-ultra-sil-event-compression-dry-sack at 6' it requires a Small size. Another option is http://www.backcountry.com/outdoor-research-airpurge-dry-compression-sack which Is what I used in the picture, 8L. The ODR ones are tough to stuff though as the opening is really small compared to the Sea to Summit.

The bag comes with a stuff sack (not compression) and a storage bag. Dont keep the bag stuffed while at home, use the storage sack it comes with, keeps loft of the down longer.

So how will it ruin your climbing trip? Woke up at 3am for an alpine start, couldnt bring myself to get out of the bag. The bag was just too comfortable, even on just a foam pad. Told my climbing partner that I was going to lay down real quick after my bowl of oatmeal and fell asleep for another 2 hours. I was in charge of the alarm.

If you have anymore questions feel free to send me an email or call!

Bill Porreca
bporreca@backcountry.com
801-736-6398
Best sleeping bag
Familiarity:

I've used it several times
This sleeping bag is perfect. With a stuff sack this things packs down really small. Weighs close to nothing and is super comfortable. On this last trip all of my friends wanted to check this thing out. Every time I went back into my tent I caught my wife inside my sleeping bag instead of hers. Looks like I'm going to have to buy her one too!
Boyfriend loves it!
Gender:

Male

Familiarity:

I gave it as a gift but have feedback to share
I bought this bag for my boyfriend, Logan, for his birthday this year. He just got back from a climbing trip in Alaska and said this is the best bag that he's ever owned. He and his friends camped on the Pika Glacier for about a week where he slept in the Alpinlite on the glacier, in a tent on a bivy ledge, and next to a river on the hike out. He was super stoked to be able to pack it with him to take up on a climb in order to bivy on a ledge. One of his friends brought up a half bag and a down jacket for the bivy because he couldn't fit a full sleeping bag with his climbing gear. Logan was able to pack down the Alpinlite enough to fit it into his climbing pack and it kept him warm the whole night :) This is the perfect bag for any climber that is concerned about weight but still wants to be warm!

Logan is 6'4" and the 6'6" bag is perfect giving him just enough extra space in the foot region. I chose this bag over the WM Ultralite because Logan has broad shoulders and likes to move around in his sleep.
How small does the large pack down to?
As small as any other good bag. If you have a compression sack, even smaller.
I've got this bag and stuff it in a Medium Sea to Summit 14L eVent bag. It packs down to about 4L.
I am just spreading the good news:
Familiarity:

I gave it as a gift but have feedback to share
"Having spent 3 months living outdoors, I could not of stayed sane without this bag. It instantly produces warmth and traps in body heat all night, while its breathable fabric wicks out your sweat. The extra lofty feathers makes your outdoor campsite feel like you are sleeping within a cloud. The bottom foot box provides just the right size to help trap in heat where the shoulders has extra room to move around and stretch out. I'm 5'4" and believe it or not went with the 6' bag and really enjoy the extra space. The best part of all is this bag tucks down into a small and super light travel sack.
The extra money I would normally not be interested in spending was well worth the investment, and will provide me years of great sleep outdoors."

Eric Watford
Expert Gearhead
ewatford@backcountry.com
801-736-6397
Instagram: @ericwatford
2000+ Miles and still fantastic!
Gender:

Male

Familiarity:

I've put it through the wringer
I used this bag on my thru-hike of the Pacific Crest Trail. If that's your intent, this bag will be amazing! If not, just know that after 5 months of consistent use, I am still 100% Satisfied.


The PCT is like one giant gear review, not just for your own gear, but you get to see how other's work as well. I believe that this bag is not just survivable to 20 degrees, but COMFORTABLE. I had many friends with other bags, some lighter, some not, but most of the bags with equal ratings, just didn't stand up to this one. Forget the mainstream brands, WM temp rates their bags with accuracy and integrity. Everyone I met with a WM bag, loved it!


Not only was I always warm, I didn't wear much of anything inside it for extra warmth. I only set up a tent on nights with chance of rain or too many mosquitoes. Through the cold of desert nights, the high sierra, winds like you wouldn't believe, and the North cascades in the fall, it was easy sleeping. I used a Z-lite pad the whole time.


I've cowboy camped in windstorms strong enough to make a tent useless and this bag keeps the wind out, frozen water bottles on Mt. Whitney with windchill enough to make everything hurt, this bag warmed me up. Condensation frozen on it like an M&M candy coating, still warm.


The black inside is also nice. If you get this bag wet and have more days to spend in it, the black really helps dry it out in a sunny spot.


Sometimes, it was just too warm for this bag, but it works well as a quilt in those circumstances.



After so many nights hiking, dirty, sweaty, day after day, any bag is bound to get dirty. Yes, it will lose some loft to your body oils and dirt. However, down wash and the instructions on the WM website and it is as good as new with no stench.


Sure, this bag costs a pretty penny, but if your sleep is important to you, you can't go wrong here. This bag combines light weight, fantastic warmth, and outstanding american made workmanship, to create a seriously great 3-season bag!

No more cold spots!
Gender:

Male

Familiarity:

I've used it several times
I had a zero degree bag that was too bulky for my backpacking needs, and it had cold spots in the synthetic filling. No more! This bag is incredibly light (I got the long and it's just a couple ounces over two pounds in stuff sack), very small and very warm. I'm perfectly comfortable in 20 degree weather, and although I don't have much occasion to be out in temps colder than that, I'm sure that it would be sufficient with some thermals on in the bag. Expensive, yes, but worth all the money!
Ridiculously light, absurdly warm
Familiarity:

I've put it through the wringer
I use this as an Aussie winter bag, which I guess is '3-season' for northern hemisphere people. Whenever I take an old bag to save wear on this good one I miss it. Loft has lasted very well, but I do store it carefully.
What is the weight for this sleeping bag?...
What is the weight for this sleeping bag? The weight is listed on the Western Mountaineering website as 1 lb 15 oz for the regular, not 1 lb 3 oz as shown here.
http://www.westernmountaineering.com/index.cfm?section=products&page=sleeping%20bags&cat=ExtremeLite%20Series&ContentId=28
Best Answer
Hey Emily,
The correct weights are below:
Short- 1 lb 13 oz
Regular- 1 lb 15 oz
Long- 2 lb 1 oz

We are working to get the tech specs changed on our site.

first and last down bag
Familiarity:

I've used it once or twice and have initial impressions
I purchased this bag for myself as I have gotten into backpacking, and was tired of carrying my overweight and oversized kelty synthetic bag. This sleeping bag is just awesome!!! So warm I end up hanging a leg or arm out in 30*f weather! This bag is light, super small when packed, and one of the truest temperature ratings I've ever encountered. you will not be disappointed with this bag even down to the 10-15*f range.
Sweet bag!
Gender:

Male

Familiarity:

I've used it once or twice and have initial impressions
I'm 6'1" 225 and this is the perfect bag. I considered an Ultralite 20 but VERY happy I went with this instead. I need the room to turn & like the option to keep other clothing inside for something warm to wear in the morning.
I used it inside a double walled tent with a Thermarest Z-Lite SOL Sleeping Pad underneath. I wear merino wool socks inside mine along with "whatever" choice of long underwear as it was in the 20's where I lived. I was in my backyard & just wanted to test everything out. I also wore a 80% polyester/20% nylon blend balaclava; Cordura from Ranger Joes (that I noticed was surprisingly better than the merino wool offering from Smartwool)
Staying warm was not a problem in this bag, and I did not cinch up the available ties (there was no need as I had on a balaclava) No cold spots, even when my heels came off the mat & were in direct contact with the freezing tent floor I'd barely notice it, but I did have to scoot back up on the mat where I belonged. I can't tell you from experience (as it is very rare to get into the teens here temp wise) but I have a confidence I could have done so, but I bought the bag for a 20 degree rating only because that's the worst it gets around here & even then its only for a few days max.

The only gripe I had about my night was traffic noise on the adjacent highway I was not used to hearing from inside the house
One of my favorite pieces of gear I own
Familiarity:

I've put it through the wringer
Truly one of the favorite pieces of gear i own. Super warm, super light, super packable, super high quality construction. What else is there really to say about a sleeping bag? Outstanding in all regards!
Unanswered Question
From OutdoorGearLab:
"Some of the smallest...
From OutdoorGearLab:
"Some of the smallest premium companies, such as Western Mountaineering, source the highest down from geese that aren't live-plucked or force fed; they collect naturally shed down from molting. Some vegans might consider avoiding down down products or purchase them from a company such as Western Mountaineering, that guarantee no harm to animals."

Can anyone confirm this? I didn't find anything about it on http://westernmountaineering.com/
A Roaster
Familiarity:

I've used it several times
This bag is great quality! Western Mountaineering kills it when they make sleeping bags and this bag is as awesome as it sounds, it does, like all down bags, loose down throughout its adventures. All around great bag though except expensive but you get what you pay for!
I love this bag. It has been warm on nights in a makeshift shelter in the 30s. I would feel comfortable taking it down towards that rating in a tent, but not really in a makeshift shelter. Quality of the bag is nice. Packs down small, zippers don't snag often, fabric and baffles feel good. Low weight, yet doesn't feel constricting. Nice bag! Plus made in the USA!
Looking at Western Mountaineering's website, the weights listed on this description are very wrong. I can't rate since I did not buy, but I picked 5 stars as default.

http://www.westernmountaineering.com/index.cfm?section=products&page=sleeping%20bags&cat=ExtremeLite%20Series&ContentId=28
I have been running the Alpinlite for a few years now. I really like the warmth and lack of weight.
The width is a bonus for me, as I am rather broad across the chest(44 coat size)and am a side sleeper.
I haven't had this bag much below 15*F, but in those cases it was still very warm-I have a hunch I could go into the high single digits with just a base layer and wool cap sleeping in the Alpinlite.
I will never part with this sleeping bag.
hi, are you guys getting more small 5'6...
hi, are you guys getting more small 5'6 sizes??? i need one!!!
They should get some at the beginning of next month.