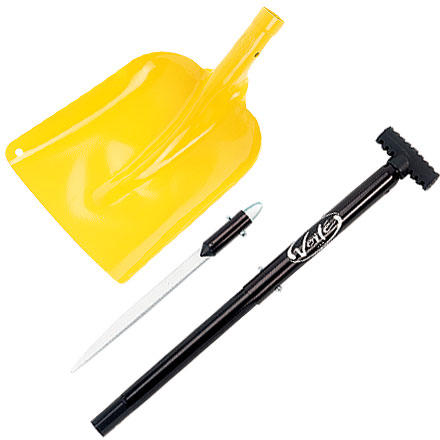 Videos
Description
A pefect tool for when things go wrong, and when you might need to cut something besides snow.
As its name suggests, the Voile T Wood Shovel was designed with a T grip and comes with a saw that can even cut wood. The T handle is more compact for storage in your pack than a D grip, and the shovel's construction is a tad lighter than other models. Inside its shaft, the T Shovel stores a hi-tensile steel saw blade that will cut through just about anything including wood and steel. The saw blade easily attaches to the telescoping shovel shaft for extended reach. This telescoping shovel and wood saw make the perfect combo for backcountry travel and safety.
will this shovel fit in an Osprey Karve...
will this shovel fit in an Osprey Karve 16?
Best Answer
Hey there Coreshot,



I think this should be ok, the dimensions of LxW on this shovel are: 15x10in (38x25cm)



The dimensions for the KARVE 16 are:

S/M Size: 17.5 x 12 x 6.5 inches

M/L Size: 19.5 x 12 x 6.5 inches
Does the saw rattle around.
Does the saw rattle around.
I can say from experience that I have not heard my saw rattling in the handle. I would highly recommend this shovel.
I have had this shovel for 2 years. unfortunately I lost the shovel. Its been rated the Best. and fits easily on the backpack. I snowmobile and sometimes get a ski caught on a tree. Nice to have a strong saw. I am also with Search and Rescue. This shovel is strong and lightweight and makes digging in hard packed snow easy. The holes punches are great if you need to tie off and use as an anchor. Big plus I've noted in looking at other shovels is that is lifetime warranty!
When the shovel is fully extended and in...
When the shovel is fully extended and in function where does the blade site? can it actually be within the pole?
Hey Marcus, the wood saw blade fits inside of the handle, and stays there when the shovel is stowed or in use... the wood saw is used in place of the shovel blade...
Are replacement saw blades available...
Are replacement saw blades available separately?
Yes, Voile sells replacement blades for $20.00.
How wide and long is the blade (scoop)? ...
How wide and long is the blade (scoop)? We placer miners need a deep blade but not too wide like the snow shovels and such. What can you tell me?
I can tell you that it's 15" deep x 10" wide. Are you looking to break it down and pack it around? If not, why not get a d-handled grain or coal scoop made out of either aluminum or steel? You can get them with blades that have about the same specs, and for shoveling gravel, it's a much better tool for the job.
what is the difference between the yellow...
what is the difference between the yellow and the orange packs, apart from the price and colour?
The difference is in the aluminum. The orange uses T6 aluminum which is the strongest aluminum and the yellow uses standard tempered aluminum.

From Voile's site:
T6 is the level of hardness reached in the aluminum heat-treating process for the Voile T6 model avalanche shovel scoop. Avalanche professionals, guides, patrollers, and rescue teams require this level durablity in their avalanche rescue shovel. All Voile T6 avalanche shovel scoops have deadman holes in the scoop to be used for snow anchors or for making a rescue sled.
bomb proof, solid construction, saw comes in handy for doing test in the snow pit, and or cutting branches if needed. A touch heavy but worth the extra oz's in my opinion, now if I could just get the guys that would be digging me out to get the same quality shovel...
How compact is this shovel? will it fit...
How compact is this shovel? will it fit easily in a dakine heli pro pack?
yea the shovel will prob fit. You cnt b certain unless u take the measurments but my friend sed he got his to fit.
It stows a saw and telescopes!
Another great shovel from Voile. This one comes in all flavors of scoops; T6, mini or standard size aluminum. The saw is a fine tooth blade, unlike the T6 avalache shovel which is a coarse rip saw. If you want the options of telescoping handle and different scoop types, get this one. Otherwise the T6 avalanche shovel saw blade is more universal and quicker to saw through wood.
I bought this shovel to outfit myself for back country riding.

I used it a bit to test it out and it seems up to the task. I even used the saw to cut down a pine tree which now sits in my front room with lights upon it.
I use this shovel for building snowboard jumps in the backcountry, and hopefully that is all I will ever have to use it for. I have heard some people mention t-handles being hard to use in comparison to d-handles, I have not had a problem with the t-handle on this shovel especially with gloves on. Plus the t-handle travels much better than a d. Have not had to use the saw yet but it is nice to know it is there, and it is the only one I have found that can cut wood. Highly recommended and its bomber construction feels super solid.
I bought this shovel online so I didn't have the benefit of looking at it first. Frankly, since it was a Voile, I thought it would do fine.
- The T handle is not as nice as the D Handle.
- The little spring clips Voile uses to hold the handle, blade and saw in place can get sprung right out. Fortunately for me I found mine in the snow on the trail of Mt Pierce at the start of the Presi-Traverse and didn't have to use duct tape and bailing wire to hold it together.

Think Twice about this isn't ideally designed with winter backcountry use in mind.