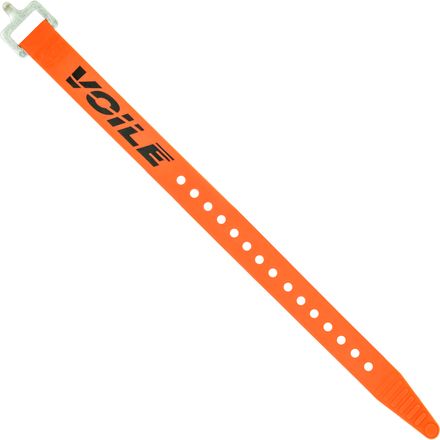 Colors

Detail Images

Community Images
Description
Voile Straps???carry a couple extra, just in case.
No matter how wide your skis are, you're going to be able to find a Voile Ski Strap that'll keep 'em from banging together when you're booting up a ridge or just trying to cross the road after an epic dawn patrol. Made of tough and stretchy polyurethane, Voile straps are much more versatile than duct tape, zip ties, and bailing wire combined.
Does it all
Familiarity:

I've put it through the wringer
Yes these are great for skis, but they can be used for almost anything. Plenty of other reviews have listed their myriad uses and I'll add one more: in the winter I use these while biking to keep my pant cuffs out of my drivetrain.
Good for everything!
Familiarity:

I've put it through the wringer
These straps can be used for WAY more than holding skis together. Here is a list of things I have seen Voile straps used for:

- Strapping bikes together on a car rack so they don't wiggle around.
- Keeping fussy cupboards closed.
- Used as a chest strap on day hike packs that may not have one (see above).
- Compressing all sorts of things: tent bags, sleeping bags, etc.
- A camping essential for strapping random things.
- All things backcountry skiing.

In fact, check out this article of 20 things you can use Voile straps for, in case I haven't convinced you already.

http://www.backcountry.com/explore/you-are-backcountry-20-uses-for-a-voile-strap
It works!
Familiarity:

I've put it through the wringer
It holds my skis together at the resort or carrying them in an A-frame set up. It also holds my bike on my roommate's terrible bike rack! Can't have too many of these little guys.
one all do all
Familiarity:

I've put it through the wringer
i dont think there needs to be much explaining on this, it is simply the best strap ever made, not just for skiing but literally everything. i find myself using these things maybe more than i should but they work everytime!
Essential
Familiarity:

I've put it through the wringer
I typically carry an "oh sh*t" kit for backcountry travel. First aid, a knife, a small multi-tool, and a half dozen ski straps. I've used these to repair ski boots mid-tour, make a hasty ski carry system for a buddy's pack that broke, and immobilize an angry wolverine. The list of uses is endless, buy some, you will use them constantly.
Better than duct tape
Familiarity:

I've put it through the wringer
Voile straps are bomber. They work super well and have a limitless amount of uses. At a whopping $5 a pop, you can have all the sizes and not worry about loosing them. I think that the all around most useful sizes are the 18" and the 24."
Must have
Familiarity:

I've put it through the wringer
Even though these seem very simple they are awesome. They are trough and you can use them for a variety of reasons. Skiing is where I have used them the most, but there are times when they have come in handy when out fishing. I use them a lot to keep my skis together in boot packing sections of the mountains and I use them to fix straps on packs or to make loops for a variety of purposes. I highly recommend these for anyone who spends time in the outdoors because the versatility is endless. Also they are pretty cheap.
The Most Useful Thing on the Planet?
Familiarity:

I've put it through the wringer
Yes. Yes they are. Buy a googleplex of these and start using them for everything. Seriously. Bring 5 in your backcountry kit and watch how you can temporarily fix anything that is broken.
Ski Strap made by MacGyver Himself
Is this a ski strap or an anything strap? I think I use this more for everything under the sun. Specifically securing bikes on hitch mount racks. They work great, are super cheap and tend to last a long time.
Gotta have piece of gear.
Familiarity:

I've used it several times
The more you use it you'll wonder how you got on without one. Use them on my skis and the tip below to secure fatbike tires to the racks is great!
Silly question... do these come as individual straps or as a pair?
Best Answer
They should be sold individually, Laurance. I haven't ever seen them packaged in pairs.
Harrison is correct Laurance, these are sold singly.
Really great at holding stuff together.
Or you can strap your ice ax to your ski pole for a make shift whippet!
Don't leave home without em. You could probably fix the handle on your coffee mug with these guys if it broke. Just sayin'.
Broken oar? no problem
Length matters......
Familiarity:

I've used it several times
Love them! I have the 15inch ones which work great but would recommend the next size up. They work great strapping skis together. I have used them snowmobiling as well as hiking Tuckerman's Ravine as you can see from the pic.

Advice: Don't leave home without them!

If you can see behind me there, I encountered a wild and also untamed gaper in the wilderness.
I dared not approach it directly and was advised not to feed it.

I humbly made my way around it, providing ample space and distance. Yet it fixed it's steely gaze upon my personage and began to follow me with great stealth.

I made conscious efforts to avoid eye contact and refrained from making sudden movement. Making my way atop the barren ridge, I glanced back in fear watching it continue to track me.

It was only miles later that I realized it was after my voile strap.
See - you can determine that the skis of the gaper are not secured at the tips. I had taken the time and care to secure my own skis with my favorite GO-TO piece of essential gear: the exalted Voile strap.

The gaper fixed his beady eyes upon my treasure and pursued me across the ridgetop at great speed. It was only a stroke of sheer luck and my lightweight dynafit setup that allowed me to escape: both with my life and my voile strap.

Moral of the story: You need this in the backcountry.