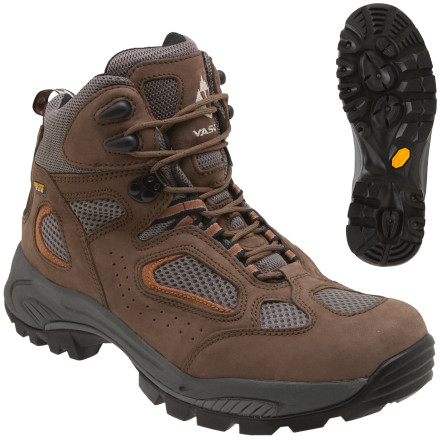 Detail Images

Community Images
It's been raining for the last three days of your backpacking trip, but your feet are still dry and comfortable thanks to the Vasque Men's Breeze XCR Hiking Shoes. Their mid-height tops support your ankles as you hike with your 40-pound pack, and the Vibram Contact soles provide excellent traction on the wettest, slickest trails. A plastic Flexframe 1 Plate separates the Breeze XCR's midsole from outsole. The frame has an excellent forward flex, but limits twisting to keep your ankles stable. Most importantly, the Breeze XCR Hiking Shoes' Gore-Tex XCR linings keep your feet bone dry even when you're slogging through four inches of standing water on the trail.
Outstanding Boots !!
Familiarity:

I've put it through the wringer

Fit:

True to size
Spent a month in Kauai trekking all over the Island, red dirt, mud, up to my calves, sand, salt water you name it I walked in it and these boots were phenomenal !! My feet were completely dry, I wore a sock liner and ankle socks, no blisters, no cracked wet feet, nothing. They performed magnificently and have my highest recommendation !!
Comfortable, breathable, but leaks water




I bought these a few years ago and loved them at first because they were very comfortable, breathability was great, and the curve on the sole near the toes saved a lot of energy hiking. I was quickly disappointed however because i found out they did not keep out moisture at all. At the end of hikes in snow or rain I would have to wring out my socks due to all the water that managed to seep through the gore-tex. Reading the other reviews however this seems to be an anomaly. Bad luck I guess. I ended up buying the Lowa Rangers and have been in love with the brand since.


I got these boots off of a recommendation from my girlfriend who has the women's model. I've had these boots for a little over a month now and am very impressed! I have worn them while snowshoeing, hiking, walking around town, to class, and everywhere in between. My feet have stayed dry and comfortable - often times I forget that I'm wearing them as opposed to running shoes. The stock insole is comfortable as it is but I still prefer my green Superfeet insoles. They are durable, have good grip, are comfortable, and waterproof! I would recommend them to someone looking for a dependable mid-weight hiking/backpacking boot.
Excellent
Gender:

Male

Familiarity:

I've used it several times
I had the Vasque Juxt hiking shoe, but wanted something more supportive, tougher and waterproof for longer trips. After researching at a lot of different boots, I found and liked these, and eventually bought em.



I've used them in light rain, snow, mud and dry trails, and they perform great in any of these. The fabric that connects the tongue to the rest of the shoe does not bunch up to become uncomfortable,but you do have to tuck it in properly. The laces are a good length and easy to manage. The pull loop in the back of the shoe is in the perfect position, some shoes have it too far down that it doesn't work too good.



UPDATE:

I wore them for exploring downstream of a creek. I was able to stand stationary in about three inches of flowing water for about a minute, just because I could. I had no water at all get inside the shoe. Love them even more now
light and comfortable
Familiarity:

I've put it through the wringer
The boots are lightweight and are comfortable right out of the box. I like the support, but not a fan of the grip so much. Slip on anything, even a puddle. You can stomp over a lot of terrain because they are so comfortable but like others mention be weary of the elements. I sealed mine after being compromised several times. Got them on a deal and not bad for the money at all.
Great Waterproof Hiking/Climbing Boot
Gender:

Male

Familiarity:

I've put it through the wringer
I've logged many many miles on these boots guiding in the San Juan mountains of SW Colorado and never had blisters. The Vibram sole is the perfect stiffness that remains comfortable while still being stiff enough to prevent you from feeling every rock on the trail. They offer great support from the flat trail to steep rocky 4th class alpine climbs/scrambles. And the GORE-TEX liners keep you nice and dry on those stream crossings. These are awesome and my only complaint would be if you wear them in a wide range of temperatures (20-deg F to 75-deg F) they are not very warm when it's cold. But they stay cool when it's warm so it's hard to complain.



Disclaimer - I am a product tester for W.L. Gore & Associates Inc. with GORE-TEX and WINDSTOPPER products.
Simple Yet Exceptional Boots
Gender:

Male

Familiarity:

I've put it through the wringer
I've had these boots for about 7 years now and they have seen an incredible amount of use. After all this time the DWR (durable water repelent) has begun to wear off the outer layer of the boots. However, I should have long ago retreated them with a nikwax type substance. The traction is still great, the comfort has only gotten better, and the functionality is still phenomenal.



I am a huge fan of the Gore-Tex liner as I am an avid stream-walker, it kept my feet dry even when the dwr was wearing out (until I started sweating). When the outer layer is soaked through the breathability of the liner is pretty minimal.



I need to declare that I am a member of the Gore Mountaintechs community, meaning I sometimes receive Gore-Tex and or Windstopper gear to test and review. That being said I purchased these boots long before joining this program and I would make the same decision today.



Recently, I've taken up using light hikers for most activities, but anything involving wet or semi-snowy environments makes me pull these out.




Best boot ever
Gender:

Male

Familiarity:

I've put it through the wringer
This boots are the most comfortable boots I ever had, its not totally water proof, but it kept my feet from blistering even after four days of hiking in the rain, I did an 900km hike in this boots in all terrains (45% pavement) with 20lb pack, no foot pain and no blisters.
Long break in
Gender:

Male

Familiarity:

I've used it several times
I am really not a fan of the speed lacers, there are three sets two of which are plastic. Boots in the past with this type of lacing system always seem to get snagged on just about everything. Break in period seemed a bit excessive at approx two weeks of constant wear. Those are really all the negatives I have on this boot. Good traction, breathes well, fairly lightweight for a boot and comfortable after the break in.
BEST Backpacking/Hiking Boots
Gender:

Male

Familiarity:

I've put it through the wringer
I would pay much more for this boot. It's ridiculously comfortable, breathable, and has great value--considering it has Gore-Tex and Vibram soles.
Disappointment
Gender:

Male

Familiarity:

I've used it several times
I purchased these boots with early fall backpack bow hunting in mind. These are the single most comfortable boot I have ever tried on and to my disappointment started leaking water immediately. The first outing sent me on a grueling 3 day bivy hunt with 40lb pack that started out the first day with a 10 mile gaunt through down timber and very steep inclines and declines over rocky rough terrain. The boots gave moderate supportand I sprained my left ankle badly twice. My biggest disappointment came from a small crossing of a mountain side brook. I could have easily stepped over but I wanted to test the boots. My right boot failed first as my feet got immediately wet around the mesh toe area. The left boot did not leak until the next day in a similar crossing. The brook was less than 4 inches deep and never crossed over the top. On my return I had to traverse very steep decline on a rocky trail. I again rolled my left ankle and on the way down developed a sore spot right at the top of the ankle arch. I'm not sure if it was because of rolling my ankle or because my boots were really cinched down while trying to prevent further sprains, however it was extremely uncomfortable. In total I hiked a little over 18 miles in uneven, rough down timber terrain. I really enjoy the "feel" and comfort of the boot. I need a boot that is quiet, breathes well and allows you to feel the ground all while offering adequate support and waterproofing. Although the Gore-Tex failed, the boot did dry very quickly and with the use of a good merino wool sock my feet didn't suffer. I'd like to try another pair but the fact that I injured my ankle will probably deter me for good. I'm shopping yet again for the perfect boot!
I have been wearing my Vasque boots for much of the summer and find them a great hiking shoe. Most of the terrain I am hiking is off trail and on rocky terrain. The boots held up well, provided good traction and kept my feet dry. When I received the shoes, I started to wear them right away with no problems. I have enjoyed these boots and look forward to many more miles in them.


As a disclaimer, I am affiliated with Gore for product testing of Gore-tex and Windstopper garments for the purpose of product review and recommendation. I do receive items from Gore for these purposes.
Vasque Breese & other Vasque boots Sole split problem
My Vasque Breese GTX boots are great, but....
It looks like Vasque changed their manufacturing to China about 5-6 years ago and ever since their boot line is having problems with the sole splitting right at the ball. Some splitting in as little as 3 months. (all the way through the sole) My boots split after 15 months. Vasque waranty is only 1 year. No luck there for replacement. The savor is backcountry with their 100% guarentee. Your can get them replaced / refunded. If you are curios / more info about the problem just do a web search. This has been going on for about 5 years. It doesn't look like Vasque plans on changing there design. Just buy them from Backcountry
okay, but not built for mud or wet
I got these boots and used them on a few treks, probably a total of 150 miles or so. They're quite comfy at first, no blisters to speak of initially, and they held together well. However, I found that if they got wet or muddy at all, dirt would build up inside the mesh, deforming the inside of the boot and making it uncomfortable to walk around, causing rubbing. I had several friends with the same experience. The Breeze is a decent boot, but with so many out there to choose from that don't give me this problem, I go elsewhere.
Quality Boot at affordable price
Bought a new pair a month back to replace my old ones, (which held up admirably for two years in all sorts of weather and frequent use) and just inaugurated them last friday afternoon on a hike just out side of Boone, N.C. wherein I ascended two thousand feet at at least a thirty percent grade. No blisters; enough said.
I purchased a pair of these for a 5-day hike into Panamint City, Panamint Range, Death Valley. They were nearly 2 pounds lighter than my old Vasques. I treated the leather with Snoseal and fabrix with spray silicone. Stayed dry through frequent dunks in the creek and the Vibrams were incredibly sticky on the bedrock slicks. I'm 200 lbs carrying 40 pound pack and was amazed at the traction. This is a killer desert boot.
As a professional photographer, I usually find myself walking through miles of snow, through rivers, and even climbing waterfalls. These boots hold up through all of it! I've never stood still with my feet completely submerged, but I have many times walked ankle deep through rivers, and like I said, have even climbed waterfalls with these boots. As long as you use common sense and keep your feet moving, I've never had any problem keeping dry. I also where a 15 so I have a very limited selection. Anyone with big feet that like to stay dry should get these!
I am looking for a light weight summer...
I am looking for a light weight summer boot in a 14 Narrow. The only thing I can find is the Breeze GTX, anyone know of any other's?
Yes. Lowa makes hiking boots in 14 narrow. Check out the Lowa Renegade. Also LL Bean Creste hikers made by AKU come in 14 narrow.