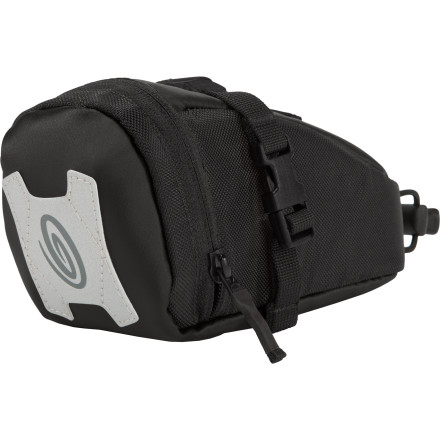 Colors
Description
Perfectly small.
Timbuk2's Seat Pack XT isn't huge--just big enough to hold a tube, multiool, CO2, and inflator--but that's why it's great. You can pack everything you need for a ride, and this tough ballistic nylon pouch will secure easily around your seatpost and saddle rails, and the single zippered opening makes it easy to find what you're looking for.
Ballistic nylon
Zippered opening
Seatpost and saddle rail straps
Pretty good
Familiarity:

I've put it through the wringer
Good: No velcro, good quality. The rear of the bag is a deflector but isn't sewn down on all 4 sides so I clip a tail light in there.
Bad: The small (which is what I got) is really small so it doesn't fit much in there. Other reviewers will tell you what they fit. I stick a garage opener (no clip) and a key. Not really worried about flats on the roads I frequent.

I'm not returning the bag because I do like it but if I had to do it again, I'd get a medium.
Awesome little pack!
Familiarity:

I've put it through the wringer
I have now bought two of these. One small pack for myself and one medium size for the wife. The small pack has been perfect to fit the following and it's attachment straps are so good that it's snug into place and I never worry about it:
- CO2 kit http://www.competitivecyclist.com/innovations-air-chuck-elite-inflator
- Tube
- Tire Lever
I bought the medium for my wife because she likes to stuff other stuff in there like a phone or wind breaker. I would absolutely buy this product again and refer it to my friends.

Pretty good seat pack.
Familiarity:

I've used it several times
Got this for my wife. She had issues with the Velcro straps on other bags snagging her shorts while riding. Best part about this pack is that there is no Velcro whatsoever. So, if you have issues with Velcro snagging your shorts, this fits the bill. The seatpost strap will be an annoyance for you, though, because the "buckle" sticks out and will hit the same part of your leg that the Velcro contacted. I cut this strap off, and just use the rail straps. Works great this way, and is plenty stable.

The medium pack was way too big (visually, IMO) for a road bike. The small is a much better size visually, but it is narrow and long. I managed to squeeze in a spare tube, tire levers, CO2 cartridge, CO2 nozzle, and a $20 bill. This is pretty much a max load for this bag.

The build quality seems good, and I see no reason why this bag won't last a good while.
Great for the roadie
Familiarity:

I've used it several times
I got a size small for my road bike and I'm really happy with it. Unlike most other saddle bags, there's no Velcro on this one. There's a bit of shock cord and a small clip that wraps around your seat post and a bit of nylon strap with two buckles that wrap around he seat rails. I'm pretty stoked that there isn't any velcro to worry about he ends/corners creeping out and scratching up my legs. The shape of the bag is longer and narrower than most other ones I looked at. It can be a little weird depending on what you're trying to cram in there but it does a really good job of staying right under your seat and not sticking out beyond the saddle at all.

The size small is great for my road bike - fits one tube, C02, and an inflator head. There's (barely) space to shove a key in as well. If you're looking to carry your phone or use this on a mountain bike I'd suggest sizing up. I've had this for about a month so can't say too much for long term durability, but it seems like it is built well and should be able to hold up just fine
Not great
Familiarity:

I've put it through the wringer
It did not last long on my bike. The plastic bits broke off and the whole thing started to fall apart. When it rained, water creeped in on the sides. Overall I would not reccomend.
Good Quality, Medium Quite Spacious
Familiarity:

I've put it through the wringer
I needed a bag for my commute/errand/city bike. I have a rack on it that can carry bigger bags, but I don't always keep that on it and I wanted to have a tube, tools and the like should I need them. I got a medium in white. I was able to put a 26"x1.9-2.1 tube, Park Tire Levers, a Park multi-tool and still have enough space to throw in my billfold should I need to.



If I were using road tubes, I could easily swallow two and those tools.



It attaches easily under the seat and so long as you snug it in place well, it stays put without issue.



I like the white because I can tell quickly from a distance that it is closed. So when I'm walking away from it at a store or wherever, I know I remembered to zip it after grabbing my wallet and locking everything up.
Good quality bag
Familiarity:

I've used it several times
I got the medium and use it on my mtb. It fits a spare tube,multi tool, co2 inflator well. It's good quality haven't had any issues with it.
Niceeee
Familiarity:

I've used it several times
I purchased this bag in a size small, and just a heads up the small will literally only fit a road tube and Co2 - it is very small. If you are planing on purchasing this pack for a mtb, get the medium. I love it because you can hardly tell it is there, and the construction of the bag is really nice.
good pouch
Familiarity:

I've used it several times
ordered a medium bag and they work great. plenty of room to put my iphone 4s, a spare tube, and my multi tool. also really like the reflector tape on the back so i am able to be seen when it gets dark out!
Small is SMALL
Familiarity:

I've used it once or twice and have initial impressions
Ordered two of these, a medium and a small. The small is VERY small. As in "you can't fit your phone in it small." The medium is an adequate size for the essentials (CO2 inflator, patch kit, spare tube, phone, etc.). Our second issue was that the zipper is very stiff and cumbersome. Since the pack itself is fairly flexible, it was pretty difficult to open the zipper without using both hands to hold the pack just right to get the zipper past the bottom of your seat. Ended up returning both and will try something else.
I was a bit worried this bag might not fit right on my Novara Carema Pro bike from REI but to my delight I got the Medium, White which not only fits extremely well but it matches my bike to a "T". I can fit a tire tube, CO2 inflator and extra cartridges, and tool kit. I haven't tried yet but I might be able to even get a power bar in there too! Love the fit of this bag for my bike.
great bag!
Familiarity:

I've used it several times
you can fit everything you need in this bag, I ride with an extra tube, tire repair kit, 17 tool kit, and my cell phone.. so you can carry what ever you need to complete your ride, and make sure you have every thing!