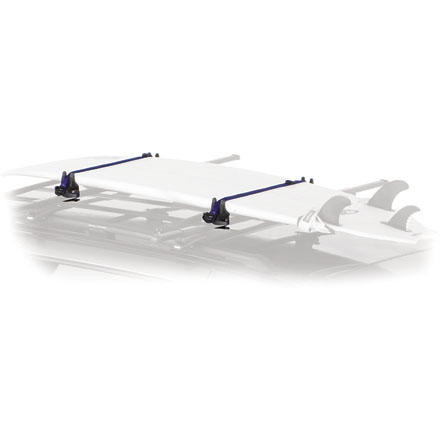 Whoa brah, Thule's Hang Two Surfboard Carrier holds two boards securely to whatever rack you have on top of your woody station wagon, dude. What's that? We're perpetuating the stereotype that surfers are inarticulate blond guys who drive cars that never made it out of the 70s? Geez, chill bro. You'll be stoked to know that the Hang Two is set up for two boards and will work on almost any rack, not just Thule. The strong, easy-to-use straps provide serious transport security and board protection, siiiick.
Unanswered Question
Does anyone know how well this works if the board is in a bag?
Decent board carrier
Familiarity:

I've used it once or twice and have initial impressions
Got this to carry a SUP, straps are definitely made for regular surfboards. What I did to make the strap work is by taking a 2'-4' cam strap, you cam the tail of the existing strap, then run the tail of the cam strap through the existing buckle. This actually makes the strap better, because it's easier to get good tension through the cam strap as opposed to the basic buckle on the existing strap. This way you can easily carry 2 SUPs. I do agree with the other reviews, dinging it for the strap issue, but for the price, it's a nice carrier.
i got this but was lukewarm about the idea even at the time of purchase. im still lukewarm. it holds 2 boards fine, although the straps are too short...for two bigger boards it's pretty tight. It's slightly over-engineered vs a yakima or dakine setup where you have a rubber strap witha hole in it, and you just pull over the board and secure over a peg. I would have liked to go with that, but truthfully their websites didnt have my 1985 model car in their vehicle selectors and i needed a rack fast.
The Thule Hand Two Surf Carrier doesn't work out of the box for Mini installed clubman racks. It would have taken longer bolts to work. I intstalled in on our Honda Pilot installed racks and they installed fine. After installing and setting the width for a stand up paddle board (these are racks backcountry recommended), the Thule straps are too short. Sort of a bust already and haven't put the board up yet. So if you have a Mini and a 29" width stand up paddle board...these aren't your racks.
Thule hang two surf carrier
Overall I am extremely happy with my Thule Surfrack! I have owned both versions Thule has made, and I would have to say the Hang Two is my favorite by far.

When carrying one of my boards the rack works spectacular (9'0), but straps are a little short for loading up two boards.

Longer straps would be beneficial, but I don't believe this is a problem with smaller boards. (The straps themselves aren't anything special either, and I feel as though I would be able to buy longer straps with the same width and be set.)
Ridiculously short straps
I recently bought these to use for my 10'6", 31" wide SUP board.
First thing I noticed was the the plastic construction seemed a little light, compared to the quality of Yakima products I am more used to.
I mounted these on my Yakima bar rack, which went on easily. But I worry that they would be pretty easy to steal.
I then tried to load the board onto the rack cradles, but they didn't fit the boards rails well. The worse was trying to clip the strap onto the rack and across the board. They advertise the racks as being able to hold 2 boards; I couldn't even get it to cross and hold down my board securely! The strap needs to be at least a foot longer to be useable and be able to be cinched down properly. Also, the plastic clips that attach the strap to the rack seem pretty flimsy.
These might work for shortboards, but don't see how you could be even more then 1 longboard on it.
Returning the racks.
When carrying a long board and soft board, I needed to use padding between the boards, I used pipe insulation from the hardware store. Fits easily on the round bars from the Yakima set up on my 04 Camry, does seem to cut into the paint on the bars. There seems to be no additional noise from the mounts.
Unanswered Question
How is this rack as far as noise?
How is this rack as far as noise?
I really like the Thule Hang Two. It's quick, easy and secure. No issues and very confident with two boards on the truck. I set these to the factory racks on my Pathfinder. I was a little bummed when the hardware wasn't long enough. Also, because Thule is metric so the hardware was surprisingly expensive for some screws and washers! Besides that it works great! No issues going forward. Minus one star due to small hardware (haha...story of my life)! Peace.
Unanswered Question
will this fit 2004 Porsche Cayenne??
will this fit 2004 Porsche Cayenne??
will this fit a jeep grand cherokee 06?
will this fit a jeep grand cherokee 06?
Most likely. Your best bet is to click on the car rack configurator at the top and enter in your vehicle information. From there it will tell you if it will work for your jeep or not.
does the thule hang two surf carrier need...
does the thule hang two surf carrier need a rack to attach to?
I got this for my '02 Pathfinder. I don't have a Thule rack, just my factory racks. My factory racks are really wide. The Hang Two bases fit, however, the hardware wasn't long enough. I went to the local hardware store and got some longer screws, washers and bolts. They worked great. Remember tho, Thule is metric. So if you need longer hardware make sure you get the exact width and thread otherwise you're screwed (no pun intended). Peace.
It WON'T install directly to the factory installed FJ Cruiser rack, just FYI. You have to buy a whole new $300 system just to get these to work. Fail...
Works awesome for haulin my surfboard. The strap pops in to carry a board and pops out so you can keep it in your trunk when your not carrying and you dont have a strap flapping in the wind. The posts are rubber and hug the side and bottom as well as keep the strap high so you can tighten down with NO pressure dings from the bar or strap!! Very nice. I have a Thule rack and the fit is perfect. Still have room for two bike racks.
Unanswered Question
I have a 2002 Nissan Pathfinder. Will the...
I have a 2002 Nissan Pathfinder. Will the Hang Two fit straight on my factory racks? I don't want to buy extensions and all that jazz.
Will this fit a 2004 Lexus Lx470(ie....
Will this fit a 2004 Lexus Lx470(ie. Landcruiser)?
Yes, just as long as you have the cross bars.
I bought this for my 2008 Honda CRV, and it works great on the stock roof rack. It comes with 4 very well made brackets that attach perfectly. I've only used it for one long board, but I'm sure it'll work fine with two. No need for any soft pads, just place the board between the rubber brackets and strap down. Extremely solid, and a piece of cake to use!