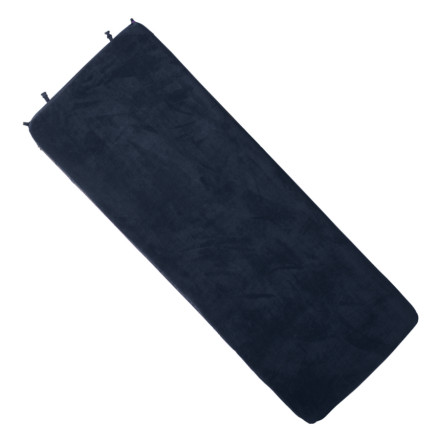 The Therm-A-Rest Dream Time Sleeping Pad provides four-star hotel comfort inside your tent or truck bed. A half-inch of Isotonic® memory foam tops the three-inch-thick self-inflating air core to give you the best night's sleep you've ever had in the great outdoors. The machine-washable microfiber cover feels great against your skin and sheds pine needles and other debris with ease.
Greatest Car Camping Pad
Gender:

Male

Familiarity:

I've used it several times
This is the bees knees of camping pads. It is very comfortable and big enough to really stretch out on. I bought one for my dad who has lower back problems and he loves it.
This was super comfortable. It is pretty large and heavy so plan on having enough space in the car for it. The XL is large enough for 1 person.
How much does this pad weight?
How much does this pad weight?
[L] 6 lb 10 oz; [XL] 7 lb 15 oz
I have been camping for 35 years and slept on all kinds of pads incuding none. This is the most luxurious sleep I have ever been on. Certainly cannot be used when doing anythiong but car camping. The only thing I worry about now is that I will stop going back country camping because I won't be able to bring it. Expensive but you will feel it is worth it if you have been sleeping on lesser pads all your camping life.
If you use this pad once, you will buy one. You wake up feeling complete refreshed, it is hands down the best pad I've ever used I own two of them.
We camp in Michigan and sleeping gear gets...
We camp in Michigan and sleeping gear gets damp over night. We have used cots since they keep you well off the ground although they are not very comfortable. We also tried an air mattresses but they never seem to last long and you have to refill them everyday to keep them firm.
Our experiences of sleeping on the ground have been very uncomfortable because of moisture, even if it doesn't rain. Sleeping bags and pillows get very damp during the night and ruin your sleep.
Has anyone tried these pads under moist conditions?
I think your problem is ground fog if you are any wear near the lake(s). It depends on conditions but it usually easily reaches up about a meter. I'm afraid a pad like this which is comfortable, will not really solve your problem. Higher options like cots or double thick air mattresses will be better because they get you off the ground more, but even then, they may not be high enough. The pad will be a more packable, lighter and fairly comfortable alternative to cots or air mattresses. Good Luck!
Very Large but Comfortable
This isn't anything you will bring into the backcountry but if you are car camping and looking for luxury look no further. This is a very large pad, it doesn't compress down very small so make sure you have room in the car for this bad boy! When using it it sleeps like a dream and feels like you are at home on a comfortable bed even when on rugged terrain!
Thermarest Dream Time Review
These are so comfortable. They are better than the big air mattress we used to bring car camping; just as comfortable but quicker to set-up, no batteries, and way more versatile. Worth the price!
is this worth the extra $100 for two pads...
is this worth the extra $100 for two pads over the luxury pad? i use an old trail pro and my wife uses an old trail light but we are going to be camping every night in moab soon and want more comfort.
Depends what kinda money you're willing to thrown down. When weight isn't an issue, I use a z-rest underneath a simple REI inflatable pad (1.5in) and it's super comfy.
Almost as comfortable as my bed at home
Now that I have slept on this pad I will ALWAYS go car camping with this pad. They are SOOOOOOO comfortable. I have a full size truck and 2 larges fit perfectly between the wheel wells. So can strap them together so that you do not fall between the 2 pads. There is a cover over the pad that has a fleece pillow top. Below that there is a 1in layer of memory foam. Then a 2 3/8 in thick thermarest pad. There are snaps on the cover for adding a Thermarest sleep system. The 40 degree down comforter is a great combo for this pads. I can not say enough good things about this pad. I know that the pad is a little expensive, but once you use it you will not care about the price.
New to this scene: "Self Inflating?" ...
New to this scene: "Self Inflating?" So I unroll the pad and allow it to inflate itself, right?
Pretty much, although a puff or two at the end willl go a long way
I used this on a camping trip to the Adirondacks. Very comfortable. Coupling straps and snaps built in, so it's not necessary to buy a coupling device (coupling straps are top and bottom, a third in the middle would be great for the night/morning, rigorous tent activities. Holds air well. Contrary to another review it's very easy to roll this up and fit it into it's original bag. I rolled one of these up with Therm-a-rest's down coupler attached and had plenty of room left to put something else in the container. I'm not sure if the XL is worth $210, but I don't regret the purchase. It's huge. Two of these take up a lot of space. Insulation from the ground is an extra bonus, especially if you're using a bag that has top insulation only. Car camping approved.
This is a great pad. I have never had a better 2 nights sleep, on the rock bars of the Buffalo River, in Arkansas. I rolled it up each morning ,secured it with the straps provided, then sat on it while drinking my coffee to get the remaining air out, resecured the straps, then placed it in a heavy duty trash bag behind the the rear seat of my Old Town 169 canoe. Perfect fit.It will be good for car camping too. I'm not taking it backpacking.
Love not have to blow it up just leave the valve open it's good to go in ten minutes. Took it on a seven day rafting trip and it was totaly worth having this thing take up almost my whole dry bag. Also perfect for car camping.
More comfortable than my bed at home
I never thought a night of sleep not-at-home could be so comfortable. I first picked this up because I was going to be sleeping in the back of my car for an Ironman and needed to be comfortable. It was so comfortable that I probably slept better than I would have in a hotel. It's also performed admirably for car camping. I can't imagine using anything else, unless I have to carry it with me very far.
My wife and I just got back from a two day car camping trip. This was the first time that we used these pads and both of us were very impressed. We let them fill with air on their own then blew them up a little more, but not so much that the matress was firm. Perfect. The fleece top is a nice touch when sleeping with your bag draped over you like a blanket. Note that if you have a full sized thermarest and are happy with it, you can buy the outer cover separately and will have a cheaper upgrade. There may be pads close to this in comfort, but not many.
I intend to use mostly for canoe camping,...
I intend to use mostly for canoe camping, has anyone had problem with this?.
Hi Don, I checked 5 other major sites that sell this same sleeping pad, and the only complaint was that it was heavy. Well, go figure! There were 12 other reviews I read of nothing but positive feedback, praises, and 5 out of 5 stars. Combine that with the six happy customers below,, I think you got yourself the perfect sleeping pad for canoeing!
I got sick of not looking forward to going to sleep while camping. So I splurged and bought 2. It was definitely a great purchase! I slept so good!!!
Thoughts on bringing this in to the...
Thoughts on bringing this in to the backcountry? There are a few campsites I thoroughly enjoy that are ~2-3 miles in and would have no problems making two pack loads in. Just want to make it a comfy night sleep for my lady when out in the wilderness and two L's fit perfectly in my tent.

I've already decided that I will be buying this for any camping that is within 100 yards of my car.
You could lug it for a couple miles, but I definitely wouldn't want to thru-hike with it. It tips the scales at almost 7lbs and doesn't pack down very small. For the short hikes you're talking about you could just roll it up and lash it to the outside of your pack.
Best Answer
You're a better man than me if you hump this thing for three miles, and then go back for your second load of gear. That means two trips out, too. I think there are much more reasonable options that will provide decent comfort at a much more manageable weight and size. Good luck.
Just as long as you know it's 8 lbs and almost as big as your entire pack when full, I say more power to ya!

However, I would consider a Neo Trekker for backpacking. You are correct that the DreamTime will be luxurious (and is the only choice for car camping), but the Neo Trekker is close to the comfort of the DreamTime and is MUCH smaller and lighter. Your girlfriend will still know that you love her and you both will actually enjoy the trip...
Thanks for the responses guys!
For my current backcountry nights I have a Big Agnes Insulated Mummy Air Core and when I want to spoil myself I carry up the matching mummy cut Memory Foam(I am not as impressed with this and is why I am buying the Dream Time for car camping). I will be trying to push my brother on trying a NeoTrekker/NeoAir(so I can snag it!)

I will let you guys know if this does make it into the woods! Having laid on this at a local store, I know there are a couple over-nighters in which I will try to take this up. I'm thinking luxury base camp 3 miles from the car....