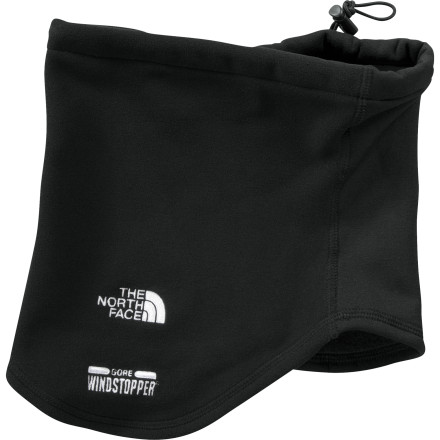 The North Face Windstopper Neck Gaiter was designed for high-altitude expeditions, Arctic exploration and extended use in extremely cold, windy conditions. Deter frostbite, windburn, and chapped lips with this neck gaiter.
A+
Familiarity:

I've put it through the wringer
My best investment for Wisconsin winter.
North Face Windstopper Neck Gaiter
Familiarity:

I've used it several times

Fit:

True to size
This neck gaiter is top of the line. Amazing quality and you can notice it the moment you see it. very warm and does its job well. one negative remark would be it is kind of hard to breathe through the thick fabric sometimes so dont put the gaiter too high across your face.
North Face Windstopper Neck Gaiter
This is a great product. The perfect mix of performance, style and functionality. We've recently experienced some snow and cold conditions in Cape Town and this neck gaiter has helped tremendously. Thank you to Back Country for shipping this product swiftly and safely all the way to South Africa. You guys have a great service and product range.
This is definitely a high quality product. The material is stretchy enough to cover your face and stay in place with out the drawnstring. Regardless, I returned it, per other reviews, you literally can't breath in it. I'm sure there's a good application for it, but it your doing anything aerobic, you'll end up pulling down the gaitor to get some more oxygen exposing your face. Which kind of defeats the whole purpose. I purchased the Coal gaitor at half the price and it's ideal for snowboarding in blizzardy conditions.
will this blalacava keep my moustache warm...
will this blalacava keep my moustache warm on wintery nights?
Your mustache will be nice and toasty!
This is not a blalacava, That would also have a part that would go over your head
I have tried more things than I can remember as neck gaiters. This is the best I have used. It is now the only thing I keep in my kit bag. Leave it to North Face to develop the best product for the mountain.
I've been using this gaiter in high altitude and low temperature (-5 to 15 degrees) conditions. Very warm, windproof, and dries rather quickly. The length is perfect. When pulled over your mouth and nose it still covers your entire neck. The only thing I don't love is the drawstring tends to loosen a bit when wearing it. Other than that, an awesome buy!
I am a recreational skier and the weather is usually 10F to -10F on the mountains I ride on. This neck gaiter is great. I have tried the masks and other gaiters but this one is lite, feels soft on the inside, has a wind stopping material on the outside, and a cord that adjusts the size which is useful for people who don't like being suffocated by the 'one size fits all' gaiters sold at all ski lodges.
I have tried several other popular neck gaiters (thanks Backcountry.com) and this one fit the best and provides ample coverage. I like my hooded shells, but they are uncomfortable on my neck when zipped up all the way, so this really comes in handy.
The North Face WindStopper Neck Gaiter is one of the greatest item i have purchase from The North Face company. I wear this with everything, it keep my neck warm. But if you are going to cover up with this Neck Gaiter it really hard trying to breathe, you can cover up your mouth only and it will be great since you can breathe through your nose. But if you going to cover all the way up, you will run out of air. Overall it a great item
I like this gaiter. If you want a less clumsy gaiter that doesn't have a bunch of unneeded material, but that will stop wind from pummeling your face, this is a good option. Worth noting that only the front is wind-proof, the back is not. Also worth noting that unlike non-windproof gaiters, you can not really breathe through this one if it is snug around your mouth.
when it says windproof..IT IS. and very warm. 5 STAR
well it stop wind thats for sure. i used it on my scooter and i couldn't breath through it!!! i had to bunch it up to keep it off my mouth and i even then i felt like i wasnt getting any Oxegen. That being said even in 20 degrees and on my scooter going 40 i was still warm.
Don't get me wrong, this gaiter will keep you warm, but my issue was with the drawcord and the overall shape. I had a hard time adjusting the drawcord wher it wouldn't hurt my face, but also stay when I needed it to. I also had truble with layering it. By the time I got my midlayer and outer jacket, there was so much bulk around my neck, that it felt like I was being choked. It gets the job done, but it doesn't get very high marks for comfort.
everyone needs this gaiter. soooooo much better than any scarf. does what it's made to do.
I can breath and stay warm
On my way to the trails for some mountian biking, snow blowing in my face, need something warm around my neck and lower face, but still need to breath. This Gaitor gives me this, where all the other gaitors, balaclavas and masks leave me gasping for air
You know those days, 20 degrees... with a windchill of -20. We used to wear those one of a kind turtlefur neck warmers... you breath would leave a nasty slime on the inside and frozen slime on the outside... it was so thick it felt like someone was choking you. Man am I glad those days are over! This gaiter is perfect!
Used this WS fleece in both Whistler & Banff last season in 10F weather. Good construction protects from windburn and other arctic related maladies. Highly recommend this product.
Use this windstopper fleece neck gaiter for cold-weather motorcycle riding. This is a rare item as most neck gaiters are straight fleece or poly-blend. This might be too warm for skiing and active sports but it is just the ticket for extreme cold and high winds.
The best for cold weather skiing
If you're like me and feel that the best day of skiing is when you've got fresh snow coming down and nobody on the mountain, then you'll want one of these gaiters. It the key piece of equipment in keeping your upper torso, neck, chin and face warm in windy and snowy conditions. The material is soft on the face and much better than a cold, icy zipper closure.