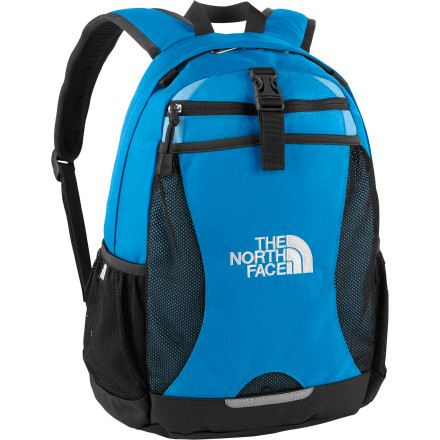 I got this in Scorpion Purple and it perfectly matches the youth TNF Boundary Triclimate jacket. A regular school folder just fits (barely) in terms of height and width. It also holds a sweatshirt and a lunch box with gymnastic clothes stuffed into the outside pocket, water bottle on the side, and still room to spare. It is perfect for my kindergartener; we'll use it for school probably through 2nd grade and it will always be perfect for hikes and traveling, too.
Would this backpack be good for and eighth...
Would this backpack be good for and eighth grader with textbooks and notebooks and a lunch bag?
Best Answer
This one will be too small for a typical 8th grader with multiple classes and the books and folders to with them in Jr High. Size up to packs in the 1500-2000 cubic inch range. The North Face and Jansport have a great handle on affordable and solid school backpacks. TNF also has a huge selection of women's packs that have some very feminine colors and patterns, but if that's not a big deal, have a look at the Vault (item#TNF1608). My kids use both brands, and either would be perfect. Oh boy, back-to-school already.
I bough this for my 4-year old to bring to pre-school last year. It has been through a year of abuse and still looks perfect. He now brings it to camp every day this summer, and will use it again for kindergarten in the fall.

The size is perfect for him.... Plenty room to carry what he needs, but small enough to fit on his back.

It fits a folder with not much height room left over. To camp he carries a towel, swim suit, rash shirt, goggles, flip flops every day with no trouble. The pack also has a nice strap where he likes to clip on his lunch box (though I get concerned that's makes it too heavy for him).
This finally arrived and is PERFECT for my first grader. The straps are about 2 inches across and the length hits right above his behind. Though it is wide enough it BARELY accommodates the height of his two notebooks though and is kind of "dog earing" them. I don't imagine it will work for him after elementary though as it is WAY too small for the books, supplies and other stuff you need after K-6 is complete.
What are the dimensions of this pack?...
What are the dimensions of this pack? Height, Width and Depth
15 x 11 x 5
I got this from a spec sheet in a North Face store
This backpack advertises that it is large enough for the average school child. it ain't! it is a good quality, though!
Would this backpack be too small for a...
Would this backpack be too small for a high-school load?
It depends on how many textbooks + other crap you plan on lugging around. This bag should be perfect size for most high schoolers.This bag was my favorite back in that magical high-school time of life:http://www.backcountry.com/store/TBK0047/Timbuk2-Classic-Messenger-Bag.htmlWay too small unless they are only keeping just a few things to write with and two notebooks. It may be too small in the torso as well.