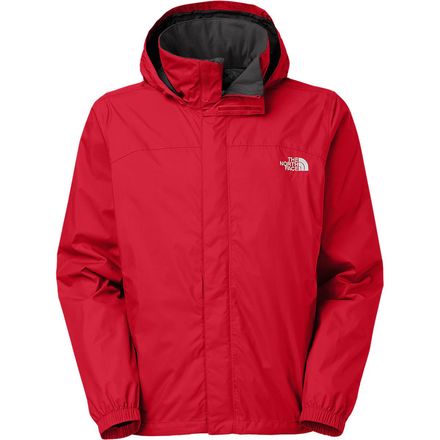 Detail Images

Videos

Community Images
Description
No downpour too nasty.
If you live in a place where every day is clear, blue, and perfect, don't bother looking at this jacket. Those of us who live on Earth may want to check out The North Face Men's Resolve Jacket. The North Face used HyVent, a waterproof and breathable fabric, to make the Resolve as comfortable as possible on the days where the sun doesn't make an appearance.
Fully adjustable rain hood stows away into the collar
Mesh lined for increased breathability
Brushed collar lining feels soft against your face
Great coat, except the fabric collar
A great coat for a variety of uses, and the colors are great as well. I bought the orange for hunting in rainy Wisconsin weather and to avoid being shot by hunters when I'm hiking. He coat is durable and can be paired with many other layer combinations so as to maximize its utility. The only problem is that the fabric collar pulls on your facial hair. That I don't like. At all.
Protective and packs well
Familiarity:

I've used it once or twice and have initial impressions

Fit:

True to size
Fit is perfect for inner to mid layering, which is great. It seems well made and comfortable. I am using it for a rain jacket and outer layer for backpacking. I am a muscular build for a 57 year old --- that means I got a bit of a belly. Just so ya know the body form that I was stuffing into the jacket.
I am shopping around for a technical shell. Is it alright if I use this TNF Resolve jacket (I already own this) as a technical shell until I purchase a true one? My main concern is that this is a rain jacket... not a technical shell and I question its ability to breathe and also stand up to abuse of skiing, hiking, climbing etc.
https://www.ems.com/ea-how-to-choose-jackets.html

Also its helpful to go to an REI or local shop and get advice on specifics based on where you will be hiking/climbing/skiing etc. Do your research first on climates & specs on where you will be using said gear. Also know if you are going to be getting adventurous keep in mind that your clothing/gear is an extension of your safety gear and choosing the wrong gear can be dangerous to you and any one in your group. So knowledge is key & vital so don't cut corners when buying your gear but also don't just assume that the most expensive or newest flashy thing on the market is necessarily your best option. On that same note be mindful of certain shops or employees that may try and sell you on an item trying to make their commission or getting a sell. Your life & safety are far more important & most experienced outdoorsmen know this can happen from time to time. One last tip, when I went on a trip to Patagonia Chile with the NOLS (National Outdoor Leadership School) that their supply lists for various trips were very helpful & may help when packing & deciding what's 100% needed vs. looking to reduce your gear/pack's total weight. There are many ways to consolidate gear by buying versitile layers or items that can double as or be used for multiple applications. Example being an outer shell, which can be very versatile in practical & even survival situations. Hope this long rant can be helpful, and remember safety first & your clothing/gear is an extension of your safety & can make you or break you. Cut no corners & do your research on what you are buying, even if you feel that a store or salesman has adequately explained a product to you. Humans can make mistakes or be motivated by making a sale, and those mistakes translate into potentially life threatening or very dangerous situations when adventuring out in the great outdoors. From mountain tops to beginner level hikes, safety always comes first & can never be taken too seriously. Enjoy & don't forget to pause from time to time to look around and take in the beauty around us, whether in a skyscraper among a metropolis or waking to see the fog lifting from the dew covered forest revealing a beautiful field of eid flowers, bcuz the majority of life happens on the journey to get where we are going. Most stress about getting from A to B and are always in such a hurry that they forget to enjoy the journey. With an open heart and mind nothing is impossible.
A Reliable Rain Jacket
Familiarity:

I've put it through the wringer

Fit:

True to size
This is my go to rain jacket, a perfect shell for when it begins to rain in any condition. I have used this jacket in the rain of the mountains, taken it to the cities of Italy and Greece, and down to the deserts. In all of these conditions this jacket kept me dry, and the ventilation in it kept my internal temperature regulated. The hood on it is a great option, but is a bit cumbersome sometimes because of the size. One of my favorite features of this jacket is how light it is, and the fact that it packs down to a very small size. A great rain jacket for any condition.
Unanswered Question
RE: Men's NF Resolve. Does the hood actually store in the collar? Is there a hem drawstring?
Nice Fall/Spring Jacket
Familiarity:

I've used it several times

Fit:

True to size
This jacket is a light rain / wind jacket. It is perfect for the upcoming fall season. Being from Buffalo, this jacket is much too light for winter, but it is a good transitional jacket. With a light sweatshit under, it will work nicely to begin the frost season.

Pros: Water tight, retractable hood, light and comfortable.

Con: No liner.
Just not what I was looking for
Familiarity:

I returned this product before using it

Fit:

True to size
I live on the Southern California Coast, near Long Beach.
I bought this jacket because I needed something light and waterproof. Unfortunately the humidity in my area makes this jacket too warm and I tend to run warm as it is.
It does fit fairly loosely, loose enough that I could fit my soft-shell, which is a size medium, under it.
Hope this helps!
North face resolve jacket
This is the best rain Jacket I've ever had and the size fits me perfect just as I hoped. Not only does it fit perfectly it will also keep you completely dry
Does the TNF Resolve jacket have pit zips?
David, it does not.



If you have anymore questions feel free to send me an email or call!



Bill Porreca

bporreca@backcountry.com

801-736-6398
North Face Resolve - GREAT
This jacket can be used for anything. Great at wind, rain, cold weather protection. Great when layering too. The only downside, probably just me, the jacket is a bit large. Those of you just trying to use it for style, I would recommend the North Face Cyclone Jacket.
Great for the rain forests
Familiarity:

I've put it through the wringer

Fit:

True to size
This is a fantastic rain jacket, you can use it under pouring rain. It's great for the tropical weather here in Costa Rica. I like the soft fabric for the neck,.
We do ship to Israel, but unfortunately we cannot ship The North Face outside the US. Check the link below to see a list of brands we cannot ship internationally.



http://sales.liveperson.net/hc/s-9551721/cmd/kbresource/kb-7856480036803648478/view_question!PAGETYPE?sc=120&sp=94&sf=101133&documentid=239527&action=view&VisitorProfile=BCS2&MESSAGEVAR!home=yes&MESSAGEVAR!cookie=no&MESSAGEVAR!docid=239527
It's gigantic, but does keep you dry.
Familiarity:

I've used it several times

Fit:

Runs large
I have been happy with everything else I've purchased from this brand, but this jacket does not quite keep up with the pack. The jacket does a very good job of keeping out the rain, but it does not just run large, it runs huge. It wears as if it is one more more full sizes larger than it is. Also, the zipper has a tendency to stick.
Perfect rain/wind jacket
Fit:

True to size
You can tell this jacket is made out of quality materials and, although I was nervous about getting a large (I tend to wear things a little slimmer-fitting), the fit is perfect. It's large enough to comfortably layer underneath, but I'm not swimming in it.
Perfect rain jacket
Familiarity:

I've used it once or twice and have initial impressions

Fit:

True to size
We have used the jacket a few times now and it is exactly what we were looking for.
Nice lightweight rain Jacket
Fit:

True to size
Beautiful design and includes all of the features you need to stay dry in wet weather, I like the way the hood keeps all the rain and wind away from from your head. The mesh lining and breathable material should allowing body moisture to escape.
The North Face Resolve Jacket - Men's
Better than an umbrella
Familiarity:

I've used it several times

Fit:

True to size
This is my first rain jacket. I got it for hiking because ponchos can be a bit bulky when navigating through branches or working around camp. This jacket is a comfortable fit, and I like the lining inside. It's not super-compact and lightweight, but not bad for backpacking. And I haven't had any trouble so far with water getting through. The only gripe I have is the hood restricts my vision a bit when it's up, but I don't see any way around that.
Poor fit
Familiarity:

I've used it once or twice and have initial impressions

Fit:

True to size
When i bought his jacket I ignored the reviewers saying it runs too large. Anyway i only tried it after 30 days to find that the hood does not fit my head. It keeps falling over my eyes and i cannot see where I am going even if i try to tighten the straps. I wonder what type of humans North face tests these jackets on.
Lightweight, packable, windproof, water resistant - just right for spring. Add a layer underneath and you have fall and winter too!