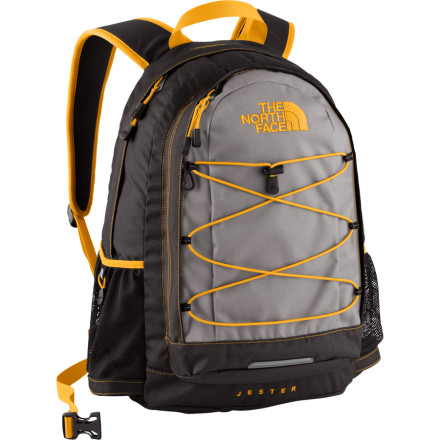 Detail Images
Description
Class clown or not, you'll love The North Face Jester Backpack.
The North Face Jester Backpack includes a front organizer pocket and massive space in the main pocket for all your school books. But with a breathable mesh back panel, padded shoulder straps, and waist-belt, the Jester carries your load more like a technical pack. Remove the Jester Pack's waist-belt and stash it when your load is light. The front bungee system holds an extra layer. Keep water bottles on-hand in the mesh pockets, and stay safe at night with a large reflective The North Face patch on your back.
Share your thoughts
What do you think of the
The North Face
Jester Backpack - 1850cu in
? Share a...
You could do worse, but the Jester simply doesn't stand out...
Don't get me wrong, there are a lot of packs worse than this but it is very easy to do better. Performs as well as many similar packs from High Sierra and other third-tier brands, though those packs usually provide more features and cost less. No laptop sleeve, not hydration compatible, no ventilation or back support, no sternum strap, and an utterly useless hipbelt. Returned mine after a month because a stitch had popped out along where the shoulder straps attach and a number of stitches had popped along the mesh water bottle pockets.

Bottom line: If you are a parents of high school and middle school kids looking for something with a TNF logo plastered on that doesn't break the bank, this is your pack. Hikers, climbers, college students, and commuters would be better served looking elsewhere.
Regarding The North Face Jester backpack - 1850cu in
I bought this bag for my 8th grader to use for summer camp but she loves the bag so much that she started using it right away.
The bag is not too heavy like other bags she has used in the past.
I strongly recommended it for anyone with children who have so much books to carry to school every day. This is a strong and great bag.
I love this pack. It is actually my second one (I left my other one in the back of a friend's truck and I think it flew out) and the previous Jester I had lasted me throughout high school up until I had to buy this new one! 4-5 years or so. I like it cause its simple, easy to grab a kanteen/keys/phone from the side pockets, great for school, day hikes, and I just used it to hike out of the Grand Canyon and it treated me well.
Unanswered Question
If anybody out there knows where I can get...
If anybody out there knows where I can get a jester backpack in yam orange. Please let me know. Thanks,
Durability and functionality
I use this pack for just about everything from day hikes to carrying around text books. I'm a small framed woman and it is very comfortable! The padding on the straps and back is a major plus. The only thing I don't like is the front zipper pocket. If the front pocket is full it's difficult to shove stuff down in the main area. But that is very minor. Overall I love this bag.
i bought this bag about a week ago and i love it its super comftorable its a little stiff when u first get it but after two days its absolutely perfect nd the waist bel comes in handy if ur a mountain biker such as myself and ifyour walking around instead of having those annoying straps slapping around the whole just slide the through the little plastic bits and problem solved best bag for the money great features and built to last
Perfect Everyday Backpack
Yeah it's nice to carry books but is more tough than just that. I use it to travel, camp, great for fishing and biking. It is light and the double-stiching protects each compartment when you have dirty and wet stuff that might make it's way into your bag.
Looks great and my daughter seems to love it for school. Have always loved North Face.
What can I say? My daughter is so happy with this bag. North Face is the bag of cool, but oh so expensive. But at backcoutry.com the price was a good deal. I bought one for my son, too.
Good school pack, if nothing else
I've had this backpack for a quite a while now and have been a bit disappointed by it. I will say that it does work great as a school backpack or for overnight traveling. Although it does not have a laptop sleeve built in, a 17 inch notebook will fit (a bit snug - but it will fit) and it does have ample room for a days coursework as well.

It is however far from being a good hiking pack. It lacks a sternum strap, hydration compatibility, the shoulder straps are not especially comfortable and the waist belt is practically worthless. The back of the pack is not well padded by any means as well so lugging books around campus on a hot day is made even less enjoyable by the back sweat that you will form.

All in all, this is a good school and travel backpack but far from being trail worthy in my opinion.
will this backpack hold my 17 inch computer...
will this backpack hold my 17 inch computer along with 15lbs worth of books?
Best Answer
It does not have a laptop specific pocket but yes it will hold that size of laptop. Also it will hold your books no problem as well.
I would make sure to get some sort of sleeve for your laptop- you'll kill the thing by letting it rattle around with 15 lbs of books. Besides, for a 20 lb load (laptop + books) I'd be looking for something that allows you to carry the weight without deforming your spine. Osprey and Deuter both make some nice daypacks and commuter packs that would do the job better than this pack.
Great for College student
This is my second Jester backpack. My first one, I've had for about 3 years and finally sprung a hole. I've used it for school as well as travel. The waist strap on the latest Jesters do not detach like the old ones and rub against the lower back of the backpack as well as my lower back. I might just cut it off since I don't use it anyway.
I use mine for taking dirt bike gear with me when I go ride...it has a lot of room and seems to be built well for the price.
I bought this bag because it was comfortable, was black (I use it for work) and because it did not have the 'mesh style' backs and straps that are fashionable now, but which cause some clothing fabrics to pill, scuff and tear. I do not overpack my bag, it has only been used in day-to-day city life and it is 6 months old. However it has split between the padded back and the base - and is now unusable. Because it was bought in a location outside of where I am living now it is difficult to get a replacement. I have not found North Face at all helpful as a company in this respect (i.e. in assisting me with a replacement or refund). Looking at the bag it is obvious that it needs a thicker fabric at the base and a more resilient method of stitching the base to the back. I have been looking at others' comments to see if I am the only one with this problem and I see I am not. Pity because other than this it is a good bag.
its very fashionable and i love it.
Decent bag, Better Choices
I mean, I'm not going to attempt to tell you that this bag isn't North Face quality. I've had one for about a year now, and I haven't noticed any serious wear or tear. However, I wouldn't really suggest this bag to anyone. The straps are not very padded, the waist strap is straight uncomfortable, and there is no strap across the upper chest. When filled up, it can really weight you down. I have other bags (Recon, Camelbak Wingman) that manage to carry the same amount without putting nearly the same amount of strain on my back. In short, cheap TNF option, but you get what you pay for.
Very comfortable and well made. Better than JanSport.
Great backpack for a ski day. My husband wears it and the size is good. Not too big but small enough to be light and comfortable.
I gave my son this backpack for highschool. He loves it. A lot of compartments and plenty of room.
Okay, but not the best trail choice.
This backpack gets the job done, and works well. I would only use it for school/commuting, though. It's just not built for the trails. It's got plenty of pockets for organization, and a large main pocket. I wouldn't recommend this backpack strictly for hiking purposes. You can pay a little extra for a much better daypack.