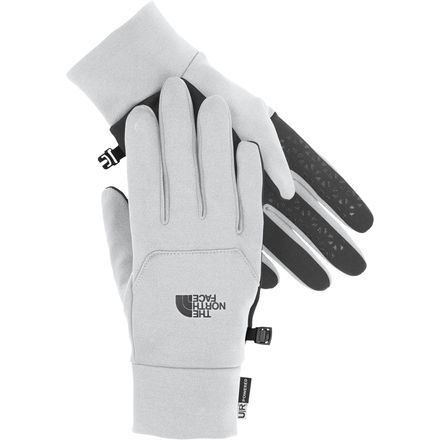 Detail Images
Description
Touchscreen-friendly for runs and walks.
Trail running in late fall is fantastic with The North Face Etip Gloves on. The four-way stretch knit fabric provides a little warmth when winds try to numb your digits, and it gives a full range of hand motion. Etip functionality means you can change your music on the trail without removing the glove, and the silicone palm makes sure you don't drop your MP3 player while you do it. The North Face built these gloves from the inside out to ensure you get a consistent size. And Radiametric Articulation means the Etip reflects the natural position of your hands so they stay comfortable.

Four-way stretch knit fabric
Silicone coating at the palm
Etip functionality
5 Dimensional Fit
Radiametric Articulation
This is a great light weight glove
Familiarity:

I've used it several times
This is a great light weight glove that works well with your phone or ipod. I love this glove at temps. no lower than 40 fahrenheit any lower and your fingertips will be cold. :(
Wore them in 40s degree weather. Not a big difference between the XS and S. Love them in black.
I use these gloves primarily while hiking or jogging in cool weather. They are perfect-the e tip works great and they provide the perfect amount of warmth while doing physical activity in 30-50 degree weather. I will stay they are thin and my hands get cold in cooler temps or even in 30-40 degree temps if I'm not moving around.
I bought these to use as a liner for my Burton snowboard mitts. The original liner is fine but I was hoping for improved touch screen use. First off the Etips seemed great, and out of all the touch-screen compatible gloves out there, these had consistently strong reviews. They fit perfect (like a glove haha) and looked nice. There downfall was in actual use...despite feeling cozy they were not nearly as warm as my original burton liners, the seam on the fingertips was in the exact right place to interfere with typing/tapping/dragging, somehow they were less touch-screen responsive than my burtons, and to top it all off they left a black stain on my fingers and nails. I really like North Face, and if they can fix the seam, and stain issue I could maybe overlook lack of warmth.
Engineers vs End Users
Familiarity:

I've used it several times
The material isn't stretchy. Difficult to remove/turn inside out. 7/10 fits true from downloaded size sheet. Might want to try the women's if your hands are dainty. M for me, women's S for my girl.



Seriously. Have you tried using this with your thumbs? The seam run right down the middle of your thumb and make you roll your eyes every time you use it. They clearly think that we only use the index fingers to work the phone. The engineers clearly were not having the ones who took it out into the field. Great on paper, terrible in practice.
poorly made
Familiarity:

I've put it through the wringer
I have gone through 2 pairs of these already. The seams keep ripping open under normal wear. Thankfully North Face has replaced them each time. Very comfy otherwise and has worked great as a glove liners on very cold days.
Great gloves.
Familiarity:

I gave it as a gift but have feedback to share
These are really great since they work with anything with a touch screen, but they aren't the warmest when it gets down to the single digits (no pun intended) weather-wise.
happy digits
Familiarity:

I've used it several times
When its cold out I never have to worry about my digits freezing when i'm taking a selfie!

Really soft and I don't find them falling apart anytime soon!



I find they run true to size.
Accessibly Awesome
Familiarity:

I've used it several times
I love these gloves. They are extremely useful when I am out taking pictures or if I need to access my phone. The etip is a great bonus that helps me out tremendously. I got an women's XS and they are a little big on my hands but other than that, I like how thin they are. I can easily put another pair of gloves over them if desired.
Lightweight and warm
Familiarity:

I've put it through the wringer
Nice gloves for above freezing temperatures. The sizing chart was true to size and after two months of use on treks, scrambles, and trail runs the gloves have shown minimal wear.



I wouldn't depend on these gloves in the winter. However, I can envision using them this winter on nice sunny day.
warm and functional
Familiarity:

I've put it through the wringer
I use these as liners or light duty gloves. They keep my hands warm when it isn't bitterly cold or wet. If the temp drops or I expect them to get wet I wear thicker gloves over them. When I need to use my cell phone these things get the job done. They keep my hands warm and protected but allow me to use my phone. I've never had a problem unless my screen was wet. They are such great gloves that I promptly replaced them after I lost them a year ago.
Perfect for the cold runs
Familiarity:

I've put it through the wringer
I've been using this glove for trail running and mountain running during the cooler days this year and it has been perfect. I've used them in temps from 35-20 degrees and have tested them with high winds on mountain runs and my hands stayed comfortable throughout. One complaint is that I wish the wrist had a little more tension around the gaiter to really seal the glove.



The "E-Tip" works great (with all fingers) and the grip on the glove is a great feature if you're going to be handling your phone at all (I assume you plan to if you're buying the E-Tip glove). The grip isn't too much, so if you're looking for something thats super tacky, this isn't it. However, I have never felt like I didn't have a secure grip on my phone.
The North Face Etip Gloves
Familiarity:

I've used it once or twice and have initial impressions
Great gloves. Great company to buy from. I'll be back.
Nice mid-weight glove, could be grippier
Familiarity:

I've put it through the wringer
Used these most of last ski season paired with the shells of my Arcteryx Alpha SV gloves. Not super warm (perfect for my use as a midweight liner), but worked well when temps were in the 30's-40's F. They function much better than the previous iteration with the funky silver metallic mesh stuff patch sewn in to just the index finger tip. Not much pilling thus far after 30+ days.



Only complaint is that some more sticky/tacky/grippy silicone would be nice. They know it's being used for smartphones, and if I'm holding mine on a chairlift/frozen concrete/waist deep powder/etc, gloves near as sticky as football receiver gloves would be much more reassuring (you can practically climb a wall like Spiderman with those) . As is, it's only on the thumb/index/middle fingers and a bit of the palm below each. Presumably like most people, I tend to grip my phone predominantly with my pinky and middle fingers.
Keeps Your Hands Toasty
Familiarity:

I've put it through the wringer
I tend to agree with some of the reviewer when they say it's not going to keep you warm if trekking sub-zero temperatures. It really keeps the fingers nice and warm when out for a morning or late evening walk. Etip technology is pretty cool, but not really necessary if you're out enjoy nature and not worrying about who said what on your FB wall. But, if you're tracking a hike with your smart phone, it does come in handy.
I love the freedom of motion that these gloves provide your fingers while also providing a great amount of insulation. Obviously, these gloves will not be serviceable in the arctic tundra, but if you walk outside on a cold windy autumn day with these etips on, neither your hands, nor your mobile social media updates will regret it.
How do I return damaged gloves for another...
How do I return damaged gloves for another pair of the same size and color?
You can give us a call at 1-800-409-4502 and any gearhead, like myself, should be able to help you make an exchange if your item is eligible.
Warm, functional, good looking gloves
Familiarity:

I've used it several times
I bought these for a Patagonia trip -- these gloves fit well, worked great with my iPhone, and kept my hands warm in the strong Patagonia winds. They aren't bulky, and I like how they don't have an obnoxious silver tips on the fingers to indicate the e-touch capability. I haven't used these gloves in heavy rainfall, so I can't comment on how they hold up when wet. But pleased with my purchase so far.
Helpful for the cold days
Familiarity:

I've put it through the wringer
I bought a pair of these for me and my wife. They work on both Android and Iphone. Perfect for commuting or walking around in the colder air. I've used them shoveling, hiking, and snowshoeing. Easy to navigate around your phone. If the temps get super cold, these won't keep you that warm.