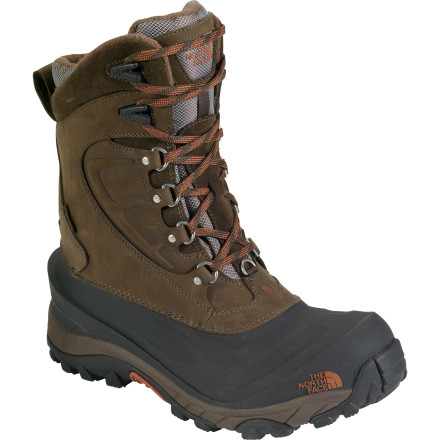 Detail Images

Videos

Community Images
When you're battling extreme winter weather, be sure to arm yourself with The North Face Men's Baltoro 400 III Winter Boot. Impregnable TPR shell topped with waterproof nubuck leather create a barrier against snow, slush, and water, while 400g Heatseeker Eco insulation keeps your feet happy in temps down to -40 degrees. In fact, other parts of your body, including your brain, will declare it time to head indoors long before your feet are ready to give up the fight.
DriLex fleece lining adds extra warmth
Compression-molded EVA midsole cushions every step
Northotic dual-density footbed features a firmer arch and softer pads under the forefoot and heel
WinterGrip outsole is studded with temperature-sensitive IcePick lugs for goat-like traction on icy surfaces
D-ring serves as attachment point for gaiters
The North Face Baltoro 400 III Boot - Men's
I bought these boots for my father as a Christmas gift last year they were good for that winter but for the 2nd winter using them the snow goes in the shoe so my father feet get all wet. I was disappointed thought they where supposed to be waterproof.
Inacceptable durability
Familiarity:

I've used it several times

Fit:

True to size
It's my 2nd winter with these boots. They are only worn a handful of times each winter. Wearing them today for the first time this year I heard a strange cracking noise. The rubber completely separated from the leather and you can see the insulation. In reading the reviews for this boot and others similar to it, this cracking appears to be a common problem. The boots are great but they have an inaccetable durabilty so that I definintely can not recommend anyone to buy them. If I see this right North Face is no longer selling this product !
These are great boots I normally where a 9. Ordered a9 they were to small. Gave them to one of my children.

Ordered a 9-1/2, still to small.

I hoping the 10 I order will fit.

I am getting tired of buying boots I can't use.

Go at least one size larger when ordering
Anyone ever try putting a crampon on these?...
Anyone ever try putting a crampon on these? I've had em for a couple years and they have never let me down! I especially love how well they work with snowshoes, and am wondering if they might hold a crampon for non-technical stuff (high angle snow rather than vertical ice). Any thoughts?
Best Answer
Andrew,

The North Face Baltoro 400 III Boot is an excellent winter boot and I am not surprised to hear that they have served you well for snowhoeing. I find that the best snowshoe boots are warm, durable, waterproof, and have decent flex in the forefoot allowing you to walk or run over varied surfaces. I cannot however suggest using them with crampons because of the very flex that makes them ideal for snowshoeing. It is of course possible to use these boots with crampons in theory on fairly level ground, but not recommended for safety or practicality.
Makes sense! Thanks for the feedback!


The North Face Baltoro 400 III Boot
Great boots! The best winter boots I've worn yet!
Great boots! Like everyone suggested to order a size up or so, definitely listen and do it! Shoes are warm too! They seemed a little cold at first. But once I walked a few feet they warmed up right away! Heel pressure is great too. I live in Chicago and have deployed to cold parts of the world. Let me tell you these boots won't disappoint you!
Delightful
Familiarity:

I've used it several times
Super happy with these dogs. I have been using these a lot this winter for birding and hiking in some decent snow. They are easy to go on and off and maintain heat well; maybe too well at times... like my feet are sweating when it is above 25 degrees. I ordered a size 11 and I typically wear a 10-10.5. Also read a review elsewhere about a dude who has been wearing these for years while working in Alaska so I'm planning on rocking these for the long haul!
Solid boots!
Gender:

Male

Familiarity:

I've put it through the wringer
a better price than i paid for them available here on backcountry. damn haha. but these are great boots. i wear them snowshoeing, hiking(in the winter), walking the dog or where ever. very comfy, very warm,great traction and surprising very water proof. and for that price, worth every penny
Get a half-size larger
Gender:

Male

Familiarity:

I've used it several times
Been out with the Baltoro's in sub-zero conditions with snow cover on the ground...and my feet have yet to be cold. This is no small task since I have perpetually cold extremeties. The primaloft insulation does an excellent job keeping your feet warm and the boots are high enough that you shouldn't have to worry about deep snow so long as you combine them with a pair of gaiters.



A tip...try a half-size larger, particularly since you will likely be wearing thicker winter socks.



The only downside to these boots is the weight. You can really feel a difference vs regular hiking boots (such as my trusty 3-season Asolos). The Baltoros are going to be clunkier and take more out of your legs on long demanding hikes. But this is the trade-off for warm feet in extreme conditions.
I ordered these in a Size 11. When I received them, I tried them on. They do not run true to size. They run short and narrow. This would be the perfect book if The North Face made them in width sizes and true to size.
Where are these boots made?
Where are these boots made?


Made in vietnam.

I wanted size 11.5 pls inform me f it's available. Tnx much!
Well put together boot. I ususally wear a 10 but had to go to 11.5 to make enough room so as not to feel tight.
In front of an Alaskan Glacier
Took these boots with me from Afghanistan to Alaska for a family reunion/vacation. After a 90 minute snowmobile adventure to the Glacier nearest Alyeska, we finally made it there. Great boots to have but my feet did start getting cold when the temperature dipped to -11F. I was wearing 2 pairs of socks, one was Merino wool as my base and the other were SmartWool.
Bought for my large footed sons. They fit true to size. They got them for snowmobiling and snowshoing and are plenty warm.
Great for winters in Afghanistan
I have to say that the reviews were spot on. I normally wear a 10.5 to 11.0 US and I purchased the size 12 US based on recommendations here. I'm glad I did! The boots fit perfectly with my SmartWool socks and my toes are definitely toasty and comfortable. We have experienced more snow here in Bagram this winter than most can recall for the past 10 years. Within the past month we've experienced at least a foot of snow and temperatures down to -15C which translates to freakin cold Fahrenheit for me. Being from Hawaii, I am more sensitive to cold weather than most and so I have invested in only the best cold weather gear to keep me warm. Dawning these boots, my handmade Russian mink coat I purchased from a dealer in Kabul, and the best Arcteryx Polartec Fleece Jacket available, I am one sizzlin' and stylin' Hawaiian on base. When the snow melted enough to cause pools of sitting water, I simply put on my gators over the boots and merrily slosh my way through the slush. My only regret was going through two other inferior boots before finally purchasing these which meets and exceeds the winter requirements here for cold, wet, snow, and ice. There are many other winter boots to choose from, but there are only a few great boots that will make you happy you purchased them. These boots are one of them and they are great for winters in Afghanistan. Choose wisely my friend.
I just returned from a week in Jackson Hole Wyoming snowshoeing and have to say that TNF Baltoro 400 III performed extremely well! First off when you take them out of the box you'll be amazed at just how lite these boots are and at $104.00, they're worth double that. Comfortable....oh yeah!! I never even wore them to break them in prior to my trip, which is a little risky but I wasn't disappointed in the least. I used them around town and snowshoeing in the Tetons and I love the design of these boots for snowshoeing. The lip that's just above the heel acts as a strap stop to prevent the heel strap of my snowshoes from slipping off. I wore these boots with a pair of SmartWool socks and I tell you I NEVER felt the cold. At one point I actually stood in the middle of a creek to test the insulating as well as the waterproofing factor of these boots and was not disappointed. These boots performed without a hitch. I was glad that I had heeded previous reviewers advice and ordered them a full size up though since I almost always wear size 11 to 11.5 in everything. I ordered a 12 and they fit perfect with my SmartWool socks! I was also extremely pleased with the service I received from Backcountry.com. I had my boots well within a week of ordering. Thanks North Face and special thanks to Backcountry.com.
Being from South Louisiana I certainly wasn't looking forward to Arctic Weather. However, it's all about having the proper gear.

Spent a couple of week in Northern Alaska (January 2012) where the temps were regularly reaching -40 to -50 degrees for extended periods of time. With my North Face Baltoro 400 III boots, I purchased from backcountry.com, my feet never even thought about getting cold.....nor did they sweat! These boots remained dry the entire time and were so very comfortable!