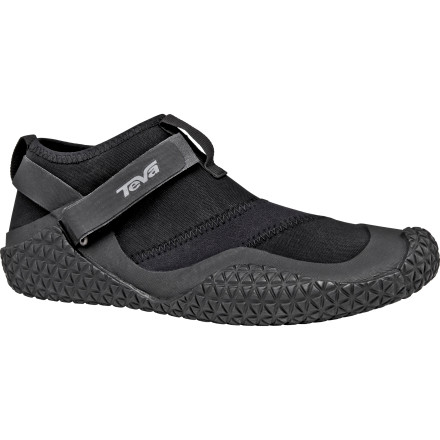 Next time you are out slinging your bing on the wing of a major swing, throw the Teva Sling Water Shoe on your foot. If you find your toes are cramping up in the bow of your play-boat because of non-flexible shoes, but going shoeless makes scouting un-comfortable, then the slim-profile Sling with its sticky Spider rubber outsole is the answer. Scout the next big hit without falling on your butt or suffering from crammed toes. The simple neoprene upper fits snugly and keeps the chill off.
So I got these shoes thinking they would fit in my play boat but.. They dont. Its ok though I can wear them in other boats. I find the shows kinda comfortable but I have never worn "good" shoes so they may be a down fall. The only other thing I really have to say about them is to order a size up I did and they feel great. Hope it helps
Just like everybody else has commented, order at least one size up. I like to wear Smartwool socks when I kayak, and one size up is just barely enough. If you are a half size, go one and a half.

These are really comfortable, and I don't notice that they hold water. Maybe, it is because I wear socks. They fit well inside my kayak and are ok for walking short distances (e.g. scouting rapids). They have good traction on wet rocks.

Here is what I don't like, the velcro fastners come undone in a swim, I haven't lost a shoe yet, but they will not stay fastened when wet. I put another velco piece crossways around the orginal to keep it down and that seems to work pretty well.

Also, I have delt with TEVA customer service in the past, and they are first rate.
Shoes are ok, but not great
The size chart is not right. We had to order one size larger for me and two sizes larger for my husband. The shoes themselves are ok as far as comfort, but when water gets in - it stays there and you can get rid of it only by taking the shoes off and on again.
teva sling king water shoe
sling king water shoes,order at least one size larger,the sizing are wrong