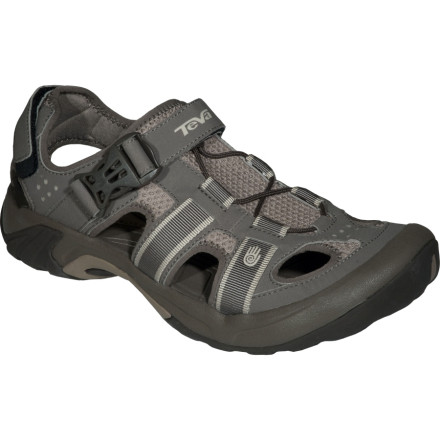 Detail Images

Videos
Description
This is what happened when a boot and a sandal met.
When your adventures take you back and forth between water and terra firma, the Teva Omnium Water Shoe is a functional alternative to traditional sandals and hiking boots.
Non-marking Spider rubber outsole provides exquisite grip in wet, slimy environments and on uneven approach trails
Quick-lace system holds your foot in securely when hiking or swimming
Microban antimicrobial technology uses the natural antibacterial properties of zinc to prevent stinky bacteria and fungus growth on the shoe
Quick-dry synthetic leather and soft mesh lining for comfort
Drain frame technology directs water out of the Omnium quickly to prevent squishy feet
Shoc Pad provides increased shock absorption in the heel
Disappointing
Familiarity:

I've used it several times

Fit:

Runs large
Let's start with the good. These shoes are rugged and have excellent grip. Teva can't be faulted for making those claims. Good job.



Unfortunately, I can't adjust these shoes to be comfortable or to at least not give me huge blisters every time I wear them.

I love my Raith boots and I desperately wanted to like these shoes, but I can't imagine hiking in them any more than I have. I'll probably still wear them for kayaking or fishing, but only if I don't foresee walking too much.



Maybe the sizing is off, as it has been suggested before?
Problem with rocks and debris in toe-box
Familiarity:

I've put it through the wringer

Fit:

True to size
Bought a pair due to long term cruise to bahamas. Shoe was durable and comfortable for the most part. Issue was rocks or debris gets into the shoe and then with closed toe you can't shake it out! I bought these with the solid toe for protection but think the closed end was more trouble then benefit. I've owned numerous TEVAs and will buy them again but not this model with closed toe
Great so far!
Familiarity:

I've used it once or twice and have initial impressions
I bought these for a few reasons:

I wanted something that would be more secure on my feet than my birkenstocks, but still have open air flow. I wanted something I could bike with. I also just started sailing, and I wanted something that could get wet but also had closed toes.



I ordered a 9 at first and ended up sending them back for an 8.5. I was surprised at how much smaller the opening of the shoe was on the 8.5 - it's a little difficult for me to get my feet in, but they're loosening up.



Got a couple blisters the first time I walked in them for a while, but I expected that. Haven't worn them with socks - probably won't.



So far so good!
I chose to get these sandals over other open toed sandals since I am a CLUMSY walker. Constantly I worry about picking my feet high enough off the ground to avoid having my toes impaled by sticks/other pointy objects on the ground.

It fits snugly on my feet, and there is plenty of adjustability to ensure a secure fit. There's also an extra squishy shock pad in the heel that makes walking all day a breeze.



Only problem I ran into was sizing. I normally wear a size 9 in street shoes(but my real foot size is closer to an 8.5).

I bought the 8.5 thinking I was being conservative. NOPE. These things were huge. Went to a size 8 and all is well now.



Got these just in time for a backpacking trip down in the Capitol Reef canyons, so I'll update a review once these sandals have seen some miles in the terrain they were meant for
Teva Omnium Water Shoe - Men's
Sturdy and durable
Gender:

Male

Familiarity:

I've put it through the wringer
A sturdy shoe with a good fit for my somewhat wider than normal feet. This is the second pair I've gotten. I walked the first pair's tread off after nearly two years of constant daily usage - both for everyday walking about and trail hiking with climbing packs - but the rest of the shoe was still in good condition. After I walked through the first pair, I went back to REI to pick up a new pair, only to find REI no longer carried this. Dismayed, I cast about to other stores until someone suggested backcountry.com as a source. Bingo! Happy feet again. Now, soon as my budget recovers from other hits, if there are still any of these left here, I'm ordering a backup pair so I don't go without when I walk through the current pair.
I've had these about a month and have worn them about a dozen times. Very comfortable right out of the box. In fact, took the dogs for a walk in them the day I received them, no rubbing or rough spots or otherwise. Don't know about their water use, I bought them mainly for everyday wear. Wanted something other than a sandal or flip flop and that would wear well. Had the original Teva sandals before and was happy so thought I'd try another Teva product. Tried other brands while shopping but these had the best fit and comfort to me. So far, they're great!
Unanswered Question
What do they weigh? I've seen that they...
What do they weigh? I've seen that they are lighter than Keens, but that's like saying "my car gets better gas milage than a Mac Truck". Keens are way to heavy for river crossing shoes on the Muir Trail! Teva's website has no weight, either.
I wear these water shoes on board fishing, wadeing saltwater flats and wet wadeing mountain rivers & streams. Very comfortable with great protection! I've worn my current pair for over a year with no sign of wear.

I purchased my first pair two and a half years ago and was dissappointed when the soles delaminated after only one year, but Teva replaced them and assured me that the glue problem had been solved.

These are the best and most comfortable water shoe I have ever worn!
Pro's:
No slipping around the foot when wet
Good width
Open toe box
Look cool/ Unique

Con's:
Rubs raw the first 20mi or so on heel
Rocks that enter, do not exit
Teva "funk" still present

Bought these to upgrade the normal Teva sandal. A few hotspots until broken in, but have since gone away (wear them a little loose). I'm still undecided if I like them over the traditional sandal.
Has any of the wide foot men tried this...
Has any of the wide foot men tried this out yet? I need a new pair of W/S. My feet cant take another year of blisters from tight wet shoes
Best Answer
Yeah- if my feet were any wider I could walk on water. These are great.
I haven't worn these in the water, but for general everyday use that I've put these through, in addition to hiking to climbing crags with a moderately heavy climbing pack, they do my wide feet fine.
There have been a lot of reviews/reports...
There have been a lot of reviews/reports saying that the glue for the sole is weak. Its been said that the sole will fall off within a month or so. Has anyone experienced this or have they fixed that issue?
Well, I didn't get an answer, but I need new shoes for my upcoming trip to Tibet. I guess I'll have to answer my own question when I get back. Stay tuned.
dont know if its too late for your trip, just saw your question. both pairs of Tevas i have had flip flops and water shoes have had the mid sole pull away from the actual sole in less than one season of use. i am assuming this is due to inadequate glue. fixed them with random waterproof glue from home depot. if you are looking for flip flops, i would look toward sperry topsiders. the last pair i purchased is going on ten years of hard wear. if you are looking for a hybrid shoe/sandal, my Keens are going on 2 years without problems. hope this helps.
My first pair came unglued, but Teva replaced them and told me that the glue problem was solved. Have worn them for over a year in very harsh enviroments and they have been great!
wear these mostly for wet wading while flyfishing. very good traction on wet,slimy rocks. enough tread to safely get up and down embankments. super comfortable, a little loose in the fore foot but has effective bungy tightening system. very good overall if you spend a lot of time gettin wet!
Sporty water shoe meets sandal
I'm not really a sandal guy, but these felt comfortable even wearing at school. Another reviewer mentioned how these are really true to size, and I agree: 12 is a little big on me, might've been better to go with 11.5 but they feel fine besides being a bit wide for my feet (theres gap between the sides of the front of my foot and the sandal). Hope this doesn't affect my comfort much while hiking, though I have a dedicated pair of hiking boots, and mostly plan to use the Omnium for river crossing, boating, and kayaking (when I get to that point!)
i read several people have a narrow foot...
i read several people have a narrow foot and this sandel fit great i wear a 8ee will this fit my wider foot
Best Answer
Go up a half size.
Been wearing these for most the summer since they showed up at my door and I have no regrets. Some budies kept urging my need for some hiking sandals/water shoes and I can't say enough about them. They are very comfortable in any type of activity, even running. Breathable, although wearing barefoot can produce an odor after a couple of weeks on the street. Can't go wrong!
Great sandal/shoe. Great on long hikes, my legs were sore but my feet felt great. Sole is super grippy, even in the wet jungle and on rain soaked rocks. Straps make it easy to adjust - I bought mine a half size too big (the sandal really is true to size, I am usually a 10 and bought a 9.5, but a 9 would have been perfect) but the straps made it fit well.
Write your question here...I noticed that...
Write your question here...I noticed that you don't have any Men's Size 9. Do you think bumping up to the 9.5 would be a huge difference? Also, I have very wide feet. Are these shoes adjustable or stretch out?
Best Answer
They have size 9's now!

And depending on the width of your foot, a half a size shouldn't make a huge difference.
Great shoe, high quality - worth every cent! I have narrow feet so I have a hard time finding anything that fits. These shoes are adjustable in so many ways that it gives a custom fit. They are comfortable, practical and stylish - what more could you want!