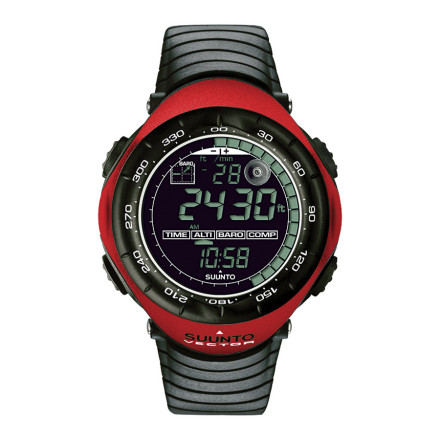 Detail Images

Videos

Community Images
Think you've seen this altimeter on someone's wrist before? That's because since its introduction in 1998, the Suunto Vector Altimeter Watch has served as the altimeter, barometer, and electronic compass of choice for hard-core adventurists from mountaineers to Marines. Since then, Suunto has greatly simplified the watch interface on this wristop computer to be more user friendly, upgraded the compass to be more precise, and added weather functions for peace of mind.
Highly sophisticated altimeter provides detailed data on your current elevation and elevation change over time—usable up to 29,000 feet
24-hour altitude log keeps track of your elevation gained and lost for you—so you can focus on the climb at hand
Keep an eye on approaching storms with the barometer—includes four-day weather memory and trend indication system
Take a step in the right direction with the digital compass which allows you to set your bearing in degrees, track that bearing over time, and adjust for local declination
Additional features include timekeeping, date, chronograph, time alarm functions, and altitude alarm
Water resistant to 30m
Altimeter Problems
Familiarity:

I've used it several times
The watch is great for barometric pressure but changes in pressure throw the altitude reading off. I have set it at a reference of 0 meters when I go to bed and it can be off by over 50 meters 8 hours later just due to, I assume, changes in pressure. Or I just got a lemon.
Love it.
Familiarity:

I've put it through the wringer

Fit:

True to size
About a month after I received the watch it started acting really strange. The time would jump around and the altimeter wouldn't be very in accurate but a new battery solved those issues.



Great watch.
good watch with great features
Familiarity:

I've put it through the wringer

Fit:

True to size
The features of the watch are great. Navigation through the different features is also very simple. Setting the watch, compass, alarms, etc are very easy to do.



I did manage to tear the band up, but that was my fault. Doffing a 100 pound ruck, and it got caught on my watch and ripped it off. a NATO band and pins got it back together on the cheap and works well.



Actually, speaking of the band and compasses... the Suunto compass doesnt fit on their watch bands. WTF. But, fits well on that nylon strap band, so all is well that ends well.



Never leaked on me in flooded swamps, so shes water tight too.
Get One!
Familiarity:

I've used it several times
Compared to the Highgear (which is no longer made) this watch stands alone. I've used it on several mountaineering, backpacking and climbing trips and it has yet to fail in any way.

Alarm: Loud enough to wake me up.

Altimeter: Easy to adjust and fairly accurate.

Barometer: Also easy to adjust and use.

Compass: Is also easy to read, use and calibrate.

Data Logs: Haven't really used but they do work and it's pretty cool.

Time: Hey, it also keeps time and date!

Size: Big, but not too big. It is also light on the wrist and looks great.
I'm curious how big this watch looks on a female, or someone with small wrists...?
Hey Laura,

To give you an idea of how big the face is here are the dimensions.

51.4 mm wide and 15.3 mm thick.
Laura,



I honestly have no idea how it looks on a small wrist. The best way to know how is to try it on for yourself. It's a sweet watch and I hope it's not too big. I can setup the order for you and hook you up with a free return label. Email me - ccostley@backcountry.com and I can set it up for you :)
I work with watches all the time (at my day job as a jeweler). An average women's watch is typically 20-30mm and an average men's watch is 35-50mm. This watch may be a little bulky for your size wrist. I may recommend the HighGear Axio Mini to you. Unfortunately most other altimeter watches on the market today appear to be geared towards men.
Outdoor Gear Lab Best Buy
Outdoor Gear Lab tested five of the best altimeter watches on the market in side-by-side tests over a year. These watches feature the key functions that hikers, backpackers, and climbers use the most: altimeter, barometer, digital compass, and standard time-keeping features.
Long term review
Familiarity:

I've put it through the wringer
It still works fine.

I got mine in 2006 , i think. No problems. Band has not broke, all functions work. I have only replaced the battery twice so far. Bezel does not really move much, but i never have used it.

I don't wear it daily, it is big. That is the only negative comment i have ever had.


The Perfect Outdoors Watch
Gender:

Male

Familiarity:

I've used it several times

Fit:

True to size
This is my first Suunto watch and it is spectacular in every way. Many, many settings that allow the user to track altitude, barometric pressure/sea level pressure as well as a very accurate compass. Yes, this watch will require you to manually adjust these settings when you first use it and may require you to calibrate them in the near future.



I also purchased the Suunto velcro strap with this watch because I read the stock, rubber strap is annoying and isn't that comfortable. I would highly recommend purchasing the Suunto velcro strap if you really want this watch to feel comfortable on your wrist.



Superb watch. Exactly what I was looking for.



Also, ordering this item was fast and easy. Backcountry shipped the watch the same day I ordered it and it arrived super fast (2 days).
nice watch
Familiarity:

I've used it several times
This watch does it all, but requires a bit more research from the user. While I like it now, initially I had to get the majority of the instructions from the SUUNTO website, as a lot of the details do not come with the instructions with the watch. If you don't mind going to this extra effort you might get frustrated.
Beyond Limits
Familiarity:

I've used it several times

Fit:

True to size
So, the Vector is a great watch. The face is large enough to read in low light and not too big that you can not wear it with a jacket. The band can have issues as it will trap sweat and moisture beneath it, the one down side, but minimal considering the discomfort.



The buttons are pretty easy to work with gloves on and the back light is quick and a nice feature. Here in the Rockies everything is uphill, the altimeter is as accurate as it can be without GPS input.



Overall I am glad I got this watch, I just should have done it sooner.
High Quality, Accurate
Familiarity:

I've put it through the wringer

Fit:

True to size
As far as functionality, comfort, look, and durability go, this watch is top tier. I have slammed this thing around and I only have a tiny scratch on the face. It takes a little bit to get used to the buttons and what they do. I like the size of this watch as well. I have a small wrist, and most Suunto's are a little too big for me. This is just perfect. I wish it would sync with my heart rate monitor, but everything else is great.



I have the XBlack model and some reviews have said it's hard to read. I haven't had any issues reading this watch at all. It would be nice if the internal light were easier to operate, though.
Durable, comfortable, and informative
Familiarity:

I've put it through the wringer

Fit:

True to size
I have had this watch for several months now and at first it was a bit overwhelming trying to figure out all its cool tricks. Now I have most of them down and love this watch. I have used it in several mountain marathons and on many trail runs and mountain bike races.

Naturally I have taken some nasty spills and even fell on the watch pretty hard- it took it like a champ and looked better off than I did after the falls! The altitude log is an awesome feature and adds even more of a feeling of accomplishment after a long climb.

Great watch, has a low profile fit and is one tough time keeper.
Not much has changed
Familiarity:

I've put it through the wringer

Fit:

True to size
I started wearing suunto watches back in 1999 when I purchased my first one In Graffenwoehr, Germany right before going on a field exercise for the military. I bought a Suunto Vector and I took it everywhere. I took it to Afghanistan on 2 tours and I took it to Iraq for 2 years. It survived all of the heat, sand, dust and rattling of the track vehicles we cruised around in. I had that watch until 2010 when I finally retired it and upgraded to the Core. I was looking at my buddies vector the other day and nothing has changed on this model at all. If it is not broken then don't fix it. The case is a hard plastic. This watch is much lighter than the steel casings of the Core. This model is a little less bulky than other suunto models. The band can sometimes trap moisture around the wrist because it is form fitting. The functions themselves are basic with an altimeter and a barometer, alarm functions and of course an analog. Aside from that this watch is awesome and if taken care of it will last you a decade.
Awesome!
Familiarity:

I've used it several times

Fit:

True to size
I'll just list what I like about the watch. Very light. Great big size that's not too big. Very easy to setup time, alarm, stop watch, etc (go to youtube). The wrist band is very comfortable. Very ACCURATE time. I got the yellow one, sold it, then got the xBlack, and now miss my yellow one. Two cons: 1. the band screw came off I don't know when, so take notice of your loose screw before it's gone (I called Suunto and they sent me a new one). 2. The bezel gets tight when you turn from time to time, perhaps it has to do w/ the weather you in. Good luck w/ your decision. Link to my watch here http://s1212.photobucket.com/user/ftbagkicker/library/Suunto%20Vector%20Yellow
Really like this altimeter watch. It is extremely simple to use and very reliable. I take it everywhere although I have a hard time not scratching the face.
Suunto Vector Altimeter Watch
I gave this watch as a gift and he loves it. The watch works great. The battery life doesn't last that long though but he would definitely recommend it to a friend.
Where can I purchase a replacement watchband...
Where can I purchase a replacement watchband for a Suunto Vector
I know for a fact that ebay has them, other than that you can try contacting Suunto directly.
While a little late, backcountry does sell 2 different types of replacement straps for the vector
Where can I obtain a replacement Suunto...
Where can I obtain a replacement Suunto Vector watchband ?
I know for a fact that ebay has them, other than that you can try contacting Suunto directly.
I just got this watch and am excited to start using in skiing, so far I have figured out how to set the time and stopped there. Not much else to say yet, but stoked to get it going.