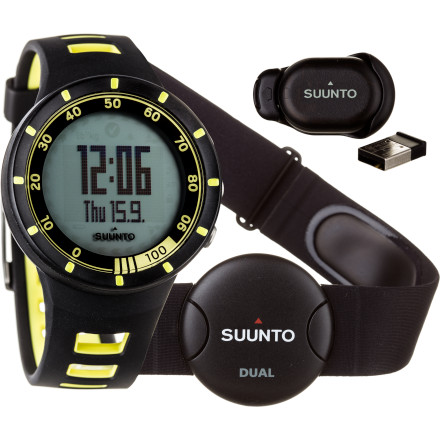 Colors

Detail Images

Community Images
Description
Eliminate the guesswork.
Who need a fitness coach when you have the Suunto Quest Heart Rate Monitor Running Pack to help you manage your training? Dial in your training regimen down to the most minute detail (or just exercise more effectively) with the help of this complete system that includes a wristwatch-style heart rate monitor with advanced functions, the Suunto Dual Comfort belt, a Foot POD to keep track of your mileage and running speed, and a flash drive to make uploading the data from your workout to your PC fast and easy. The Quest works with Movescount.com to create a training program, track, graph, and analyze your data, and even remind you of what's up for your next workout.
Data downloads to your computer for storage and analysis (software included)
Features watch functions like date, day, and dual time and a chronograph that includes stopwatch, countdown timer, and interval timer
Heart rate monitor provides current and average rate, calories burned, and then applies the data, guiding your workout intensity and suggesting recovery time
Customizable screen layout lets you track your specific information needs
Dual Comfort Belt works with your Quest as well as most gym cardio equipment and all Suunto heart rate monitors and Suunto fitness PODs
Movestick Mini transfers your data to Movescount.com on your PC or Mac via a USB port
Foot POD Mini attaches to your laces to transmit speed, cadence, and distance data
Beyond Easy!
Familiarity:

I've used it several times

Fit:

True to size
First night straight out of the box and the HR belt and Pod paired up instantly. Super easy to use and super accurate. Only thing I would say is I thought the watch might have been a bit larger. I am used to some of the the other Suunto watches that are a bit bigger and was expecting this one to be of similar size, but overall it is super easy to use and the movescount.com login and how easy it was to download the data from my first run made it even better. Great watch with so many features!!!
I bought one for myself months after I got the man one. I tried to love it because it was so simple to set up and use, but it just wouldn't pair with the POD. I watched the Youtube videos and checked the FAQ pages and nothing worked. The heart rate reading would also be off sometimes, for the first few minutes. I contacted Suunto, but their customer service is non-existent. Thankfully, Backcountry has an excellent return policy and I opted to return for an exchange.



2nd time around and this thing works! I love having a relatively small watch tracking my progress as a trail run or ride. I don't even notice the POD, but it tracks the mileage accurately, as opposed to some apps out there (imap). I'm giving it a 4 because of the Backcountry service and this second set works flawlessly.
Daily Use
Gender:

Female

Familiarity:

I gave it as a gift but have feedback to share
I got it for my hubby who uses it on hikes and road rides. So far, he likes it, but has noticed that when he hikes with the dogs (rambunctious and leashed) the buttons somehow get pushed and the program is stopped. Other than that, no complaints. It's light and easy to use and I got a price match from Backcountry. Their customer service rocks, as usual.
Excelente reloj, muy legero robusto y confiable, las insturcciones que viene en la caja son muy básicas, pero la página en línea es muy fácil manejar el softaware del reloj, muy amigable.
Estaba dudando entre Suunto, Timex y Garmin y Polar definitívamente hice la mejor compra.
SUUNTO QUEST
RUNNING PACK
-Ships with: Suunto Quest Black, Suunto Movestick Mini, Suunto Dual HR
Belt, Suunto Foot POD Mini
-Composite case, rubber strap, water resistant metal buttons.
-Mineral crystal glass.
-Case diameter: 46 mm.
-Case thickness: 12 mm.
-Water resistant to 30m-100 ft

KEY FEATURES
-Real time heart rate, speed and distance
-Real time intensity and speed guidance
-Recovery time
-Stopwatch with laps, interval timer
-Running cadence
-Create and download own training programs
-In-depth analysis with heart rate and speed profiles on Movescount.com
-Customizable display
-User Replaceable battery on watch and HR Belt.
-9 language options (English, French, German, Italian, Spanish,
Portuguese, Dutch, Finnish, Swedish)
-Create training program in Movescount
-Next training reminder: duration, intensity

ADDITIONAL FEATURES
-Calories in real time
-Adjustable HR zones, time in HR zones
-Running cadence with optional Foot POD Mini
-Peak Training Effect on Movescount.com
-Heart rate and speed profiles on Movescount.com
-Backlight
Perfect HRM & Watch for Male & Female Athletes
I have searched high and low for a female athlete friendly HRM and watch. I had a Polar FT60 for the past two years but was really unhappy with their website and the fact that a Flowlink component had to be used in order to download your data. I tried the Polar RCX5 but had to return it because the watch was much too big for petite wrists (I am 5'7"/125 with a 5 1/2" wrist). I also didn't like the fact that Polar's foot pods are about 3-4x the size of Suunto's. The HRM chest transmitter for the Suunto Quest is the most comfortable I have ever worn - I forget I even have it on. I have never had a problem with an accurate HRM reading and the watch is fully adjustable so everything fits perfectly. Suunto has a Movestick mini as well so no annoyingly larger dongles to transfer your data. The Movescount website is excellent - my data downloads in less than 15 seconds. Suunto is the way to go if you are a serious athlete! I also tried the T6D but it is dated (2010), requires hardwire data transfer, and is way too large for smaller female wrists. I also tried the M5 but that is geared more toward entry level weight loss goals with structured programs - not for serious athletes. I couldn't be happier with my purchase!
How would this watch fit a women? I have...
How would this watch fit a women? I have a pretty small wrist, and I'm wondering if it will be too big or bulky?
The Quest isn't huge, but it's not tiny either. The sides are completely vertical, so the face is the same size as the rest of the body, so it may feel bigger than it actually is when on your wrist. The band is designed so that you can use any hole for the buckle. You can make it fit.
Best Answer
It fit's my wife very well. She loves this watch with speed and distance