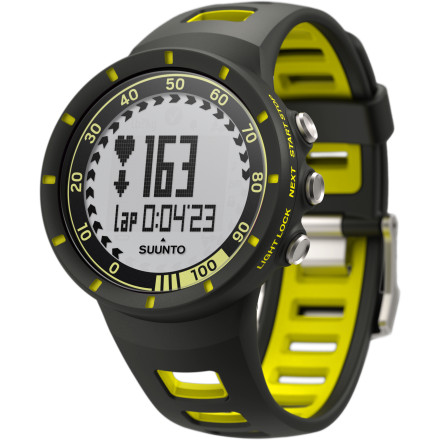 Colors

Detail Images

Community Images
Description
Like a drill sergeant without all the yelling and camo.
Find your body's most efficient zone of aerobic exercise while you run or bike while wearing the Suunto Quest Heart Rate Monitor, which also lets you upload and graph data to your computer. If you want to dial in your training regimen down to the most minute detail, or just exercise more effectively, then take advantage of this wristwatch-style heart rate monitor and its advanced functions. By reading the large LED, back-lit display, you can keep track of your real-time heart rate, calories burned, and average heart rate to help keep you in the right zone for maximum energy use.
Data downloads to your computer for storage and analysis (software included)
Features normal watch functions like date, day, and dual time and a chronograph that includes stopwatch, countdown timer, and interval timer
Heart rate monitor provides current and average rate, calories burned, and applies the data, guiding your workout intensity and suggesting recover time
Customizable screen layout lets you track your specific information needs
The included Dual Comfort Belt works with your Quest as well as most gym cardio equipment and all Suunto heart rate monitors and Suunto fitness PODs (sold separately)
Unanswered Question
does the m5 or any of your products,not have a heart moniter. if you have any quility watches that DO NOT HAVE A HEART MONITER,il purchase it now ,please e-mail me asap,thanks jim
Felt Chincy
Familiarity:

I returned this product before using it
So, I bought this guy as a tool for those rare instances I go for a jog. I'd heard nothing but great things from Suunto so when it finally arrived, I was surprised to find the buttons/display/overall experience felt cheap and brittle. It's incredibly light weight and I'm sure it would be awesome for a long distance runner looking to get rid of unnecessary .lbs but to me, it felt like it wasn't worth the price tag and immediately returned it.
How hard is it to change the battery on...
How hard is it to change the battery on this? Does it have to be sent in to be replaced or can it be done at home or a brick and mortar?
Best Answer
You can easily do it yourself. It takes a CR2032 battery.



Here's the link to Suunto's manual for the Quest, Page 45 is what you want to look at:



http://ns.suunto.com/Manuals/Quest/Userguides/Suunto_Quest_UserGuide_EN.pdf
Solidly built, average user interface
Gender:

Male

Familiarity:

I've put it through the wringer
I've been using the Suunto Quest now for over a month. For fitness, it is a great product. The watch is well constructed and durable. The training and heart rate functions work well.



For use as a daily watch, the interface is a little tedious. Setting an alarm requires going through 4-5 screens. The only stopwatch function requires entering training mode and there is no countdown timer.



Overall, I'd recommend it for workouts but consider looking else where for a daily watch.
Yes....the Quest is a great watch for trail running and other activities. When paired with a foot pod it gives perfect speed and distance. Huge Fan!
Yes....the Quest is a great watch for trail running and other activities. When paired with a foot pod it gives perfect speed and disctance. Huge Fan!
This is my first HRM, and I dove into this one for two reasons 1) its supposed ease-of-use and 2) Movescount. It is easy to use! And the Movescount website will be right up your alley if you are nerdy, mathematical, or stats minded. I love keeping track of my progress through a month. With only 3 buttons on the watch it is quick to learn, so the interface is not frustrating. The Movescount interface is easy, too. I run and ski a lot at night: the only thing I'd change is when the HRM is engaged and you use the light, the backlight flashes to save battery. This is difficult for me to read whilst running. Otherwise, I love everything about this watch. And in the black color it is the perfect blend of casual but dress-up (for me) watch. By the way, the sidebar description says it has an altimeter: IT DOES NOT HAVE AN ALTIMETER.
Suunto Quest - nice watch.
I've been a Suunto user for 8 years, so I've used a few of their products, my normal watch being the t6. The Quest presented me with a different type of user menu (it shares with the M series of watches but which was new for me). But, I was pleasantly surprised that with the three buttons it was possible to do everything I needed to set it up and start using it within 5 minutes of getting it out of the box. It's intuitive and easy to use. Thumbs up for that!

I like the customized screens to let you see the info you want in the training mode or running or cycling. I like to see speed and distance for cycling, but for running it's heart rate and time that are more important to me so to be able to customize this for multiple sports is nice. To change settings inside the Movescount website is also a nice feature.

When I picked it up it was good to feel how light weight it is but it looks pretty solid. The buttons and build look to be high quality although I am always trying to move the outer dashed part like a ring bezel even though it doesn't move!

I have always liked the Suunto look with a round face that means it looks elegant enough to wear it 24/7 which is what i have always done with my training watch. And the Quest fits with this design ethic as well with its punchy graphic edge and numbers it looks sporty but doesn't shout "I am a sports freak" when you are out at a café or bar!
The new Suunto Quest looks great. It has a sleek design and it is user friendly. I have used it on several long distance runs. The fact that it is one of the only watch on the market that gives you your running cadence at this price is incredible. The Quest is great for anyone who is looking to improve and train harder. Also the foot pod and chest strap sync up with no problem.
I have been using the Quest with the foot pod for long distance runs. Spot On accuracy with speed and distance. It also gives all Heart Rate info, running cadence(strides per minute)and training suggestions. I have paired with a GPS POD, the Quest works great on the bike as well.
great lightweight running watch
Really nice watch that has easy to understand functions and walks you through the set up process right out of the box.
Did I miss this? Does it work with...
Did I miss this? Does it work with Macintosh?
Yes, flawlessly. I use mine with a MacBook Pro.
Best Answer
Yes....you can download the apple software at Suunto.com
Suunto Quest How To Set Up Video
How to set up the Suunto Quest for the first time