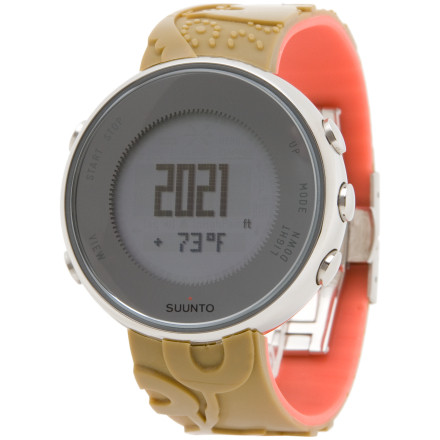 Detail Images

Community Images
Very pretty but the band doesn't last
I bought my watch and was delighted about it, it really works but I have it for 3 years now and changed the band another 3 times. (50 euros each time) a lot of money just for the prettyness I believe...
Suunto Lumi ski touring in Morocco
Photo: Kristoffer Erickson

high performance, low profile
Lumi - mountain to the bars
Is it so wrong to want a watch that can hang on the trails and still look feminine enough to wear out for a drink? I think not: and I found it in the Suunto Lumi. When I opened the package, I was surprised at how big the face was...but it's still light enough to cart with me when I'm biking or skiing the backcountry. I'm not tech-savvy when it comes to gadgets but I found this to be easy to set up and use right away. I use the alarm daily and really like the sunrise and sunset time feature. And of course, the altimeter helps when tracking my stats. I'd highly recommend this watch!
I really like how low profile this watch is while having all the crucial features to help you out while in the mountain. It also has a pendant option which I use to hang it up in the tent. This isolates it from your body to get more accurate readings
I bought this watch on May 8th after the $90 Roxy watch I wore since 2002 got broken. It seemed like a nice upgrade and with a one year warranty plus the high cost I thought I would be good for another 5 years. NOT SO! I only got to wear the watch for about 2 weeks when the strap started falling apart. I submitted a service request via the Suunto website and followed up with a phone call. They told me to send a picture of the broken strap and my address by email and I would receive a new strap promptly. Now it is June 24 and no response. I called them again and kept getting a loud beep in my ear after being told by a recording to hold for the next agent. I finally called their sales department and they transfered me. The agent I spoke with said their policy has since changed and I now have to ship the entire watch in by Fedex at MY cost and wait patiently for it to come back. Nice. If you want to waste a few hundred dollars for something you won't even be able to use, this is the way to go. I wish there was a "zero" star rating. The replacement strap is $59.95 on Amazon.
this watch has a lot of great features but they drain battery power. I've had the watch for a year. I've been through three batteries and 4 watch bands. The bands keep breaking at the attachment site to the watch. I wish suunto would change the band to something more durable.
Will this watch/altimeter keep track of...
Will this watch/altimeter keep track of the vertical feet accomplished in a given day? I am looking for something to calculate my daily vert ski'd, will this watch/altimeter do this?
It has a log book so I beleive it would keep track of your vert skied!
, ☃bcs_badge_alumni_label☃
I love the Lumi Watch!
I LOVE this watch. I love the customizable bands on the Lumi- a little cutting and I am stoked as I have such a small wrist to spend a few minutes getting it right was well worth it. I love the way it looks and its so easy to use-For a techy altimeter watch the Lumi has some serious sex appeal.. I am loving it so far.
On the actual Suunto website they show...
On the actual Suunto website they show pictures of different colors bands, when I look to buy elsewhere I only see black, red and tan? Any suggestions?
The band colors to buy stock are tan and black with patterns, and bright orange plain. The other bands can be purchased separately, as an accessory
First of all, I wish Suunto would get it together and revise this watch because I love the way it looks.
Issue #1: The band. You have to cut it to fit and there is only a tiny margin for error. Too much band left and the clasp won't close. Too little and you cut straight through the hole for the pin. (These two points are less than 1/8 inch apart.) Twice I've had the pin come loose on one side - thankfully that was pointed out before the watch completely came off and disappeared.
Issue #2: The 'up' button stops working in the cold. I was at about 10,000 feet in snowy weather and the button would not adjust the altimeter at all. Thought it was completely broken until I skiied down to a warmer level, where it worked. (It was above 10 degrees up there, easily.)
Issue #3: The crystal. About a week ago I noticed a scratch. I recalled another review on a different site that talked about the same issue. In the past month, I have done nothing more rigorous than working, grocery shopping, running and swimming. The 'scratch' revealed itself to be a crack in the crystal yesterday when I noticed it had grown. In the last 24 hours, the crack has progressed and now extends the entire width of the face. Awful.
Thank heavens the retailers offer 100% satisfaction... but I worried that I was going to be out the cost of a new crystal and waiting for Suunto to get the job done in a timely fashion - which I've heard isn't so timely.

I think I'll have to choose another watch.
I'mm bummed - this is such a great looking watch with lots of good features.
I've had this watch for almost five months and it hasn't given me any problems. Cutting the band to the right size and attaching it to the clasp was a little tricky but nothing my dad couldn't handle :) I'm enjoying all the features and have been very happy with this watch.
Suunto Lumi Altimeter Watch
Strap broke on first use, altimeter and compass wildly inaccurate!
I won't go into too much detail, since I'll be repeating just about every other review. I love the watch, but the strap sucks. I wish I would have gotten the one with the black strap, because this one is turning colors already. It is red-orange, and the edges are turning brown. Also, this one is the regular strap with a buckle, and it's really hard to keep the tail in the keeper, its constantly sliding off. I put a rubber grommet on the strap to keep this from happening. I still would buy this watch, but get the other type of strap (the terra or florette).
I bought the Florette to replace a Vector that died and I love it. The technical features deliver as promised. I find the altimeter easier to calibrate and more reliable than my old Vector. The only annoying thing is, it determines altitude based on air pressure, so if the weather changes as your elevation does, you'll get thrown off a bit . It's smart and distinctive-looking, although for a woman's watch, it's just as large and clunky as any other Suunto. The high-shine case and glass crystal look great but I'm a little afraid to take it outside because it's just a matter of time before it gets banged and scratched up.