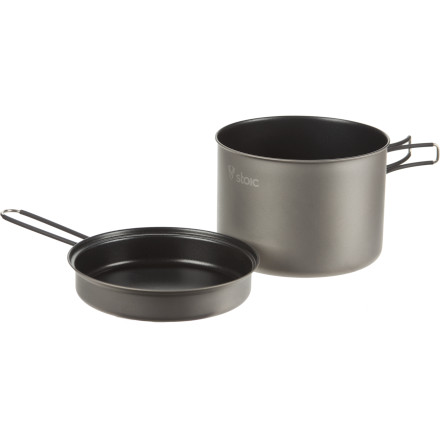 Videos

Community Images
The smell of sizzling bacon gets you going almost as much as the greasy goodness itself. The Stoic Ti 1.6L Pot + Fry Pan Set sets you up with tasty cooking capabilities without weighing down your trek or climb into the deepest wilderness.
Titanium construction stands up to lots of drops and abuse while in your pack and doesn't corrode or burn easily on your backpacking stove
Non-stick surfaces help prevent food from sticking and burning during cooking, which makes clean-up easier
A 1.6L pot and 6in fry pan let you cook different courses and cook enough food for a couple of backcountry companions
Pan can function as a pot lid to save weight and decrease boiling times
Nylon mesh storage sack holds the pot, pan, and maybe some cleverly packed ingredients together in your expedition pack
Not good
Familiarity:

I've put it through the wringer
Both parts are too thin. Even on lowers setting food burns and coating comes off. There is no heat dispersant with these pots.
Unanswered Question
hi what diameter of this pan
hi what diameter of this pan


Can you use this set over a fire?
Can you use this set over a fire?
Best Answer
Generally speaking you should not use backpacking-weight aluminum or titanium cookware on an open fire. Also, this item has some reviews disregarding the quality of this item. I wouldn't advise it.
Fire is generally too hot for backpacking cookware..
The coated handles will melt over coals, and that's why this wouldn't be good over a fire. I can't imagine a wood fire or coals being too hot for aluminum or titanium though, considering a jet stove burns several hundred degrees.
I bought the pot for light weight backpacking and the first time I used it to boil water with my MSR Microrocket the coating began to bubble and come off. I would stay away from this one and possibly go with one without coating.
Stoic Ti 1.6L Pot + Fry Pan Set
Very light for its size but very thin compared to other titanium pots I have held. The two pieces do not stay together without the bag. I would only recommend it if you can get it super cheap and can baby it. I wish I had gotten a better pot. Also it has a teflon like coating that I would rather do without especially considering it is made in China where the health and safety issues are not the best.
OK, but needs work
Gender:

Male

Familiarity:

I've put it through the wringer
I like that it is light. What I don't like is that the lip on the pan is not deep enough to fully engage the pot when packing. If the lip was 1/4" deeper, it would be perfect. As it is, the pan flys off of the pot when packing. Annoying.
Light!I have 2 look 2 see if I forgot it
Gender:

Male

Familiarity:

I've used it several times
Used both,the 1.3L & the 1.6L pots on both a "Crux"and a "JetBoil" canister stove with absolutely no problems.The whole rig nest with a propane canister(s) and foldable "Crux"stove in one neat setup.
Great cookware but...
Gender:

Male

Familiarity:

I returned this product before using it
They have teflon coating, I was not aware therefore I am going to be returning.
This is not a 1.6 but 1.3 Litre pot
I calculate this pot to be 81.74 cubic inches, or 1.34 Litre, and that is using the outer dimensions as given here. So this is the 1.3 Litre pot? Can you please confirm?, thanks.
Worth what I paid
Gender:

Male

Familiarity:

I've put it through the wringer
Used it a bunch and the pot is holding up great. The pan on the other hand doesn't like my whisperlite- even on the lowest I can get my stove to burn it immediately warped on my first bacon fry (pretty flimsy). The non-stick has been peeling (not the pot though), which is too bad. Still a great set.
Stoic Ti 1.6l set
Gender:

Male

Familiarity:

I've used it several times
Nice lightweight set for your backpacking kit. Great price & value.
Cool Beans
Gender:

Male

Familiarity:

I've used it once or twice and have initial impressions
The Good: This set is a great size for two people. It is very light and well sized. Because of the size and shape the packability is moderate. Not as packable as a Jetboil, for example. But you can fit a decent amount of food or other cookware inside of it. The handles work great, especially on the fry pan where they are folded underneath when not needed and click into place when in use. Non-stick works as well as you should expect for lightweight camping gear, just make sure to get some plastic or bamboo utensils.



The Bad: It's kinda flimsy? I currently use the Backcountry.com 700 ml mug, which I'm pretty sure is equivalent to the Stoic Ti Kettle 700 ml. This mug is very light, but it also feels very sturdy. That is not the case here. The fry pan is especially flexible when handling it with a normal amount of force. The pot has a bump in the bottom, which gives it some rigidity. However, you can still flex the sides with a little bit of force. I would be worried about overpacking my pack and crushing/denting/oblonging this set.



I didn't get a chance to verify the volume of the pot. It seems quite large, so I have a feeling the dimensions are listed incorrectly. I'll update when I get around to it.



I'd give this set an A-, but if it proves to be durable over time, it could easily get a better grade.
Unanswered Question
If you use the specs to calculate the...
If you use the specs to calculate the volume on the pot, it comes out to 1.34L. Also, the Jetboil 1.5L (supposedly less volume than this pot) is bigger at 7" x 4.5". Am I missing something here or are the sizes just posted incorrectly?
Is the frying pan lid durable enough for...
Is the frying pan lid durable enough for cooking? MSR has a cookset and the "frying pan" is far too thin for frying according to all the reviews. Is this fry pan lid able to stand up to stove heat?
Best Answer
Try GSI as another great option!
It is thin, do not preheat! Not the best for gourmet cooking. Pretty good for garlic and onions.
I see that this set has a non-stick surface....
I see that this set has a non-stick surface. That dismays me a bit, as nonstick usually means teflon or something else undesirable. Does anyone know what type of nonstick surface is on this cookware?
Hey,

Non-stick used on these pots is a durable PTFE-based coating.
Best Answer
We've been using PFTE (teflon is a form of it http://en.wikipedia.org/wiki/Polytetrafluoroethylene) non-stick pots for a long, long time, and had some seriously scorched on food sometimes, never a dink or a scratch. These are some seriously well applied finishes. Use your plastic or wooden utensils and soft synthetic scrubby pads religiously and you'll have the same results...nothing to worry about. The one thing lots of people do forget though is to pad the surface when they're nesting stoves, canisters, etc. A small rag or a piece of heavy felt work great for that. Hope this helped.
Got this for a friend who was headed out overseas. He took it with him as it's super light and functional. Feedback from him - loves it! Maybe not as much as the cheap digital fan I also got him (just kidding).