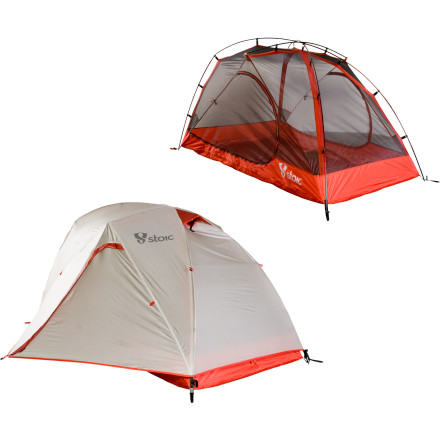 Detail Images

Community Images
Venture into the wild with the spacious Stoic Arx XL 2 Tent in your pack. Whether you're on a fast-and-light backpacking mission or simply hut-hopping with a pal, this lightweight tent provides steadfast protection from the elements and plenty of space inside to stretch out. Dual vestibules and doors, mesh venting, and a quick-setup design mean that you'll spend less time worrying about base camp and more time living large in the outdoors.
Long-and-wide dimensions make it easy for campers up to 6 feet 8 inches to stretch out comfortably, and pre-bent poles create more room for your head
Strong, ultralight aluminum poles create a sturdy structure and a carbon brow pole creates added headroom inside without extra weight
Two doors and two vestibules give each camper room for his or her gear and separate access so you won't have to climb over each other to get in and out
Clips quickly connect the lightweight canopy to the ultralight aluminum poles for easy setup
Guy-out tabs on the fly let you batten down your tent with lines when the wind and weather are particularly nasty
Included gear loft hangs over the interior to give you an out-of-the-way place to stash small essentials like a headlamp or a snack
Editor's note: trail weight is defined as the canopy, fly, and poles. Packed weight of this tent is 4lb 11oz
Share your thoughts
What do you think of the
Stoic
Arx XL 2 Tent: 2-Person 3-Season
? Share a...
Great for two
Familiarity:

I've used it several times
I was concerned about this tent right out of the box, but it has been great on a few trips. Really light weight for the amount of space, the center height is great. I have used it in rain so hard that some rain was bouncing off the ground under the fly. It has fantastic ventilation, and I like the gear loft and pockets to easily find stuff sacks when packing back up. My 7 year old really appreciated the gear loft for a glowstick holder nightlight. It is easy to set up, and just comfortable to stay in. I always used the footprint, and it works great. I would buy it again.
Great tent
Familiarity:

I've put it through the wringer
I have had this tent for a while now and have put this through some nasty storms and have stayed dry. I try and go camping several times and year and have done a few backpacking trips with it. It is super easy to set up and I have been very happy with it
Great tent for a decent price
I'm big and tall (6'5") and this tent was perfect for me. I slept on one side of the tent, my gear went on the other side. I'd say it's a "one me" tent as I don't see anyone else comfortably sharing the space, but I did have room to store my buddies' packs at night.

I was a little worried about the carbon fiber cross pole based on what others had said but had no issues. I even stepped on it once.

I never used the fly as rain wasn't a concern and man, this tent has the best "you're not in a tent" feel ever. It was great to wake up in the middle of the night, water a tree, and then lay back down gazing up at the Milky Way.

Buy the footprint (http://www.backcountry.com/stoic-arx-2-xl-footprint), it doesn't come with it, and then ziptie the footprint to the tent for supereasy setup/breakdown.

I packed the poles in a side pocket and used a smaller compression sack than the one that comes with the tent, saving a decent bit of room.

I'd recommend this tent to anyone under 6'6". Much taller and you're going to be sleeping diagonally.
I bought the tent with the expectations of it being a decent tent, not too shabby, just alright due to the price factor. But the first night I used it my thoughts were changed immediately. The tent is wonderful and exceeded my expectations immensely. I have camped in some awful weather including torrential down pours, hair storms, furoucious thunder storms, you name it. The tent holds up. Though it's not the lightest tent on the market, the asthetics are spectacular and the build quality is none the less. Great job Stoic, I will be purchasing more of your products. I highly reccomend this tent especially for the price.
Failed in less than 4 hours
Used this tent for the very first time this weekend. The tent was easy to set up, yet only hours later the carbon fiber ridge pole snapped in half and then poked a dime sized hole in the rain fly. The tent was exposed to fairly windy conditions (welcome to Central Kansas), so if you intend to use this tent outside of your living room, beware!
Back Country is great though, so I'm exchanging it and upgrading to a Big Agnes tent...let's hope it holds up better!
Unanswered Question
Have they solved the pole woes? I just got...
Have they solved the pole woes? I just got another tent because of this, but my friend is still in the market.
Outside Buyer's Guide - Spring 2012
Here's what Outside had to say about the Stoic ARX XL2 Tent:

"Two doors and vestibules? CHeck. Around four pounds? Check. Under $300? Check. The Arx XL hits two-person, three-season backpacking-tent benchmarks-and adds a lot of nice details. Testers liked the roomy, no drip vestibules and unique pole configuration, which increased vertical space. The mostly mesh body and the pop-up vent on the fly prevented condensation even on a sloppy Washington night, and the asymmetrical floor plan saves weight by reducing floors space."
Brennan Crellin of Backcountry.com states...
Brennan Crellin of Backcountry.com states that "Future ARX XL tent designs include an extended length". I'm almost 6'7" and know from trying lots of tents that an 84.5" floor, even with steep walls, won't ever be close to adequate. I sleep in a 7'0" sleeping bag and my "length" when lying down is probably close to that -- our spines compress when we're standing, so our "height" while lying is an inch or so more, and the toes point, further increasing that "height" another 3" or so.

To meet its advertised claim, Stoic needs to increase the length beyond 92" -- maybe even to 96". There's a weight penalty, but we bigger guys are used to paying it.

In any event, I'm hopeful that the new Stoic XL is significantly longer. Query: When might we expect it
If you want your voice to be heard it would be best to go on chat and ask for the email address of whom to contact about this type of thing.
Thanks, Mitch. I did so, and Chat wouldn't provide me with such contact information, indicating it was against their policy to do so. I was told my comment would be passed on to the proper person.
Best Answer
Just a comment from a 6'6 guy. We could use a tent with length up to 92". It's tough enough to find a quality bag.

So if your listening backcountry...cough..Stoic..cough... help the tall niche out!
I just got mine and the fly is sticky. ...
I just got mine and the fly is sticky. Is this normal? I haven't had that before, and it is to replace my old tadpole where the fly was like duct tape after a winter storage.
I just got mine and the fly is sticky. ...
I just got mine and the fly is sticky. Is this normal? I haven't had that before, and it is to replace my old tadpole where the fly was like duct tape after a winter storage.
Awesome for standard setup
I can't comment much on pushing this tent to the limit because I haven't done so. However, I wanted to fill in more of the details. I'll try to focus on things people haven't mentioned.

First, let's get some background on me - I'm a 5'6" male who backpacks in 40-80F weather, usually in dry, windy conditions. The only other tent I've used is the REI Half Dome 2 which costs much less at full price than the Arx-2. I set this thing up the "normal" way - tent + poles + rainfly.

PROS: The tent itself is very "open" with lots of mesh if you want to sleep under the stars. The bent poles give you a great deal of headroom, and with the gear loft + 6 interior mesh pockets (if I remember correctly), you have a ton of space to store little items within arm's reach. The tent is HUGE for me - I can actually store my pack at my feet and still sleep comfortably, but I'm a pretty small dude. My companion is a 5'3" female, and both of us sleep parallel, in the same direction, without any crowding issues. As far as you tall people go - I've slept with my head jammed into the side of the tent. The material gives way easily and it didn't keep me from sleeping at all. I

The rainfly is great. There's one vent in the top center of which I think is quite adequate and is angled to keep rain out. I've taken it out in light rain once and it performed great - no leaking. I have no idea how it will perform in a heavy downpour. The rainfly is not just secure, but easy to secure. Once the rainfly is on the poles, you attach it to the tent with quick-release plastic buckles. I like this much better than the Half-Dome's system of grommets over the ends of the poles. The whole process up putting up the tent just feels slightly smoother and faster. This doesn't really matter, but I'm usually tired after a day of backpacking so it's nice to be able to spend minimal effort and time setting up camp.

Then, you put stakes beside the tent for the vestibules. There's a friction system that makes it very easy to get the vestibules really taut. And finally, like most tents, you can unzip the vestibule, roll it back, and have it held there like an open curtain. The vestibules aren't massive, but there's enough room to store your boots and pack without issue. Flapping of the rainfly in moderate wind is minimal.

By the way, the included stakes are good - strong and easy to drive deep. It's a minor detail but I thought I'd mention it anyway.

CONS: Frankly, the only one I can think of is that there's no included footprint. However, a 5X7 tarp can be found for $5 and works perfectly fine if you're cool with it not being secured to the poles. It's even covered by the rainfly, so you probably won't have issues with water getting under it.

I have to admit, also, that setting up the carbon pole always makes me nervous. It takes some firm force to get set up and as a cyclist, the sight of carbon bending is terrifying. However, I have had no problems with it so I can't really count it as a con.
Just bought this tent and took it out for the first time this past weekend to Amethyst Lake in the Uintas. Camped the first night at Christmas Meadows and the tent did great. It was an extremely humid night and the fly was wet inside and out. Dried it as much as possible before packing but was a little damp. We arrived at Amethyst Lake in the afternoon in the middle of a hail thunderstorm and waited to pitch our tents until the storm had passed. Set up the tent later that day and had rain or hail the rest of the evening and through the night. Tent did great at keeping out all water but I think much of it was based on seeing where the previous storms had left water and finding the best place with no runoff. The next morning the sun came out and started to dry everything out and by mid-morning there was a loud noise from my tent and when we looked over saw it was shaking. I thought maybe some sort of animal was in it or had hit into it. Come to find out the carbon pole across the middle had snapped. I believe it was combination of setting up in the wet and then having everything dry and possibly shrink in size caused the carbon pole to snap. We had two more nights so with some duct tape and a tent stake inserted inside the pole the tent was able to make it through the trip. Not sure how to get this pole replaced or if they have an aluminum replacement.
Arx 2 Takes on Sawtooth Hail Storm....
Hunkered down in the Arx 2 tent at Toxaway Lake in the Sawtooth Wilderness of Idaho during a rain/hail/thunder/lightening storm. Storm pelted us for an hour and the Arx 2 stayed dry and weathered the deluge.
How well does this tent stay dry in wet...
How well does this tent stay dry in wet weather conditions?
Spent two nights with heavy rain or hail and winds in the high Uintas by Amethyst Lake (10,740 ft.) The tent did great at keeping water from going through the fly. Water did absorb through the two pole points that hold the carbon pole on the fly but not to the point of their being any leakage into the tent. The top of the tent is actually quite flat and pooled water through the night and in the morning their was a nice ice piece sitting on top of the tent but didn't have any leakage or water enter the tent. The fly was pulled snug to keep it over the edges of the tent and the ends of the tent were pulled out with line and stakes to ensure no leakage at head or foot. I feel the tent did well with the quantity of wind, hail, and rain we experienced. You may want to make sure you take some extra line and stakes for the head and foot of the tent. I just used one of the tie down lines for heavy winds and a rock to keep them pulled out. Fly seems to be very waterproof material that doesn't let water absorb through and sheds well and dries fast.
Great Tent-Wished it came with a little more
First of all, no complaints about the design, love it. That said, I really wish it had come with some more stakes for getting the tent and rain fly batted down. I actually bought some girlie scrunchies to attach to the fly to make it a little more taught for funneling water. Also, I wish the footprint just came with it, and I'm going to buy it here in a sec for 20$. plenty of room and two vestibules you can beat, and the extra stakes and footprint will pack into the bag just fine.
This has me vexed- Why is a 84.5 inch tent...
This has me vexed- Why is a 84.5 inch tent referred to as a shelter for tall people? I'm 6'5, and have slept in many tents, and I can tell you that anything under 90 inches is going to brush against my head or toes all night. It is true that higher angled walls help a great deal, but there is no way anyone 6ft and over is going to "stretch out" in this thing. Also, the video with the 6'6" dude in it... his toes are straight up in the air, his head is touching the end, and he is sans-bag. I suppose I am nitpicking at this point, but I feel us giants are being mislead by the desciption. Are the stated dimensions incorrect?
My thoughts exactly. This is not a "long" tent. I wouldn't even reccommend it for anyone over 6 ft, unless you want to be brushing the sides with your sleeping bag. Also fairly tight at less than 30 sq ft, not a tent for big guys.
At 6' tall I fit exactly as expected in the ARX XL with a sleeping bag (and a few extra inches of space between bag and the canopy).

Individuals pushing 6'5" will begin to brush the ends of the tent with a sleeping bag. These tall individuals should pay attention to stake tent tightly to maximize length and minimize head/toe brushing on canopy.

ARX does an amazing job and eliminating condensation on canopy, so bag brushing against canopy is not the same concern as it would be in many other tents. Brushing in other tents can make bags wet, but ARX basically eliminates this wetness from occurring.

Designers are always seeking to improve Stoic product. Future ARX XL tent designs include an extended length, thanks to the great feedback from Stoic customers in the field.
Watch the video to see more of the Stoic ARX 2 tent out in the hills of southern Idaho.
I used this tent for the first time backpacking this past weekend. It was lighter than others I considered (Stoic Templum and REI Halfdome), which I appreciated. It is also a bit roomier with the bent poles, although it took a while to figure out how to set up because I didn't realize the instructions were in the stake bag at first. Other than that, I'm 6'3" and I don't feel like someone who is 6'8" would be able to "stretch out comfortably" like the description says. It was a dry weekend so I can't say anything about it's waterproofing. My last gripe is that there's no footprint - it might not need one, but I'd prefer to have it. Overall, a pretty good (and light) tent for the price.