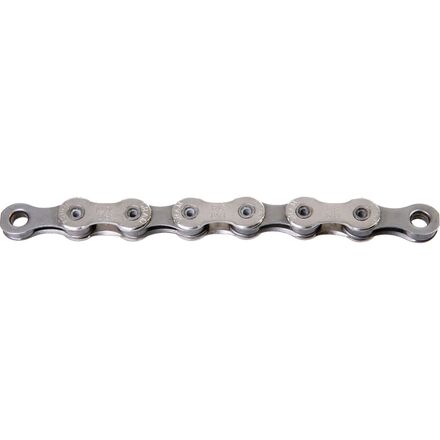 Colors
Description
Intro to weight loss.
If you're looking to drop even more grams from your climb-happy 10-speed drivetrain, let us introduce you to SRAM's PC 1071 HollowPin Chain. This little item happens to be SRAM's entry-level chain with hollow pins, and it makes quite a first impression. As soon as it's introduced to your derailleurs and cogs, the PC 1071 saves around 20g as compared to similar chain models, but the heavy chamfering that goes into its construction means it still rides as smooth as a heavier chain, and SRAM's PowerLock technology ensures that installation is a simple, tool-free affair.
Nickle-plated outer links
Hollow pins
Compatible with all 10-speed mountain drivetrains
Chains wear out and buying a new one beats having to also replace a cassette. Bought this for my 10-speed bike and it did the trick!
Easy Upgrade
Familiarity:

I've put it through the wringer
It's easy to overlook your chain - the workhorse of the drivetrain. But every pedal stroke depends on it tying the whole system together. And nothing ends a ride quicker than a broken chain. With that in mind, reach for the ultralight and ultradurable 1071. SRAM somehow managed to combine all of the best aspects into one chain - it's light, strong, durable, and easily installed.
The standard
Familiarity:

I've put it through the wringer
Need a 10 speed chain? look no farther. You won't be disappointed. Great price, better durability.
Any 10speed bike I own gets one of these.
it's a good chain
Familiarity:

I've put it through the wringer
The Powerlock Link is awesome.. that was good enough for me.
Simply solid
Familiarity:

I've put it through the wringer
Well what is there to say about this chain that hasn't already been said? Well first off the chain is affordable and will last for many miles to come. It is lightweight and provides smooth shifts. The Powerlock Link is awesome, especially for trail side repairs or general cleaning and maintenance.

Looks like everything I have to say about this chain has been said time and time again. So, I guess it is time for you to purchase the chain and find out for yourself how good it truly is.
Long live your drivetrain
Familiarity:

I've put it through the wringer
This chain offers great value. It's light, strong, and fits the bill. Stock up on these!
Good chain
Familiarity:

I've used it several times
Good chain. Dose what it's supposed to
College Budget, Professional Performance
Familiarity:

I've put it through the wringer
Sram's 70 lineup has been a staple in my stable of bikes. Between cassettes and chains, I find it to the best trio of performance, weight, and their friend money. The 1070 chain seems to have a bit more nickel plating compared to the 1050 for better wear and durability in my experience. Sram's Powerlink makes installation and trailside repairs really simple, but I find myself worshiping the concept the most when taking the chain off my bike to degrease.
This is my go-to 10-speed chain. It's pretty light, and has proven to be super durable. The SRAM tool-free PowerLock is a bonus for cleaning or trailside repair as well.