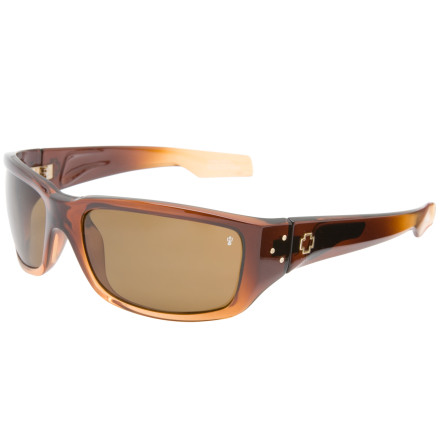 Detail Images
Put on the classically styled Spy Nolen Polarized Sunglasses and drop your Cadillac into "D". Driving halfway across the country is never easy, good thing you have the optically correct Spy Nolen shades with Polarized lenses to reduce the glare bouncing off the road. Spy cuts their Delta Polarized lenses to match the natural curvature of your eyes so your brain doesn't have to work to correct optical distortion. You'll notice you stay fresh and relaxed for a long day behind the wheel of your car.
The best part of waking up....
....is folgers in your cup..and slipping these shades on. SICK!! I guess this is the part where I tell you what rocks and what's wack......Everything About these glasses ROCK, and I Wack everyday.
got these shades to replace the other pair i lost and i left them on the f-ing bus!! they were awesome losing them was probably one of the 10 worst things to ever happen to me, fit great looked good anything you'd ever want from a pair of shades, you may be lost but never forgotten spy nolen
Had them shipped to Germany and they were still cheaper incl. shipping and import duties. The shades are sick! Solid feel, good fit, super clear view with the polarized version....oh and the service from this website team is f****** awesome, very professional!
I had to have these after borrowing a pair from a friend. Great fit, good looking, and the lens color is just right.
I just got these and these are by far the best shades i've ever owned. I usually wear Bolle, but these are better.
These are easily the best sunglasses I have ever owned! They contour your face perfectly, don't slip, and they just look slick when you throw them on. The polarization is great. I've wore Ray-Ban for years, and these definitely blow them away!