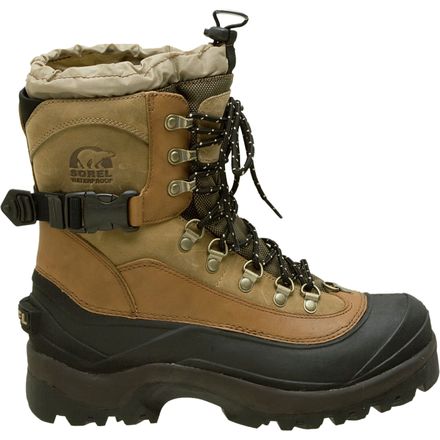 Detail Images
Description
Slay winter's worst weather in the Conquest Boot.
Deep-snow pursuits demand the inferno of warmth within the waterproof Sorel Men's Conquest Boot. Slip your feet inside this fortress for your next winter snowshoeing trip, and you'll be blown away by the light weight, indestructible build, and supportive Achilles strap, not to mention the 400g Thinsulate insulation standing guard between your dogs and the bitter cold outside. Go ahead and plow through the deepest drift at full speed—the Conquest's grippy lugged outsole keeps you as surefooted as a mountain goat while the integrated calf gaiter draws tight to lock out snow.
Keeps me warm, and then some
Familiarity:

I've used it several times

Fit:

True to size
Great boot, keeps my feet warm even through sub-zero days on Utah's high altitude reservoirs. I haven't noticed any appreciable difference made by the achilles strap, though, and the gaiter tends to ride the sock down, but all in all I'd say worth the investment for those coldest of days.
Nice Boot - Runs Small
Familiarity:

I gave it as a gift but have feedback to share

Fit:

Runs small
I gave this to my dad since he was in need of some great boots with top notch insulation. He is a size 11.5 and has been for 30 years. I gave him 11.5's and he said they were closer to an 11 hard to put his foot in the boot.



He was wearing normal socks, not thick wool socks when trying on the footwear.



He said he would have loved to have kept them if they fit properly.



Jared D.

Expert Gearhead

800.409.4502 ext 4055

jdowns@backcountry.com
Great all-purpose cold weather boot
Gender:

Male

Familiarity:

I've put it through the wringer

Fit:

Runs large
I'm on my 2nd pair of Conquests now, the first lasted me 8 years and I only replaced them when my heel wore a small hole in the insulation. They're still warm, I wore them in -40 wind chill getting diesels started at my job as a mechanic at an airport and had no problem with cold leaking in through the bare spot. But, I also had a nice warm shop to go into if they did let my feet get cold. I just don't trust them to keep me warm when out on the trails.

I worked as a skilift mechanic the first year I got them, and they were very comfortable for my long shifts on the mountain. I've hiked, shoveled, snowshoed, and worn them almost every day in the winter, and liked them enough to buy a second pair. To all the people who mentioned the difficulty of tightening the laces, it will get easier! They're not the kind of boot you can just tug on the laces and go, you really have to loosen them all up and tighten each course separately. Once the leather softens up a bit they won't untie on you. I took my new pair to a cobbler soon after buying them, and had hooks installed in place of the upper 3 barrel-style eyelets. I think it ran about $50, yeah, it's something that should have been done at the factory but if these last me 8 years it comes out to $6/year. Anyway, I get the bottom 5 D-rings the way I want them, tie a nice tight friction knot to lock the ankle in place, then lace the hooks to keep the shaft from sliding on my shins.

This winter I'm getting myself a more technical pair of boots for the majority of my snowshoeing because the Conquests don't really have the best support, but these will still see plenty of use. I think they're by far the best boot for the money.
Good boot
Familiarity:

I've put it through the wringer

Fit:

Runs large
I bought this boot for work. I make snow for a so resort. Being a snow maker I need a warm, comfortable boot that is durable, water proof, and has good tred for hiking on the snow. This boot lives up to most of those requirements. For being only 400 gram I solarium they are very warm, I've used them in -20F and stayed considerably warm the the temps. I've soak them regularly and so far they've stayed water proof. My only real complaint is durability. The sinch string on the hater of the boot broke in the first month, and now after being warn almost every day for the past 5 months the sole is starting to seperate besides that everything has held together.
Very comfortable boot. change one thing
Gender:

Male

Familiarity:

I've put it through the wringer

Fit:

True to size
I've used these boots for only 3 months now so some reviews I have read about Sole Separation, I cannot comment on.

Shoe Lace Eyelets: It's very tough to get these boots tight down lower on the top of your foot. You pull at the laces and the laces only tighten at the top 3 grommets, the laces do not tighten at lower Loop and Hook grommets. If you try to grab the laces lower and work your way up, they slip and loosen as you get to the upper eyelets. What this boot needs is to replace the Upper 'speed' eyelets with hook style eyelets. It would make taking them off easier too.
Light and comfortable!
Familiarity:

I've used it several times

Fit:

True to size
These boots are great. they are very comfortable to walk in and wear. Super light for how warm they are.



True to size. I wear a 9.5 or 10 and the 10 fits perfect.
definitely a work boot
Gender:

Male

Familiarity:

I've used it several times

Fit:

True to size
I have had these boots now for over a month. I have used them on some extensive outdoor activities that have required me to hike and sit in the snow for extended periods of time. First off - the boot has awesome traction and support for what it is. The laces are tough to get tight, but as mentioned in another review - these take breaking in. I am hoping that is the case with mine and that they get easier to tighten up. If I hike and warm up my feet before I sit in the cold they do a great job and retain the heat well. If I don't get them warmed up they do not generate heat like some other of the Sorel boots do. Overall I really like these boots. My right boot out of the box has had a loud click in it when I walk in it which could be a build quality issue - but when I am in snow I don't hear it so I am okay with it. I look forward to using these boots more and more. I am a 10 - 10.5 in a Nike and had to exchange my 10's for an 11 so I could use larger socks with it.
Excellent Boot But Order 1/2 Size Larger
This is a terrific boot! The soles have outstanding grip for climbing. They were very warm and comfortable right from the start. I did not need to break them in. However, I did need to return mine for a half size larger as my toe hit the front end in each boot. I always wear a 9 to 9 1/2. I ordered a 9 1/2 and had to return my boots for a 10. Now they are perfect.



I highly recommend this product.
I have used these, and I also use the Sorel Caribou. I prefer these for most activities. Snow shoeing, hiking, street wear, I do prefer my Caribou's on a snowmobile though. Calf gaiter is a huge + and these will keep you dry and warm. They are true to size.
These boots are great. Got them a little late in the season to really put them to use but when I have used them they have been awesome. Very warm and comfortable. I especially like the built in snow gator. The achilles strap does a good job of preventing hill slippage as is the case with so many snow boots I have owned. You can really move around comfortably in these. I anticipate them lasting me many snowy winters.
I have been wearing these boots HARD for the past 7 years! I first received them as a gift from my sister because I needed some warm boots for my demanding, most extreme cold winter job of snowmaking in the northeast. I have worn these boots in some of the most extreme wind chills (-90) and walked in puddles made by snow-guns at 0 degrees and these boots always kept my feet warm and dry! Unfortunately ,now, after all these years I am in need of a new pair. The insulation is finally matted enough so that my feet get cold . I do want to mention how they are still waterproof and the tread and soles are still perfectly in tact (considering the extreme abuse). I have used these every winter as my only pair of boots for, beyond snowmaking, everything from shoveling to snowmobiling . I can still use them for light duty like snow shoveling or anything that won't take more than an hour or so. I wasn't surprised to see that they have not changed the style of this boot in any way since the ones I received 7 years ago. This surely is a testament to the quality and longevity of these boots. I intend to buy 2 pairs of these this time in different colors.

Update. I have just read some of the other reviews and noticed some people gave these a bad review because of the lacing being difficult and the achilles strap being useless. I just have to add that these are made of some high quality material and it DOES have a significant break in period. I remember having a hard time with the laces when I first got them. As for the strap, I think the placement is perfect to help with that break in period. It may not tighten enough to feel a difference but I do feel that it helped a lot with creating a crease in just the right spot when walking downhill (which I did a lot of).
I have been wearing these conquest boots now for 3 years. They are hands down the best boot. Not too heavy not to warm just right, you forget your wearing a winter boot. And I use these to snowshoe and snowmobile so they get used hard
Good boots, a couple of issues
Gender:

Male

Familiarity:

I've put it through the wringer
I have been using these boots since November of this year for work, which is at a winter tubing hill, keeping me on my feet in the snow all day. I loved them at first: very waterproof, warm, comfortable and supportive. As time and use has worn on them, the toes especially have broken down a bit. The seam is breaking between the leather and the rubber on both boots. The toes are less stiff than they used to be, making them fold and pinch my toes on almost every step. These are the reasons I am taking them back, and they've only recently risen after two months of 45 hours a week of use. If you plan to use them on weekends for winter hiking and such, they are great boots for the price.
, ☃bcs_badge_alumni_label☃
Nice boots for winter weather
Gender:

Male

Familiarity:

I've put it through the wringer
I work at a ski resort and am out in the snow all day everyday. These boots are very warm and extremely comfortable and have excellent traction in the snow and ice. My one gripe against these boots is the lacing and the enclosed lace eyelets. It is very difficult to get the bottom of the boots to lace up tightly while the top is almost always tight. Other than that I'm very pleased with these boots. I would recommend some nik wax on them to help ensure the waterproofing qualities on them for a long time.
Great for Snowshoeing !
Gender:

Male

Familiarity:

I've put it through the wringer
Ordered my normal size 10.5, and they fit perfectly. Plenty of room in the toe. Offer much more support than a pac boot if your winter activities have you on your feet a lot. Use them for work and play, absolutely my favorite boot for snowshoeing.
I absolutely enjoy these boots. I was kind of skeptical at first but the comfort level that these boots have given me have been above what I have imagined. Although the snow hasn't really hit Afghanistan yet it has gotten cold enough for me to try them out and break them in. If the -40 degree's holds right I will be a winter Sorel boot wearer for life.
bought this boot from another company...I have done some business with backcountry and they have been great...I do alot of remote hiking in the adirondacks.. first time out with this boot it cracked... I wrote sorel... meanwhile, in hopes of a response, and replacement, I tried to repair the boot.. but the crack got worse .. and sorel responded with a " we will get back to you" ..5 months ago... I have always regarded sorel as a quality boot but after this experience, I not only warn you all not to buy this boot, but to not buy from sorel..I spend lots of money on gear, and believe you get what you pay for ..I will never buy a sorel product again!!
Solid boot, not well thought-out features.
No doubt these boots are comfortable, warm, and well-built. The built in snow gaiter is a cool idea, although unnecessary if you're going to be wearing gaiters anyway (which I definitely would be if I'm traipsing around in deep snow for a while).

I didn't end up keeping mine though because if some real shortcomings in practicality regarding some of the boot's features. Firstly, the "achilles strap" doesn't do much of anything. Secondly, the lacing is a pain. It's really difficult to get the lower part of the lacing to stay as tight as you'd want it to be once you start moving up the lacing. I found myself having to retighten from the bottom to the top several times and even then it wasn't where I'd like it to be (especially in the area that would keep the heal secure). Boots with quick lacing hooks would be much more practical.

Those I see to be shortcomings with the boot itself, but my last reason for not keeping them was that the liner doesn't come out. Sure, that doesn't mean that the boot is inadequate as there are plenty of good boots with built-in insulation, but I'm of the belief now that if you're going to camp in the winter especially, it'd be really nice to have your boot liners in your sleeping bag staying warm so that when you get out of your bag in the morning you're not stepping into blocks of ice. Plus, if your boots happen to get wet on the inside, a removable liner will help them dry out much faster.

Bottom line, while these might be great for shoveling the walk way, building snow men, or working outside in the cold, there are better options if you're going to be camping in the winter, hiking, or snowshoeing.
Do i have to pay for return item if dosent...
Do i have to pay for return item if dosent fit me ?
Best Answer
Backcountry.com does not cover the cost of return shipping. However if you contact them before making the return they can issue a return label, and deduct the $6.99 shipping cost from the refund you receive, once the item has been return.
According to REI's website these boots are 13" tall.