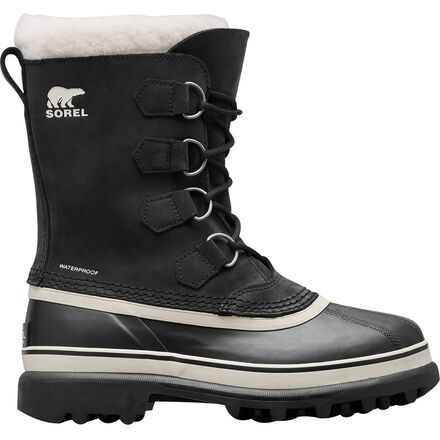 Detail Images
Description
Made to keep your feet warm and dry in cold, wet conditions.
Hike down an icy trail or use them with your snowshoes; either way, you'll be plenty warm in the Sorel Women's Caribou Boot. Rated to -40F, the Caribou Boot is built from a waterproof full-grain leather upper attached to a vulcanized rubber bottom. Metal shanks across the heel and ball of your foot give you sturdy footing across uneven terrain. The Caribou Boot is waterproof, and the 9mm ThermoPlus felt liner is removable, so you can dry them out between uses.
Unanswered Question
I have poor circulation in my feet (like a diabetic). My feet get extremely cold and hard to walk when they get cold. I want to know if these boots will help?
Unanswered Question
Hi,
Could you please advise how much would the shipping costs and taxes for the Caribou boots be to the United Kingdom?
do these have a pretty wide toe box? the fact that they run a large is really encouraging, but finding something workable is an absolute chore since I'm a completely flat-footed size 12 with a bunion ):
you will probably love these then. I am returning because my narrow foot is swimming in the correct length size.
You're right, andrew; bunion-owners rejoice! I went ahead and bought a pair since winter's coming quickly and I didn't want to risk them being out of stock; not only are they wide enough to wear comfortably, but there's room for an orthotic as well if I find I need it!
I live in Boston, and the sidewalks get pretty icy, are these boots slip proof on cobblestones?
Anny,



These would be a great boot. I wouldn't call any boot 100% slip proof since Boston can often have black ice, etc.



Shoot me an email anytime you have questions!



Jared D.

Expert Gearhead

801.736.4336

jdowns@backcountry.com
Hi Anne,

Not sure if you've purchased your boots yet, but I have had a pair of Caribous for 4 years while living in Minneapolis. I needed something to protect my feet during brutal Minnesota winters, where I walked a lot. While I am totally happy with their warmth, the soles are definitely not slip proof. I actually had to invest in a pair of micro crampons for mixed snow/ice situations (the kind with little metal studs in the frame, not actual spikes). I bit the dust more than once on icy sidewalks before I got them. It's easy to think that because they are so bulky, they will protect you from the slippery stuff, but my experience has been to take the further precaution of the crampons.



Unrelated, but the reason I'm on the site searching for a new pair is that the outer rubber material started to crack where my toes bend, at the same point on both boots, almost like they had dry rot? Unfortunately Sorel customer service said that they could do nothing about the situation because the boots were over 3 years old, and alas the place that I purchased them from was not Backcountry, with its wonderful return policy. I'm caught, because they are incredibly warm. But be advised that the outer rubber has the potential to crack over time.
Hi there! Checking in to see if an item is on back order - looking to purchase a pair of the Shale grey boots in size 8.5! Any chance of getting them this season? Thanks!
I doubt it. There's none on order right now and I don't see another order being placed for this boot this season.
Need a size 8 or 8.5 Wide by next October. Any change you will be getting them?
Hey the105813208,



Unfortunately we do not have these on back order.
Are you expecting to get any Size 10's in anytime soon?
Hey jmf105812881,



Unfortunately we do not have these boots on back order - at least at this time.
Are you expecting the grey boots in a size 8 anytime soon?
Best Answer
Hi there,

We are expecting more of the Shale/Stone in the size 8.0! We do not have an exact arrival date, but we are crossing our fingers to get that shipment in any day now
Are you guys planning on getting any more of these in the cinnamon color size 9.5? The entire internet seems to be sold out.
Hi Elizabeth,

Unfortunately we don't have any more of the Cinnamon colorway ordered to come in, sorry about that!
Awesome boots
Familiarity:

I've put it through the wringer

Fit:

True to size
I have never owned a pair of Sorel boots before. Now I wonder how I've lived in MN and SD without them! They are comfortable, waterproof, durable and work great for outside chores. In the future I will only buy Sorel for my functional winter work boot. I normally wear a size 7.5 shoe and downsized to the size 7 boot, they fit great and hug my foot like a glove. Highly recommend these boots.
Will you be getting more size 6 in buff color? Thx.
Hi there,

Yes we do have the size 6 ordered to come in the Buff color! We do not have an exact arrival date, but we're hoping to have those in any day now
Will you be getting more of these in the Shale/Black color? I need an 8.5!
cvi105700559,



We do have a vendor order on the way to replenish our inventory. Shale/Stone 8.5 is part of that order. I would expect to see if available for purchase by the end of the month or beginning of February. Keep checking the page at least once a day.
Do these run small? I wear a size 11 or 11.5 and I want to make sure they are not too tight.


They run large!! I usually wear a 9 and ordered an 8 and they fit perfectly, even with a little bit of a thicker sock. Keep in mind with wear the liner will start to stretch out and will give you a little more space. I highly recommend you get the size down, the 9 would be huge on me.
Will you be getting more of these in Cinnamon or Buff in size 7?
Hi there,

Yes we do have both ordered to come in! We do not have an exact arrival date, but we are hoping to have them within the next month or so
When will you get more sizes in Cinnamon? specifically size 8-9?
We do have a few on order! Unfortunately we do not have an exact arrival date, but they will hopefully arrive within the next 3-5 weeks!
Love them. They run large.
Familiarity:

I've used it several times

Fit:

Runs large
Love these boots--got a pair for both me and my husband. Very comfortable and warm. They ran a full size too large in mens and a half size too large in womens. Backcountry quickly and easily sorted the exchange and we are enjoying both pairs!
Will the Shale be getting restocked any time soon? I need a size 10!
Hi Jeanette,

We had one last pair of the 10 in stock in that color- I have them on hold under your account, and have emailed you with the details!
Big Clunky Toe
Familiarity:

I returned this product before using it

Fit:

Runs large
I ordered these after seeing so many cute outfits with Sorel boots and knowing our winter is going to be very, very cold (just outside of Philly). I was so excited to get the package only to be disappointed when I tried them on and my size 9 foot looked like a Men's size 11. The toe portion of this boot is HUGE. I mean very wide! I could walk with both of them on because they would hit each other. I also ordered the Sorel Cumberland for my mom and they are much more slim and cute. I will be ordering those for myself now.

They were comfy and the inner lining was so warm and soft, but the giant oversized toe just ruined it for me.
Too bulky, cut big
Familiarity:

I returned this product before using it

Fit:

Runs large
These boots have everything I thought I wanted, but they are just too big and bulky. I read a review that they look and feel like men's construction boots and it's an accurate description. They are extremely heavy and wide. Mine were cut very big too, at least a half size if not more. I live in an area where we only get a few feet of snow a year, so I think these are just too hard core for my needs. I will say they are well made and certainly feel warm.
Extremely Bukly
Familiarity:

I returned this product before using it

Fit:

Runs large
I bought these boots because I have heard nothing but wonderful things about Sorel boots, and how they are still cute yet warm to wear around in the winter. I got these in the mail, no joke, each weighing 5 pounds. They looked like mens construction worker boots. I actually thought I accidentally ordered mens instead of womens --nope! Unless you are looking to walk with your feet dragging behind you, I do not recommend this product. Very displeased that I have to pay for the shipping to return them as well >:(