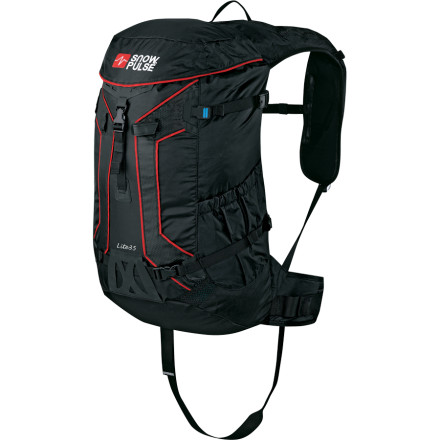 The superlight Snowpulse Lite 35 Backpack gives you options. With ample load capacity, you can choose to bring plenty of the essentials, and with diagonal and side carry straps, it's up to you how you haul them. All this, plus the Lifebag float, protection, and visibility in the event of an avalanche, and you may never set foot in the resort this season.
Lifebag system's 150L airbag activates when you pull the deployment handle
Once airbag is inflated, it uses a Head-On-Top technology to keep you on your back with your head out of the snow
Airbag helps protect your head, back of neck, and chest from shock
High-visibility color makes it easier for friends to spot you
System unit weighs 850g and operates in temperatures from -30 Celsius to 40 Celsius
System certified by the TUEV South
Please review instructions on yearly maintenance and inspection after deployment
Backpack's 100D Cordura and spandex panel provides lightweight strength, comfort, and durability
Tubular compartment with self-locking lateral zip is secure and large enough for extra layers, gear, and snacks
Strengthened, durable compartment holds shovel and probe for easy access
35L capacity is ample for longer touring adventures
Ergonomic waistband distributes load and provides comfort
Weighs 1720g (minimum without cylinder) to 1850g (maximum without canister)
Diagonal ski and hideaway ski and snowboard carriers secure your board(s) for a non-hindering climb and no-snag descent
Side ski carrier and ice axe straps give you loading options
Hydration-compatible design works with your water reservoir and hose
Adjustable pectoral strap for carrying comfort
Compression straps keep things compact
2 top-flap pockets secure essentials
New, improved waterproof and stowable lifebag handle
**Cylinder Not Included**
What do you think about this product?
Have questions about this product?
Great concept, poorly executed pack
Familiarity:

I've put it through the wringer
Pluses - great idea for safety in the event of an avalanche and ending up on your back. Even if you end up face down, the bag provides extra air space. It's the lightest avi bag available in this size and the size is good for a day in the backcountry.

Negative -

Three different kinds of buckles. The waist strap buckle can't be used with gloves or mitts on. The opening is compromised by the avi bag so you have to open the side zip to get anything in or out but for the smallest items. To open the side zip you have to unclip a side strap and open the top. Too many steps! In addition, the shovel/probe are stored inside the bag and require another zip to access. Too many steps if you need them in an emergency. The probe location further compromises access to the inside of the bag for daily use. There is no hydration bladder storage or inside sleeve for the tube. The outside storage pockets are snow catchers, not that useful for storage. There are no adjustment straps on the bottom of the pack to snug it closer to your back and the design does not allow them on the top of the pack connected to the shoulder straps. The chest strap can't be adjusted without taking the pack off and removing them from their position on both sides then replacing them. No sliding of the chest strap. It's comfort is thus 5/10 - only adequate.



In sum, great idea for safety IF you are ever in an avalanche. Poor function as a pack. I'm going to return this one and wait for the next generation.
Are any more photos available? I cannot...
Are any more photos available? I cannot find any on the Snowpulse web site. Specifically, I'm interested in the size of the shovel pocket. Could you reasonably fit a blade 11x9.5 inches in it?



Also, is 35L the volume available or does the bag / canister take up some of that space?
Can't find more pictures, but you can take a look at the review on wildsnow if you are interested http://www.wildsnow.com/6821/snowpulse-2013-airbag-packs-review-lite-35/