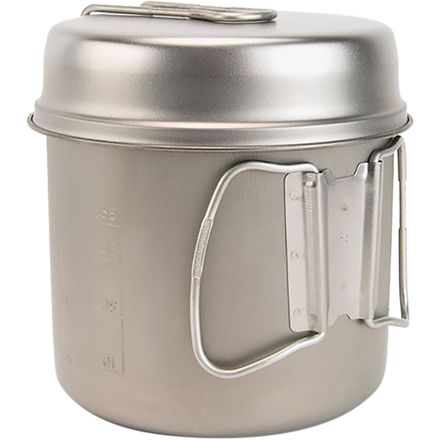 Community Images
Description
A lightweight, yet versatile cook set for minimalist campers.
The Snowpeak Trek 1400 Titanium Cook Set is a lightweight, two-piece cook set that includes a pot, pan and carrying case. Corrosion-resistant titanium is super lightweight and has superior strength compared to steel. The pot holds 47 oz of fluid (over 5 cups), the lid doubles as a frying pan (5 ¾ "x 1 ½ ", 17 oz capacity), and the entire combo weighs only 7.4 oz. Each piece has a folding handle that tucks neatly away for storage. The Snow Peak Giga Power Stove [SNO0002] and fuel canister stow nicely inside the cookware for easy transport and storage. Snow Peak's focus on nesting cook sets makes this an exceptional build-as-you-go system for backpackers. Perfect for melting snow, boiling water and simple cooking.
'Nother Nesting Questing Will the Whisperlite...
'Nother Nesting Questing

Will the Whisperlite Int'l nest inside this without there being too much room? Or how bout a big ole roll o' TP?



Also, does Backcountry have the SP Trek 1400 in Al?


a whisperlite will fit in you might need to take some of the stuff out of the sack though to to get everything to fit in snug.
I spent an evening taking different Ti pot and pan kits out of their boxes and comparing them at the REI flagship store in Seattle. I compared similar items in their brand and snow peaks. Much of the stuff I saw seemed like it was from a little girls play kitchen set. The 1400 is a great sized cook set. I finally ended up with the 1400 and then nesting the 900 inside of that, then I nested my Optimus Crux and a fuel canister inside of that. I like to fondue out in the snow when we ski or snowshoe. Both of those sets work great as a double boiler. I am very impressed with the quality of all Snow Peak products.
I'm still waiting to be impressed by Snow Peak. The pan doesn't fit on the pot as is stated, and the handles are flimsy. The bag is way too big for the set ensuring that the lid won't stay on. The whole thing just seems poorly engineered.
Does anyone know if I can nest one, maybe...
Does anyone know if I can nest one, maybe two, of the Snow Peak titanium bowls in this set along with a 4 oz MSR canister and a pocket rocket?
Best Answer
I carry two bowls in my 1400. Litemax stove, fuel can stabilizer, lighter, a couple of mini sporks fit underneath the bowls with room for other small stuff. The fuel will fit in the bowls and I usually stuff a bandana in the bowl to keep any rattling down.
I really appreciate the options that come with this cookware. The solo kit will fit in the Ti 900, the Ti 900 will fit in the Ti 1400. The Snow Peak titanium Bowls will fit in the TI 1400. Coolness!
light as it gets- graduated from the Quick 2
If you are an ultralighter, this is your cookset. I previously used the MSR Quick 2, for which (when backpacking) I never carried the cups and plates as we only ate out of the pots and draink out of our water bottles. By swithing to this set, I shed about 20oz from my packs weight.

At just over 7oz this will satisfy all backcountry cooking needs. The pot is large enough for noodles for at least 2, possibly 3 people. As stated below, keep the food moving otherwise it will stick. I recommend leaving a little water at the bottom when eating also, cause some food will stick when it cools down.

It's described as holding 47oz, I would say subtract a little if you are boiling to leave room for the water boiling over. With a Superfly cranked on high, no wind, water boiled in about 4 minutes.

The lid serves not only as a lid but as a fry pan (albeit small) and plate. The handle on the pan never got too hot touch. I never had a problem with the handles on the pot either, although using a pot lifter would alleviate the problem (the MSR potlifter weights 1oz and fits inside).

What else fits inside...other than the snowpeak 900 and 700 series, the pot will hold an 8oz gas canister, the MSR pot lifter, and the Superfly stove (though this stove doesn't nest well- would consider the pocket rocket or giga stoves for better nesting).

Pot set is very ease to clean, just run some water or wipe it out.
I like my Snowpeak Trek 1400 Titanium Cook Set But most of my meals are Boil and add.
Care must be used when cooking, the thickness and the Fact titanium doesn't spread the heat very well.
Keep the food moving or suffer.
Does anyone know if the Coleman Exponent...
Does anyone know if the Coleman Exponent Multi-Fuel stove will nest in this diametrically, if not height-wise?
http://www.amazon.com/Coleman-550B725-Exponent-Multi-Fuel-Stove/dp/B0009VC7QK

Thanks!
Best Answer
Nope, both too tall and too wide. The outside diameter on the 1400 pot itself is 5.5" and the height w/lid is 5.9". You probably already have the dimensions for the Exponent, but for the sake of anyone else who might want to know: 5.5x5.5x8.2"
Like the taste of scorched?
This set is very light, and was the perfect size for two people, however it's so thin that we had to work very carefully to avoid scorching our food, which usually was impossible to avoid. Have you ever spent 2 weeks in the Alaskan backcountry eating scorched couscous? I don't recommend it. I wish this set had a thicker bottom. It was impossible to get the scorched crust off the bottom of the pots as well.