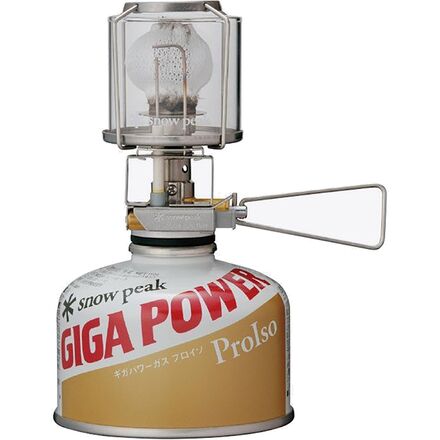 Community Images
The Snowpeak Giga Power Lantern includes a clear glass globe. The Snow Peak Giga Power Lantern produces 80 watts of light. Snow Peak's small fuel canister, GP-110, will generate 4 consecutive hours at a maximum gas output. Snow Peak's state-of-the-art technology insures excellent performance. The stove and lantern are interchangeable with Snow Peak's fuel canister. Comes in high-quality plastic carrying case, 2 inches x 2inches x 4 inches. Lightweight, Compact. Easy-to-use. The GigaPower Lantern, Auto Ignition weighs 4.5 oz.
Check out this guide for how it works:

http://www.snowpeak.com/gigapower-lantern-auto-gl-100a.html
I just had to pull mine apart, clean the internals and rebuild it. Good as new. Actually it is working even better. Now the igniter works where before it wouldn't.



Just make sure you get the mantels that are made for it. I had one of the Backcountry associates sell me some Primus mantels that weren't made for it and they were too big. The ones made for this lantern work awesome. The only issue you have to be careful of is that you don't get a tear or hole in your mantel and get a flame shooting out towards your glass. It can ruin your glass lens. I keep a three pack of mantels in the bottom of my little case the latern stores in.
How hot will the glass shield get..?
How hot will the glass shield get..?
Best Answer
Hot enough to melt just about anything that comes in contact with it, including your skin (think about touching the globe the same as you would picking up your Gigapower stove by the pot supports while it's running) Don't use it in your tent, or anywhere there's a potential for fire or carbon monoxide issues.
Thanks Phil,
that was exactly what I needed to know...
yup, definitely melted my sierra designs arrow rock bag with this thing on accident.
Do you have to use snow peak mantles? or...
Do you have to use snow peak mantles? or can you use coleman if so what style /size?
Yes u can use coleman, "slip on #51 mantles" from your local walmart!
Best Answer
Walmart doesn't seem to be stocking the Coleman #51s at their stores anymore (just #21 and #95...and I tried 3 different stores), nor does anyone else that I can find. If you do happen to find them, stock up right then and there, or plan to have to buy them online or by special order.
You can get "51s" from the Coleman outlet stores in Tennessee.
Will this work with other types of fuels...
Will this work with other types of fuels such as gasoline, diesel, alcohol?
The Snow Peak GigaPower, Auto Ignition Lantern uses ONLY Lindal valve (screw-on) type, compressed gas, fuel canisters made by @ least nine manufacturers including Brunton, Coleman, Jetboil, Kovea, Markill, MSR, Optimus, Primus, Snow Peak, etc. These canisters can be found in the US, Canada, Australia, New Zealand, western Europe, Japan, & Korea.
Best Answer
Kovea makes an LPG adapter for use with stoves, etc that allows you to thread on to Lindal valves from the standard green 16.4oz propane bottles. The adapter has a regulator screw to adjust the pressure differential. Turn it all the way down till it stops, then open it back up a half turn at a time or so ( seems to match isofuel pressure at about 1-2 full turns). Works well, runs about $20, and cuts your fuel costs by more than half.
Portable, Light, and Powerful Lantern.
This lantern is very small and light. It's perfect for hiking trips. I haven't had any issues with it so far. I bought the messed screen for it but that doesn't work very well when there is alot of wind out. The glass screen that it comes with is very strong. I don't imagine that piece of glass breaking very easily. It isn't as bright as my coleman lantern that runs off propane but its really close. Also i notice that the light that it puts off is more yellow then a propane lantern. So basically, if you are looking for a portable, light, and powerful lantern. Then the Snow Peak is the one for you.

Edit: On my last camping trip i had a small rip on one side of the mantel. That caused a hot spot on the glass melting and cracking the glass. So be careful and change the mantel when needed. I know that on other lanterns that isn't a critical but on this one since it so small you really need to pay attention. Though on the brightside that mantel lasted me most of the summer, that was my first/original mantel.
Its hard to tell in the image but is the...
Its hard to tell in the image but is the shield around the lantern glass or a mesh?
Best Answer
It's glass. I own this lantern and really like it, but would benefit from having a mesh shield. Having said that the glass shield has not shown any signs of wear or breakage through some pretty rough backpacking trips. In lighting the mantle, I have burned marks into the glass shield which is kind of annoying (can't clean them off). I would recommend lighting the mantle without placing the glass shield over it until the mantle's ready to be used. This will keep the burn marks from appearing...
This is a full little toy to have and is bright. I like to store mine in my Snow Peak 450 ti cup. It should however come with a little chain or some way to hang it up. I use a steal fishing leader which has worked nice. Also an extra mantle would be nice for the price. At times it is hard to light and you are better off lighting it with a match than the auto ignition. Also it DOES NOT like cold starts. You have to light it and lightly blow onto the mantle kind of like starting a fire.
Is this lantern and snow peaks fuel...
Is this lantern and snow peaks fuel proprietary, not interchangeable with other brand fuel?
Best Answer
Neither is the Snow Peak fuel blend proprietary nor their canisters. All other canisters will work with their products as long as they employ the Lindal valve.
This was a serious question. I inherited...
This was a serious question. I inherited the thing and I do not know how to adjust or turn the thing on, Have a canister, extra sock and no manual.
The grey button on the side next to the valve should be the piezo-ignition button, and should spark and light the lantern when attached to the gas canister. I say should because I've been less than impressed with auto-ignitors across the board, and while I haven't used this one specifically, I would guess that it works the same third of the time as all the others. You could also try matches or a lighter, but be careful, and make sure the flame is near the jet before you open the valve so it doesn't make a giant flame and burn the hair on your hands off. Wow, that doesn't sound like experience talking at all:)
Best Answer
After you've screwed on the fuel canister, slightly open the valve & push the auto ignition button. Voila. Let there be light!
I bought this lantern with the hopes of backpacking through the Shenandoah National Forest this summer. While this lantern is small, it's uses during backcountry camping were limited. Having this lantern inside a small one or two person tent is somewhat of a fire hazard as the heat produced by the lantern would immediately melt your tent. The light output is considerable for its size and not something you would want to stare at. Overall I'm happy with this lantern, light, small, and very useful.
If this lanterns output varies slightly...
If this lanterns output varies slightly (i.e. flickering, etc.),is that normal?
Best Answer
Nope, Should be pretty stable, I've found over time that the 'Tiny' jet get a little blocked, you can remove it (undo the two little side screws and remove the lantern head, then you'll see the tiny hexagonal jet), if you take the filter out of the inside of the jet (looks like cotton wool), then heat the jet up with a lighter or similar and then drop it straight into cold water (will fizz a little), that seems to clean the jet out. Note: the jet will slowly get blocked with liquid LPG(butane) pouring through it, which is sometimes neccessary to get the auto (not) ignitor to work, ala tipping the lantern towards the ignitor as suggested elsewhere in this thread. Hope that helps.
do the snow peak prdoucts require their...
do the snow peak prdoucts require their own type of fuel?? Or will they work with other types as well??
Best Answer
I use mine with MSR canister fuel and it works just fine, but it might work better with snow peak fuel, ive never tryed it.This lantern will work the same with all Lindal valve (screw-on) type fuel canisters.
This is a perfect little lantern for all camping needs. As another reviewer pointed out, this is not a 200 watt mega-bright monster but then again, who really cares? It's tiny! With Snow Peak, it's all about the details. I love the carrying case, the little metal serial number tag attached to the lamp, the feel of the valve...
Product quality is the typical high level of other snow peak products. The design is tops as far as small lanterns. lantern is at least as bright as a single mantle propane lantern and is much trimmer in size. It requires a little more time when preparing the mantle and will not burn as long as a propane lantern on one of the larger cans. Knowing this, if you still want a gas lantern that is small, this is the nicest one I have seen.
The lantern met my expectations. My only complaint is what I believe is common to all of these single-globe lanterns, namely the limited light output. Rated by the manufacturer as 80W, I'd probably say the actual is 40W.