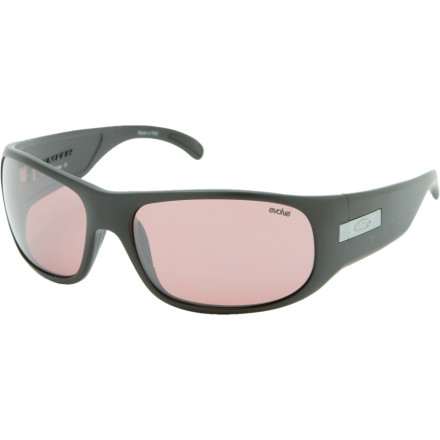 Detail Images

Community Images
You might wait table at Chachki's and live in your parents' basement, but you'll feel like you're in control of a worldwide enterprise when you put on the Smith Mogul Polarchromic Sunglasses. The TLT Techlite glass lenses give you full glare protection when you're out on the water and adjust to different lighting conditions, giving you guaranteed protection from cloudy mornings to bluebird afternoons. The medium-fit frames give you big coverage to let everyone know you're a big deal.
When you're wearing the polarchromic copper...
When you're wearing the polarchromic copper mirror lenses can people see your eyes? Does the mirror prevent that and just how dark are they?
The polarchromic copper mirror lens isn't very dark, people will probably be able to see your eyes.
What is the Evolve Photochromatic Ignitor...
What is the Evolve Photochromatic Ignitor lens all about? What is visible light transmission percentage measurement for these lenses?
The lens darkens and lightens in response to ambient light conditions. The light transmission varies so there is no set percentage.
The Techlite glass lenses make a HUGE difference for me. I experience zero eyestrain wearing these bad boys. I wear my optics a lot whether driving, hiking, or just being outdoors, so not having to deal with eyestrain after wearing sunglasses for a long time is great. The extra scratch resistance of glass is a huge plus in the long run since accumulated scratches (bad refraction) on the lenses is part of what causes eyestrain. This is my first pair of Smith sunglasses (worn Oakleys exclusively for over seven years) and they are definitely a keeper. I would say that I would only switch back to Oakley if they made a more superior glass lens.
Unanswered Question
How do glass lenses/these glasses preform...
How do glass lenses/these glasses preform for bc touring/hiking?
Great style and function, decent durability
I traded my usual tried and true Julbo Nomads for a pair Smith Moguls on my last expedition. I decided to make the change for three reasons: 1st, the Smith Moguls fit my face well- which is key in blocking out solar rays and snow reflection, 2nd, because of the polarchromic function, and 3rd, the wider side frames blocked out reflected light.

I found the polarchromic function subtle- that is, the difference between bright and overcast conditions didn't change the lens tint a whole lot- but this doesn't really matter since I found the glass lenses crystal clear and the tint appropriate in all light conditions. The hinges on these glasses are bulletproof, and they survived my expedition abuse well, including a number of drops from head height.

As for durability, I found the lens almost impossible to scratch, but the silver accent on one side of the frame fell off the first week of wear. We'll see how good Smith's warranty is.
Smith Moguls at work in the Himalaya