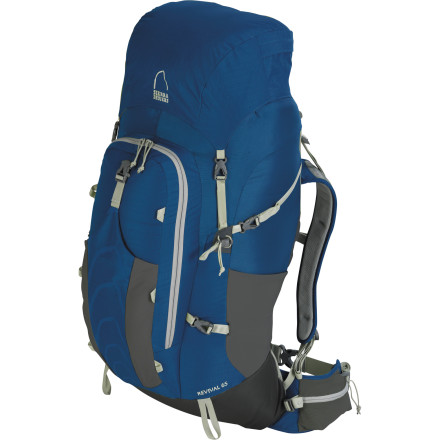 Detail Images

Community Images
Sierra designs gave the Revival 65 Backpack everything you need for a long multi-day trip into the woods or a huge summer trip through Central America. Light, simple design and maximized carrying capacity make this pack an easy winner, and its comfortable suspension system lends a little ease for your shoulders.
Pack's carrying capacity is ample for a long weekend or multi-day trip, and if you don't need that much space, cinch down the pack's compression straps
Hydration sleeve and water bottle pockets provide stash spots for your H2O close at hand
Fulcrum Suspension incorporates soft padded shoulder straps and hip-belt straps for a comfy ride
Ventilation Conduit backpanel lets airflow access your back and shoulders to minimize sweatiness
Trekking pole loops hold your poles when you don't need 'em
GPS easy attachment points to ensure you never get lost
Features, accessibility , weight.
See my photo below on a separate post ! I packed this thing to the MAX~! Here is another photo of it fitting pretty nice. Notice the bottle opener. Waiting to mistakenly walk into a secret campsite with a bucket of cold beer that lack screw tops. It will happen... one of these days.


I packed this bag to the max. Solo trip behind Cheyenne Mountain with expected adverse conditions. (which I met!) this bag held up to zipper cramming, knee compressing, and last minute shove-ins of varies hard cornered objects. Held up great with access all over.





Here is the load out all packed in this thing: Strap crampons, solar charger for gps, first aid kit, fuel bottle, MSR stove, -10 degree sleeping bag, large inflatable mattress, gortex bivy sack, Chaos2 tent, rain fly, tent foot print, 2 pan cooking set, 3 freeze dried meals, stoic pillow, map, nalgene bottle, shell jacket, shell pants, northface fleece upper and lower, fleece jacket, two sets of gloves, 2 pairs of wool socks, base layers (2 tops, 1 lower), sweetwater purifier, emergency foil blanket, firestick, gerber multitool, 2 liter bladder (empty while hiking), 1 beanie, 1 balaclava, 30 ft of para cord, a REI camp chair (super light/250 lb. capacity) and a few odds and ends that would fit in a zip-loc sandwich bag.



Forgot: Compass.



I brought a tank to see what I would end up not using and minus it from my list (feeling out Colorado's wild)



I sadly used everything. Probably cause it was there. This pack fit it all.

For those that are wondering, "why the bivy?" I brought it unti lI trusted how the Chaos 2 would pull off "4th season" weather. It did well. I can minus the bivy.
Light/strong/comfortable/feature loaded
Gender:

Male

Familiarity:

I've used it several times
I researched a large number of packs and brands. This was the clear winner for me.



This is a lightweight pack. Most lightweight packs sacrifice comfort by using smaller straps and buckles to reduce weight. The Revival uses substantial padding and straps and boasts a bigger max carry capacity than other packs in the same weight range. This pack is comfortable.



This pack has great organization with lots of pockets and features. The Revival is a top loading pack with front access. I feel that front access is more convenient, more functional and more used than a separate bag compartment.



The single stay fulcrum suspension is awesome. you can turn, twist and move freely. My first trial was a ten mile in. My shoulders and hips felt good from the first use.



One main positive for me with this over the Osprey pack I came close to buying is the air flow and suspension. With Osprey packs you get a net/vented area between your back and the pack. This actually pushes weight away from your body and can make the pack feel top heavy. The Revival uses air channels which allows the pack to remain close to your body.



As for complaints by others: The hips feel stiff at first; but, feel great when weighted and in use. I have had no discomfort. Some of the initial online reviews of this pack were made from prototype packs that did in fact use a different belt/foam. As for the sloped bottom - granted it creates an awkward space internally; but, it is actually nice when light rock hopping and scrambling down a boulder field. There is nothing to bump or catch on. Bottle opener? ...use it as an attachment point for a Spot, radio etc. A whistle would be a nice addition as well as an on the fly pole stash feature.



I am 5'11" 180-185lbs with 18" torso. I am right between S/M and M/L. I went with M/L but would say a personal choice should be made here.



I love this pack. 3 friends have purchased this pack since checking mine out. I obviously would recommend it to all!
Looking forward to using it
While I have not had a chance to use the pack yet, I am looking forward to trying it out this spring. When I first got it I tried it on and walked around the house, bending every which way I could. The pads are wonderfully comfortable! I especially love the back pads. There is space running down the spine to let my back breath. Normally I am not a fan of internal frames, I hate digging through my whole bag to get one item. However the pack has a zipper running down the front of the bag allowing easy access to the internal compartment. I also like that there are small compartments for treats or a camera right on the belt across my waist. I am way excited to try the pack this spring, it is exactly what I need, comfortable, and easy access to all my items.
Awesome pack...if it fits you
Gender:

Male

Familiarity:

I returned this product before using it
Bought this pack on Steep and Cheap and it truly was a steal. The build quality is amazing. Unfortunately the ergonomics just didn't fit my body. The gaps in the waist belt's vertically-oriented padding allowed the hard plastic inner support to rest directly on the points of my hip bones. Furthermore, no matter how I adjusted the shoulder straps and load lifters I always felt like my chest was a little too deep for the bag. I'm a usual pack size of men's medium with a 41-42" chest, and I had bought a M/L size pack. Again, this is just my body fit. Perhaps if the torso size was adjustable I could have made it work. Other than that the suspension was fantastic, ventilation was better than the Osprey Atmos, and the low weight for a 65L bag is impressive. Organization is top notch as well; I've never had a bag fit my stuff so well. Truly disappointed that it just wouldn't fit me. Two improvement suggestions: lose the bottle opener and add removable sleeping pad straps to the bottom.
I bought this off Steepandcheap.com for...
I bought this off Steepandcheap.com for $76 a few days ago. Looking forward to using this on the Appalachian Trail soon.
Wear it a while on some short trips. The waist belt can be aggressive on the hips. Don't want your hips to learn this on the AT
This was a great pack for a trip for a 5 day trip in the wilderness.
Can the lid be converted to a day/lumbar...
Can the lid be converted to a day/lumbar pack?
I recently upgraded my 20 year old Lowe Contour to the SD Revival 65. I love the weight and the way it fits my body. I have to admit that I have not used it tons yet, but I did use it for an overnight trip up Mt Adams. So I was hiking up hill with a tent, sleeping pad & bag, some warmer clothes, food, stove & pot, first aid, water and water filter. My biggest complaint is with the hydration sleeve. I know a lot of hikers that strongly believe that a hydration pack is not for alpine hiking. I still take one along with me. But the sleeve in the Revival is a little small. I could have two liters in my bladder but it was a very tight fit.
During day 2 of the hike up to the summit I had much less in my pack and I could cinch it down to be stable. I've never really liked the remove the top and use it as a day pack feature. Instead, just remove the top and make the rest of the pack lighter. I have seen complaints about the waist belt. I have a 32 inch waist and found the belt a little stiff but I never found it uncomfortable. I like the belt pockets for holding little items (snacks, sunscreen, lip balm) while the side pocket securely holds a nalgene bottle or a GPS unit (ie. ti stretches to accommodate small & larger items). The ties for ice axe and/or poles are nice. I did not get a chance to use the bottle opener and I might prefer a whistle (I know a lot of pack have that). I did not find the slope bottom an issue and maybe it even helped when glissading :).
I also like the rear access to the pack rather than just top-loading. The rear pockets are very handy. I also found the firm padding to be more comfortable for long distance rather than some of the softer padding that is out there. The pack vented well a climbing in 80 degree weather I never felt too hot because of the pack.
I have the S/M size, I am 5'3" tall (with a long back and short legs) and this pack fits well.
The hipbelt has vertical channels and very stiff foam. This equals sore hipbones after about a mile with the pack moderately weighted. The top lid is not removable and the sloping bottom is a poor design. The rest of the pack is good; frame, pocket, front access and materials. The hipbelt seems like such an easy fix.
The Fulrum suspension was impressive. As an owner and long-time user of a Dana Designs Terraplane, I am a historic fan of single-stay/frame sheet suspension designs. In all fairness, I was intrigued to see how the Fulcrum suspension would perform during my early visual inspection of the pack. I was initially concerned by the overall flex of the single DAC stay with the partial frame sheets attached that the top and bottom. In the end, I felt the single stay and partial frame sheets did an OUTSTANDING job transferring weight to the hip-belt. Movement was good and overall I felt this pack could carry a significant weight load.
The shoulder harnesses were SUPERB! Rarely can I say that I experienced no trail discomfort from shoulder straps but that was the case with the Revival. Padding was superb and the die-cut ventilation slots were very much appreciated.
The hip-belt was rigid which allowed for good weight transfer without hip-belt sag.
The pockets were helpful. Typically, Im not a huge fan of pockets. The hip-belt pockets were welcome and very functional.
The angled bottom of the pack gives great clearance on awkward descents, it wont catch and throw you off balance.
The overall comfort was very good. Upon visual inspection prior to departure, I was very concerned about the very stiff foam in the hip-bely, lumbar pad and should-blade padding. This concern proved unfounded in the field.
Love the shove-it pocket.
Sierra Designs Revival, new packs from the "Tent Guys"
Very Impressed. Like at least one former reviewer, I've been the owner of a number of Osprey packs over the years. While I've always been a fan of Sierra Designs tents, I think this is the first pack offering I've ever seen from them. When any company tries something new like this, it is seldom done right the first time. I must say, though, this is the exception to the rule. This pack truly does what many others claim to: ventilate while supporting heavy loads comfortably.

I admit the first time I tried this pack on, I wasn't sure about it. Do yourself a favor, though. Reserve judgment until you have the pack weighted. When empty, it had a rigid feeling, and I immediately noticed the ventilation gaps in the lumbar and scapula pads. After weighting the pack and walking for a while, however, the "new" or "different" feeling of the pack was gone, and I could begin to feel those gaps doing their job.

Keep up the good work, SD! I hope to see you get the street cred in the pack market that you deserve, and I look forward to some more great pack designs in 2012.
Sierra Designs Revival 65 Backpack - 3800cu in
I just took this pack on a 4 day trip in Escalante, Utah. It worked really well and carried the weight well. They did a good job with the padding in the hip belt and the back panel. I like the idea behind the front pocket opening into the main pocket but like some of the other brands design better on that feature. It should some signs of abrasion but I was really hard on it but didn't wear through.
Very impressed with the quality of this pack. I wanted a pack that would carry 40 lbs for longer trips. I compared this pack to the Baltoro 65 and Aether 60 and felt this pack had the best combination of comfort, weight, and weight carrying capacity. Instantly packed it up with 30 lbs and it felt like nothing compared to my old, minimalist frame pack. Plenty of padding wear you need it. I was able to pack a bear canister (BV500) with room around the sides for a solo tent and various other gear. The front access zipper is huge and gives you plenty of ways to pack and access your gear, its big enough to pull your bear canister through. The hip belt padding is a little short and just wraps around my 34 waist but it is padded well which makes up for it. At 6'4 and 200 lbs the M/L fit perfect.
SD really did their research before they released this pack. I've always been a huge fan of Osprey, but the suspension on this really caught my eye. It's got the best balance of load stability and back panel ventilation I've ever tried. The individual pads feel a little odd at first, but quickly disappear, and the air channels are completely unobstructed. Without a jacket on, you can feel noticeable air movement. I've taken this on 2 overnight ski trips and it has just enough room for a long weekend with winter gear. I think this will translate to a comfortable 3-4 day backpack in the warmer months. It's low profile enough that it didn't readily snag errant branches, even when skiing through tight trees. As well, there was no noticeable load flop back and forth, even when lightly loaded.

Build quality seems on par with any of the Osprey's I've owned and seems as though it will take some decent abuse while still having a good lifespan. As I've only had mine for a few months, we'll see what extended use does to it. I personally, foresee a long and happy relationship.
Sierra Designs Revival 65
Sierra Designs Revival Backpack