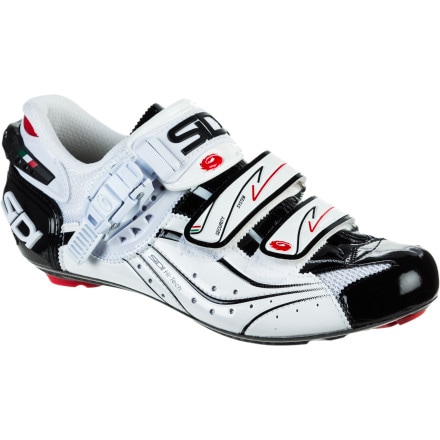 Videos
Description
Vent your feet.
The Sidi Genius 6.6 Vent Carbon Shoes feature the same tech features as the Wire, with classic cycling shoe style.
The Sidi Genius 6.6 Vent Carbon Shoes, and the latest shoe to grace its top tier, the Wire, share quite a few commonalities. In fact they are like fraternal twins, with the same flagship design and features, but different aesthetics.
The Genius, features a somewhat more traditional upper design than the Wire. This is the result of the two very different closure systems used. While the Wire uses the Techno3 Buckle system, the Genius 6.6 uses a two-way ratcheting caliper buckle. This system, invented by Sidi and only imitated by other shoemakers, allows you to adjust the fit of your shoes, in small increments, anytime. Complementing the caliper buckles is a hook and loop strap that further adjusts the volume of the shoes. The industrial-grade hook and loops are patented, and they won't fray or lose grip over time. This three-point closure system ensures the perfect fit. If you like to wear your shoes on the snug side, the shoe's tongue and instep strap have both been padded generously to allow for extra comfort.
Sidi's Heel Security System (HSS), a band that runs on the outside of the heel, keeps your feet firmly planted in your shoes. With the help of a small Allen key, you simply secure it over your Achilles tendon to ensure that regardless of how much power you are putting into your pedal stroke, your heel stays put.
The Genius 6.6 are built upon the same sole as the Wire. It is essentially the sole that is used on the Ergo 3, with the same construction, but for the Genius, Sidi removed about 38 grams from its weight. The Vent Carbon Sole features the same rigidity that Sidi is known for. Additionally, the soles are vented at the toe. This vent, unlike competitors', may be open or closed depending upon the weather and personal preferences. They were designed so that the air flows through the insole which helps to pull moisture away from your feet keeping them cool and dry.
The buckle system, Heel Security System and vented sole ensure a near custom fit, and the Lorica microfiber uppers with ballistic mesh inserts provide matched comfort and durability. Lorica is a synthetic leather that, unlike real leather, doesn't stretch or harden when wet. The mesh inserts aide in keeping your feet cool.
The Sidi Genius 6.6 Vent Carbon Shoes are available in the color Black Vernice/white and in whole and half sizes from 39 to 48. Most sizes also have an Mega option available for those requiring a high-volume shoe. Please note that these shoes are only compatible with standard, three-hole road cleat systems.
Share your thoughts
What do you think of the
Sidi
Genius 6.6 Vent Carbon Shoes
? Share a...