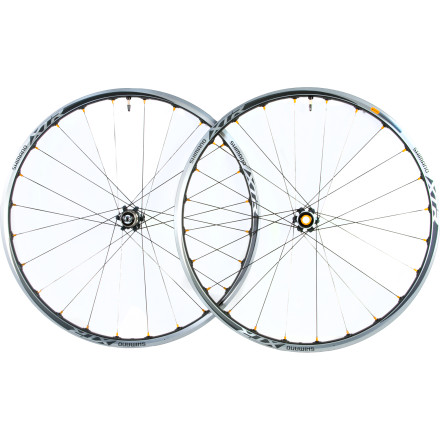 Detail Images
We've found the 15mm thru-axle standard to be light enough to satisfy the old XC racer in us, yet it offers up loads of front end stiffness in comparison to a wimpy old quick release. And when the trail gets really lumpy, it's still plenty stiff and plenty strong to handle anything we've got the cajones to ride. The steering precision of the 15mm axle is paramount, and what you'll notice is more confidence when you're really pushing hard. Shimano has paired their top-shelf XTR hubs with a scandium alloy rim to create this XTR Trail WH-M988 15mm Thru Wheelset. They're durable enough for tough rides on tough trails, yet light enough that you won't cuss them on long climbs.
Shimano's dedication to UST rim certification is an important thing to consider when looking at these wheels. The testing and certification process is expensive and arduous, but when you're ready to install a tire, you'll appreciate their efforts. A true UST system allows the installation of tires by hand, and they'll seat and inflate using nothing more than a good floor pump. No joke. So ask yourself if you want to ride something into the backwoods that requires luck, black magic, and the dexterity of a surgeon to seat and inflate.
Inside the scandium UST rims, black stainless steel 14/15/14 butted spokes center the XTR hubs. Both front and rear hubs are specific to this wheelset due to their compatibility with the straight pull spokes, otherwise they use the same internals as the XTR hubs sold individually. They're comprised of a 7075 T6 aluminum hubshell and axle, rolling on Shimano's cup and cone angular contact bearings. The loose ball bearings and cup/cone race system allows you or your mechanic to set the bearing preload to absolute perfection. By carefully adjusting the locknut assembly, it's possible to remove all radial and axial play in the bearing system without creating drag. In fact, if you've never felt the smoothness of XTR Hubs, you should grab a wheel and let it spin in your fingers for a while. You might wonder why you don't have them on your bike.
The XTR Trail WH-M988 15mm Thru Wheelset is compatible with centerlock rotors. Though it carries the UST designation, you're not limited to tubeless tires only. Tube-type tires will also work just fine, and you won't have to bother with rims strips either, as the outside wall of the rim is pierced only for the valve stem hole. Both the front and rear hubs are protected from the elements with rubber contact seals and dust caps. The titanium freehub body is compatible with 9- and 10-speed cassettes. The included XTR rear quick release skewer is steel for durability and strength. The front wheel accepts a 15mm thru-axle (included with fork). The rim width of 26.4mm makes them compatible with tires ranging from 1.95 to 2.5". Both front and rear wheels have 24 stainless spokes in a two-cross pattern and are affixed to the rim with aluminum nipples.
Note: The CenterLock lockring that comes with these wheels is oversized and should be used with a 15mm thru-axle setup. The regular CenterLock lockrings are packaged with the rotors.

Ultra-light and tough Scandium rim is UST compatible for use with tubeless specific, or regular tires

Cup-and-cone angular contact bearings spin without resistance and are Long-lasting and easy to service

Front and rear rubber contact seals, and dust caps protect bearings from the elements

Stainless-steel, straight-pull, butted spokes provide rigidity and strength for aggressive riding

9- and 10-speed cassette compatibility

What do you think about this product?
Have questions about this product?
Unanswered Question
Do you carry the 142x12 (XTR WH-M988-R12)...
Do you carry the 142x12 (XTR WH-M988-R12) version of this wheelset?
I just bought a set of these Wheels, and...
I just bought a set of these Wheels, and they are indeed first-rate. The Product-description above reads like a Shimano-ad, but it is more objective than what's usually written in the media and avoids the typical hype. One detail I would add: The outer rim-width of 26.4mm that is mentioned in the Description--note that this is not as significant as the INNER-width which is 21mm. Not only is this the actual parameter that allows use of 2.5" tires, but it is also creates a larger contact-patch on the trail, so even 2.1's will grip better. Also remarkable is the fact that a 21mm Rim weighs a mere 400g. So hats-off to Shimano for this noteworthy accomplishment. Selling for about the same (in the real-world) as the Crossmax ST, XTR 988's are substantially lighter at 1670g. And durability should be on par with the competition, too. The only real difference is maintenance--Shimano cup-and-cone bearings need service more often, but it is low-cost and no special-tools are needed. I've used XTR hubs in the past, and they are top-notch. My only issue is the tiny Spoke-wrench that Shimano provides that is supposed to torque the nipples to 120-kgf. Can anyone comment on this?
If I understand correctly: 120kgf is roughly 280lbf. 280lbf of the axial load would be roughly 4.5 in-lbf. the wrench is roughly 2" so slightly over 2.lbf should do.

Hope it helps.