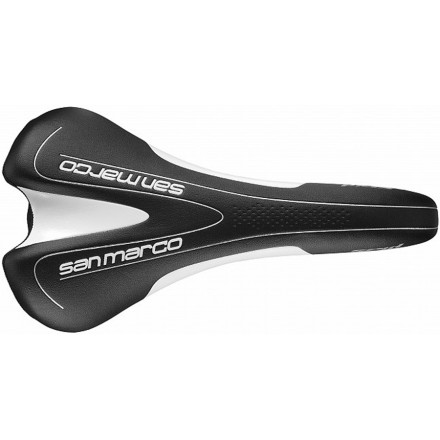 Not every piece of your bicycle needs be hewn from rare NASA metals or the ivories of endangered species. Sometimes, you just need a saddle on which you can maximize the enjoyment of you, simply riding your bike. So for those simple joys of two-wheeled locomotion, there is simply the San Marco Spid Racing Saddle. The Spid offers just the right amount of EVA padding, and a wide, comfortable perch without compromising the look of your mighty two-wheeled fun-steed.
Synthetic Microfeel cover is durable enough for multi-season, multi-discipline cycling

What do you think about this product?
Have questions about this product?
This saddle came stock on my Jamis Nova Race, and it performs less than stellar for me. I'm a bigger guy, 6"2" 215 and after rides longer than 20 miles I am horribly saddle sore. It also makes my tailbone hurt and it can be uncomfortable to sit down after long rides. i think i'll be going back to WTB saddle