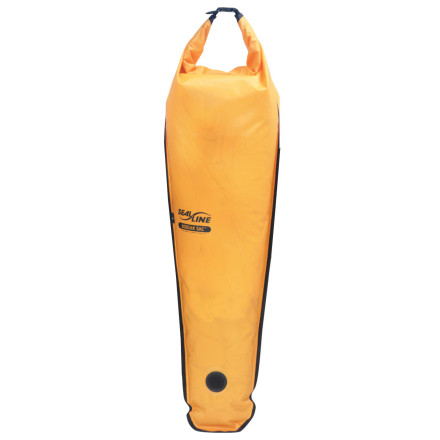 The ends of your kayak taper, so why shouldn't your dry bag do the same? Instead of wrestling with your bag each morning of your tour, choose the SealLine Kodiak Taper Dry Bag. This bag tapers down to fit into bow or stern hatches and uses a waterproof, one-way purge valve for efficient compression. The Kodiak survives quick submersions and will float if you happen to capsize.
Expensive, but I needed this format
Familiarity:

I've used it several times
I use this strapped to the rack of my bike as my only "pannier" with tent, mattress, sleeping bag and all clothes. It's well suited, so I am happy with how it works. It is however, very expensive for 2 pieces of nylon sewn together with a valve.
These bags are great to keep your gear dry while maximizing the awkward spaces in the tips of your kayak. I have a Necky Looksha 14, and use a 20L bag in the front, a 35L wide in the back (barely fits through the hatch).
This drybag has proven itself. After being immersed in water for 2 days (in a kayak hatch), the contents were completely dry. This is the only drybag that I've known to actually keep water out when even the closure is immersed. Definitely a keeper!
I will give this bag 4 stars...it's alright, maybe not great. I purchased this bag with a few other brands to try out on a multi day trip down Escalante to Lake Powell. This bag will leak if you don't seal it perfectly, which sometimes seems difficult to do. It does have the nice feature to purge air out of your sack for smaller compression but by the end of the trip these bags were carrying the "less" important items that could handle a little water seepage.