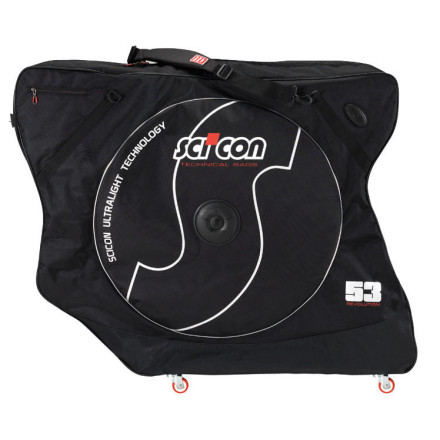 Community Images
Description
Softer is better.
Flying with your bike is never exactly fun, but the SciCon Aero Comfort Case might make it just a little bit easier. Hard cases are, by definition, the most protective of your ride, but they're also the hardest to maneuver, pack, and lift. With the SciCon Aero Comfort, you just take off your wheels, attach the frame to the Internal Stabilizer System at the dropouts, and zip it all up. It even comes with TSA-approved locks for an extra measure of security. Also of note is the Aero Comfort's compatibility with integrated seatmast bikes — we've personally flown with a bike with a 79cm BB-to-saddle-top measurement packed in this case with no trouble.
TSA-approved locks
Frame mounts to internal structure
Foam padding
Fork block
Seems to work quite well
Familiarity:

I've used it once or twice and have initial impressions
First the specs: I've got a L Cento Uno, ISM, 74 cm center BB to top of saddle. I chose to remove the pedals - just takes a minute and one less thing to protrude. Flew on a pencil jet (Embraer) and full size jets (757 and 767). Mine has a place for airline to put baggage tag, I also put my elite badges front and back in the hope that Delta would take good care of the bike (and they seemed to). This comes with a kit bag that sits under the rear of the bike, I overstuffed it at first but it's really plenty big for a couple of wrenches, pedals, small pump (included in bag), and some rags. I chose to remove the pedals just to keep them from protruding, and I purchased some additional padding (Albopads: http://www.albopads.com/) which seemed to work and gave me peace of mind. The bike came through with no visible damage (I did use the derailleur hanger rather than remove it); the mechanic at the other end indicated that my hanger was slightly bent but not sure if that happened from the flight or was already an issue - bike rode 98 miles and 7600 feet of climbing without any problems so never noticed it!. Easy to pack, and I like that the internal straps provide some air space cushion to protect the bike - and love that I'm able to keep seat and bars on the bike when shipping.
Overall very happy
Familiarity:

I've used it once or twice and have initial impressions
Flew with bike in a hard box a number of times and, while bike was never damaged, box was wrecked after half a dozen times and it took 45 mins to pack. So invested in this bag and have only flown once so far. Not a great statistical sample, but so far so good. Bag held up well, bike completely un-blemished.
The good: lighter than hard case, easy to lift/wheel around airport, robust modern materials, quick to pack and unpack - 5 mins each. Packs down small - e.g. under a bed. Easily fits road bike with ISP - 30" from BB center to top of saddle. As advertised - really no need to remove pedals, bars or saddle.
The not so good: Has no exterior handles other than the removable straps straps, so lifting it on/off carousel/ticket counter/scales and in/out of car is a bit awkward. Carrying straps are fine for walking across airport, but not so good for manhandling it. Agree with many - the derailleur protector is a gimmick - didn't even try fitting it - the derailleur sits so close to the edge of the bag that one unlucky knock and it's toast. Remove the mech, bubblewrap and zip tie to chain stay.
Recommendations: Use more padding - weighs nothing. Wrap bubble wrap or similar around saddle, bars, forks and whole rear triangle, since those are at the corners (likely points of impact) of the bag. remove the Derailleur and zip tie. Leave the pedals on - no issues.
Overall - very pleased. Now I need to test it by flying to France......
Do I need to remove my pedals? I have Garmin Vectors and I am hoping to avoid taking them off and on due to the sensitivity of the pods.
You could get away without removing - I'd be sure to wrap them with something; but I remove mine just to keep them from protruding.


A bike bag-bike box hybrid
Familiarity:

I've used it several times
It's somewhere between a bike box and a bike bag with a metal frame and plastic cup things alongside other bits of foam padding in all the delicate places.



I reccomend using it on short-haul/domestic flights but for anything further afield I prefer to use the aerotech bike box, just in case! (no pun indended).




I'm confused. Above you state you fit a cento 1 with 79 cm center BB to top of saddle with no problem. Yet SciCon website clearly states 65cm max center BB to top of seat tube. It has a diagram showing that. My cento 1 measures 76cm center BB to of saddle. I'm afraid to order as I'm not sure it will fit. Which is correct?.
Hi there,

I would be glad to contact SciCon for you and get to the bottom of this. Contact me at jcrocker@backcountry.com and we can figure this out.



Thanks,

Jaron


Jaron,



I sent you an email yesterday with detail at your email above. Your data doesn't map to what SciCon customer support replied to me.
I like it.
Familiarity:

I've used it several times
I've used this for two trans-pacific and two trans-continental trips so far. The bike has come through well. Packing up and out is a breeze. On the first flight something pressed the zipper agains the frame and wore away a bit of the carbon; not desirable, but not a big deal. I now use more pipe insulation to cover more of the frame and that hasn't happened again. On the last flight the supplied rear wheel skewer bent. No damage to the bike; confusing, but all good.



Easy to maneuver. It comes with a small lead for the front and a shoulder strap. I've brought both along and used neither -- it steers well grabbing the case near the steering tube.



Airline reps have looked at it and figured it was oversize resulting in 15 minutes of summoning the appropriate manager, but in the end they determined it was a standard-sized bag. Aside from the size, they do recognize it as a bike and assume they need to charge more; for my airlines that turned out not to be the case. A hassle, but no $$.



Helmet, shoes, and other items pack in well. I made the mistake of leaving CO2 cartridges in the seat bag once -- that makes security unhappy. Based on just these four flights, security seems compelled to open and check this bag. I'd recommend making sure the interior (extra items) are easy to see and evaluate so they don't need to move things around much. Remove lids from water bottles.



The wheels have loosened during flights and to me seem more vulnerable than wheels on other luggage, but they have not failed.



There is no easy place to attach airline luggage tags. Airline reps end up folding the tags and lacing them through the hasps for the shoulder strap. It would be handy for SciCon to add a place for the tags as it annoys the airline folks and makes the tags hard to read. Maybe a couple of simple handles along the zipper at the top and front?



Bike in bag on a humid morning in Bangkok.
PERFECT bike bag!
Familiarity:

I've put it through the wringer
Used it with my 54 road bike and it performed just PERFECTLY! Fast to pack and unpack... couldn't be happier! Comes with an extra small wheel, which is really convenient."


I have a Small Orbea Ordu TT bike (2014)....
I have a Small Orbea Ordu TT bike (2014). Will this fit in the bag? My concern is about the aerobars...will I need to flip them or can they remain as is. Also, my seat post is integrated. Will that be a problem?

Thank you.
Best Answer
That should fit just fine, you may need to remove the bars to get it in the case properly. You can email me at SNutley@backcountry.com or call me at 888-276-7130 ext 4390
Will this accommodate a 64cm Trek...
Will this accommodate a 64cm Trek Madone?
Best Answer
Hey Travis,



This will accommodate a 61cm trek madone just fine. You'll of course need to remove your wheels, and because of the large size you'll also want to remove or lower your seatpost.



If you have any questions/issues or if you want to place a new order, I will be happy to help you out. I am in the office Tuesday-Thursday and Saturday & Sunday 10am-6pm MST; you can request me on chat, or reach me by phone at 1.888.276.7130 ext 4579 during those hours.
Can you fit a 29er mountain bike in it?
Can you fit a 29er mountain bike in it?
A 29er should fit in this case without issue. Removing the seatpost will allow for plenty of top end clearance.
Best Answer
You'd be better getting the MTB version
Fantastic
Familiarity:

I've used it once or twice and have initial impressions
I've used it a few times and it seems fantastic only lock that comes the break at some airports, preferable not to use lock.