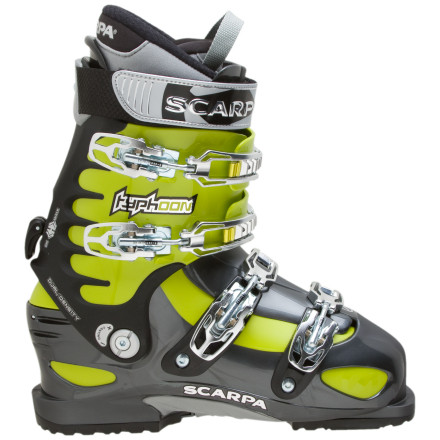 Detail Images

Community Images
The Typhoon comes from the freeride side of Scarpa's AT line, and it's the burliest alpine touring boot with a walk mode they will offer in 08/09. With its 110 flex, visible V-frame reinforcing exoskeleton, tongued Intuition Speed Pro liner and four metal buckles, the Typhoon looks and performs like an aggressive alpine boot. Look closer, though, and a rear walk lever and black ISO-DIN-compatible Vibram sole hint at this hard-charger's alter ego: a tour-friendly boot that won't cramp your stride, whether you are cruising out the gate at Alta or kicking steps into the side of Denali. At a hefty (for AT) 8 pounds per pair, the Typhoon was clearly not designed to be a peak-bagging machine, but the payback on the down makes hauling them uphill way worth it.
I have the Scarpa Typhoon and love it. I...
I have the Scarpa Typhoon and love it. I use it primarily in the backcountry (I wasn't concerned about weight when i built my setup, just about being able to ski awesome stuff). I'm wondering: How do you change the lean angle on the boot? When i switch into ski mode and lean forward it clicks into place, but i'm not sure if it's in the 19 or 23 degree angle, and i'd prefer to have it lean forward a little more.
There are actually TWO clicks back there. One is 19° and one is 23°. And then, obviously, walk mode gives you free motion. To get into the 23° position, flex hard into the boot and then switch to ski mode. It will click into 23° when you stand up. For 19°, stand up straight and go ski mode. As you flex, it will click into 19°.
I am torn between this boot, the hurricane...
I am torn between this boot, the hurricane pro, and atomic tracker 130s, I ski a relatively fat ski (DPS resort/pow ski >100 under foot) I ski 80% resort off piste and 20% AT with serious skinning and some climbing. I am 5'10" and 180 lbs. Any thoughts??
Hey Brian, I have not tried the Hurricane Pro, but I would warn you that these are not as stiff as they look. I have been skiing my Scarpa Spirit 4s full time, because they are so comfortable, but they are not quite stiff enough for big mountain skiing. I bought the Typhoons hoping they would be a bit more burly, but it turned out they actually had a softer flex than the Spirit 4, so I returned them. I'm planning to try the Hurricane Pro at some point, as it seems to have a higher cuff, and possibly stiffer flex.
Unanswered Question
Have skied the typhoons for the last 2...
Have skied the typhoons for the last 2 seasons. Very happy with them. I'm looking to replace the liners, as they're a bit packed out after 130+ days. I know I need the Intuition liners -- is there a particular one that I need to fit these boots? Any other info would help too - Thanx
Nice boot, Not Powerful enough for most.
I purchased these boots in February 2010, I weigh 175 and am 5' 10"...an average size person. I've answered some questions below in the past if you look at all the posts.

I like the light weight of the boot compared to others I have owned, mostly race oriented boots. The grip from the soles is okay but there are better options. I really like the Intuition liners which are super warm and provide a comfortable fit...a pleasing experience.

If you mainly intend to use this as a front side boot inbounds (80%+ resort) do yourself a favor and don't unless you're a beginner to intermediate skier. Advanced to experts on big skis won't be happy. If you are skiing wimpy front side skis (skis that are masquerading as all-mountain skis that are 175cm and say less than 75 under foot) these might be pretty good. Keep reading and you'll understand why.

Now for the important part use while skiing, I WOULD NOT recommend for skis much over 80mm under foot or heavier ski and binding combos. I have skied these with several pairs of race skis (SL's and cheater GS) and they are a bit soft but are able to put the ski on edge without a lot of trouble but are still too soft for hard charging. However, once I step into the 90+mm under foot ski (Mantra or Prophets) they just don't have the power to put that ski on edge on firm snow and icy snow. Now stepping into skis like the Katana 183 with Duke bindings and ski anything other than soft snow or powder forget it, these boots are no match for skis that size and weight. Imagine skiing some sweet pow and then hitting some steeps, wind packed snow, hard snow in a chute, steep bowl or coulior and whoa!! You'll need to put the big ski on edge and you will not be able to easily you'll have to get really low but the boot just doesn't have the power you'll want. Not good.

I purchased these mainly to stand around during races as an official so I can keep my feet warm and they certainly work well for that.

I'm going with two stars now after an entire year with the boots to give an honest opinion rather than the new owner that is so happy they really won't give you the right information.

The build quality is decent the buckles are good but the heals of the boot are really getting chewed up by the bindings the material seems a bit soft and I don't think they will last for several seasons.

I think I'll look into the Tecnica Agent 120, Tecnica Agent BC or Black Diamond Factor as I want good walking grip for walking on rock and wind blown snow while hiking, they need to be warm but most of all they need the power to drive some big skis. If you need these three features look elsewhere as the Typhoon just can't perform on bigger skis. I don't think these are even close to the 110 flex as advertised, I ski a 130 Nordica when I race and these aren't even close (unless my 130's are really more like 150 and they aren't.) I'm not happy and am about to hemorrhage more cash to get the right boot.
Does anybody know how the Typhoons compare...
Does anybody know how the Typhoons compare to the Mobes in terms of sole width? How about flex?
Not sure what you mean about sole width but I assume your talking width of the last ? If so the typhoon is a 104 last as is the Mobe. Mobe is stiffer 125 flex Typhoon 110 flex but comes with a wlak tongue that give mor freedom of movement while hiking. Mobe is Dynafit compatible ..typhoon is not. Typhoon has a DIN approved sole and will work both in AT and Alpine bindings , Mobe has a lugged sole and can only be used with and AT binding.
I have always thought a 28.5 in Mondo...
I have always thought a 28.5 in Mondo sizing was the equivalent to a 10.5 in u.s. sizing, but on the Scarpa sizing chart it shows that a 28.5 is an 11.5. Can anyone vouch for this? I am a 10.5 in U.S. sizing and I am wondering which size to get.
Spencer, if you are a Men's 10.5 you'll likely fit best in a 27.5 or 28 (they use the same shell same shell with slightly different liners)
For what it's worth, my street shoe size is 12 and I'm happiest in a 27.5-28 Scarpa.
I am US10 and 27.5 in Scarpa Denali 27.5. I tried Denali TT in 27 and they were too small, same with Tornado in 27, too small.
I would say 27.5 or 28 would work well for you
I am 6'5 210 and have destroyed this boot on three occasions. The boot is sweet except I wouldn't call it that aggressive. If you are going big in the backcountry I would beware. Scarpa is great about there return/replace policy, but this is not the boot for bigger guys that are hucking cliffs out back, more geared for touring and ripping in the bc.
Hello all. I need some advice. I'm an...
Hello all. I need some advice. I'm an east coast skier currently skiing Elan MagFire 78 Ti's with Salomon XWave 9.0 boots from a few years back (flex 100). Recently, I've gotten into more tree skiing and sidecountry/backcountry at places like Jay Peak, VT and Mt. Washingston, NH...and hope to one day soon do a lot more of the same out west as well. I'm looking at replacing my boots (and potentially bindings) and was wondering what AT options (if any) I should be looking at? Keep in mind that the majority of my skiing is still done on east coast groomers. I do ski fairly aggressively (I think) and am about 5'9" tall and weigh 175-185 lbs...depending on what I had for breakfast. ;-)
Sounds like the Typhoon might be the best option for you. It will work in your current bindings as well as most Alpine touring bindings if you ever pick up a set, and it has a 110 flex rating so a bit stiffer than you current boots for your aggresive style and it includes a "walk" tongue rated with a 90 flex rating if you ever feel like going on a really long tour.
A resort boot you can also tour with
I got these boots mainly as a resort and kite skiing boot and love them for those uses. You could tour with them, but there are probably better touring boots out there (Spirit 4 comes to mind). But, as a boot that can handle a day of hard skiing at the resort, then with a flip of the switch allow you to tour out of the resort and into the backcountry, the Typhoon is great.

The soles have no rocker, so they walk like an alpine boot - a bit clunky. But, they do have a Vibram sole, so if you are booting, you'll have good traction. These boots also work well with crampons like the BD Sabertooth.

I had the liners fitted and molded at a shop and have had no blisters or hot spots with them. They are comfy and warm, yet when clamped down, you can get a lot of performance out of them.

The Typhoons don't come with Tech fittings, so if you are going to tour with them, you can't use a Dynafit binding. This doesn't matter all that much as they are more of a Marker Duke or Fritschi type of boot.

They only time I am ever annoyed by these boots is when I am getting into them as the buckles, tongue and shells all seem to conspire against going together in the right order and it can be tricky to get all the parts lined up. I've found that rotating the buckles out of the way helps with this quite a bit.

Overall, I'd say these are a 85% resort boot and 15% touring, but if that is what you are looking for (I am), they are perfect. You can hammer the resorts day after day in them, then skin back from a trip to the sidecountry if needed.

Another big plus is the fine Italian craftsmanship on these babies - they are a work of art that you can take out and play with.
I am thinking of buying these boots for...
I am thinking of buying these boots for in bounds only. I have retired my old boots and need a new pair. I tried on these at a shop the other day and loved them. I ski fischer rc4's in174. I am 5'9'' 225. i ski mostly cruisers with the occasional foray into the woods. will these boots drive my skis?
Well I guess it depends on what you've been skiing on inbounds in the past. They are light,warm and comfortable. If you are used to sking powerful boots that have 120+ stiffness I think you'd find these to be too soft for your liking. However, if you've been skiing on a intermediate type boot 90 to say 110 stiffness you'd probably like them. . They are great for bumps, woods and skiing pow. Not so great for high speed on stiffer skis, If you ski fast and are on a stiff ski you may need more power than this boot can provide, it can be done, but it is an AT boot. I am 5'10" and 175 and use the Typhoon for mkainly off Piste only, maily on piste I use Nordica Speedmachie 14's. Ps. I don't tour too much in these boots.

Given your weight and since your skis are likely Fischer race skis you may need more power than this boot can provide. If they are close in stiffness to your current boot these would most likely be a good choice for you regardless of your weight and ski.
Can you use crampons with these boots?
Can you use crampons with these boots?
I climbed in my Typhoons for many days in the Andes this last southern winter. The BD Aluminum crampons fit perfectly and were quite secure. On the downside aluminum crampons are like taking a knife to a gun fight. On a few occasions I had to modify my routes because the aluminum crampons and axe I had weren't up to the task. I'd get steel.
I'm 6'4" 200lbs and have the 'Lange'...
I'm 6'4" 200lbs and have the 'Lange' foot(been wearing L8s for years). Looking to to get an AT boot since spending more time doing backcountry/skinning, but need it to be long enough. Tried 30.5 Garmont Endorphins, but were too short, especially when I put my footbeds in. Seems like these, Skookums or Tecnica Agent AT fit longer or may have enough volume to work with the footbeds. Because of my longer legs, would also like a higher cuff so I feel connected to the boot. Does not have to be the stiffest boot, but I definitely like to charge. Any advice?
I'm starting to wonder if I posted that in my sleep. ;) I bought these last season and I've been happy with them. I'm 6'3" 225lbs and have size 15 pontoons, had the same problem with the Garmont line. I had been considering a softer freeride type boot for the off piste resort skiing and since experiencing an 8 mi bc skin in my Lange 120 Comps and Alpine Trekkers I realised I needed a AT setup that was WAY lighter. I looked at the Scarpa Sprirt 3 & 4s but I couldn't justify the purchase of a pair of AT boots that I might not use often and could not use with my alpine skis. Because of limited funds, lack of deals on big boots, and risk of a bad fit my options were to either spend $$$ on a pair of alpine boots and suck it up for a season OR spend double the $$$ on a pair of AT and a pair of alpine boots, both well fit. Thankfully a boot fitter informed me of this new boot, a beefier version of last year's Tornado. So far they are great, a good all-around boot for what I needed. I don't know if the cuff height is what you want. I can say though, the 2 tongues are an awesome feature, light and flexible uphill and powerful on the way down. They can still turn GS boards on the groomers. Only complaints are the cold feet and the lack of tread on the front sole when hiking. I hear there is a different sole for that to use with AT bindings, but I haven't found where to buy them. I also have concerns with they're durability, they might not hold up to 3 seasons of 60 ski days, who knows...they are only a year old. Best of luck.
I have skied about two weeks so far in these boots and am questioning how the heals are going to hold up, my Dukes and Jesters really dig into the softer material.
I have skied about two weeks so far in these boots and am questioning how the heals are going to hold up, my Dukes and Jesters really dig into the softer material.
Got a pair of these last spring. Had them...
Got a pair of these last spring. Had them fitted nicely and after 16 or so days they feel fine after about a week+ of pain. Like the weight and snug fit, they drive my midfats nicely. Good contact with the ski and the snow. Only thing is - they're cold! Because of the break in the shell for the walk mode, they take on some water and it freezes making 'em frigid. Could you recommend a solution or a compatible boot heater/warmer. Thx.
A little late on this but I use these boots for both boot packing ( http://bootpacker.com/the_program.html ) downhill and resort skiing. Anyway some duct-tape goes along way in sealing any leaks in boot/pant openings.
I have had a 28.5 in a Spirit 4 and a 28.5...
I have had a 28.5 in a Spirit 4 and a 28.5 in the Tornado Pro. Would it be safe to assume a 28.5 would be the way to go with these?
With those 2 boots I wouldn't worry..I had to change a shell size going from a spirit 4 to a F3 but those are very different boots.
Does anybody know where I can find the...
Does anybody know where I can find the sole lengths for different sizes, or what size is closest to a 306mm length ?
I would call Scarpa directly and ask them...they are always willing to answer questions!@
26.5 and 27 boots are the same shell sized and have a sole lenght of 307.
Will you guys be getting any 27.5 in stock...
Will you guys be getting any 27.5 in stock anytime soon, if not anyone else know where I can find some online without paying the full price?
Hey, I found the 27.5 for cheaper. sorry backcountry;
http://www.e-omc.com/catalog/products/5042/Scarpa-Typhoon-AT-Boot.html
This boot is great for AT and a great all arounder for most. I'm used to relatively stiff dh boots, and this is definitely a compromise in performance from my 120flex nordicas. However, the weight savings is phenomal over a dh boot. The front/rear flex is a little soft, but should be fine for all but the hardest chargers. I'm about 230 lbs with a pack, and lighter people should find this boot is plenty stiff. These boots drive the big skis just fine (Goliaths, XXL). The only things I'd change are the tongue is kinda a pain to get back under all the buckles and the front buckle is really difficult to unbuckle. Overall, a good AT or intermediate/advanced inbounds boot.
I have a pair of Scarpa Matrix boots size...
I have a pair of Scarpa Matrix boots size 28. They are a bit short in the toe. How is the sizing of the Typhoon and the Skookum compared to the Matrix and/or would you recommend I go with a 28.5?
I have found my scarpa boots to be close to true to size from model to model. You can always blow out the toe plastic a bit if they are a touch small, but you can never make them shorter if they are too long! Backcountry.com's return policy is great so just go for it, try em on at home and exchange for another size if it doesn't work.
I ski all over the place(rockies, S. america, europe, asia). I do alpine touring ski mountaineering and lift served. I like AT boots because of the lightness;not just for touring but for air travel also. These boots are great for me. They have all the drive necassary for any task, they are warm and comfortable. I love the the new Alpine/AT sole. I use mine in alpine bindings and Fritchi's. This is a fairly high volume boot. I would say the flex is medium to firmish. In touring mode it is very comfy with or without changing the tongue. They are a bit of a pain to put on and off but that not really important. These would be great boots for a guide, patroller or anyone with a very high instep.
Be careful with the beautiful intuition liners . They abrade easily and there will be rubs from the shell to protect from.
Cons: The color is putrid, who cares (subjective)