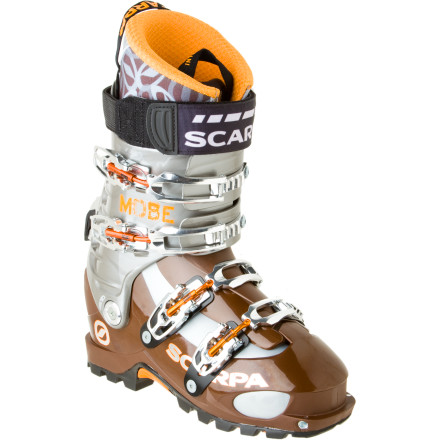 Detail Images

Community Images
There are AT boots, and then there are hard-charging, big line-slaying AT boots. With a flex index of 125, the Scarpa Mobe Boot falls in the latter category. As your day weaves in and out of resort boundaries, you want the freedom of an AT boot and the performance of a solid freeride boot ... and the Mobe is your answer.
New PowerBlock Tour design maintains fixed-cuff power and rigidity without sacrificing the helpfulness of walk mode
Four-buckle design and Active Power Strap provide dynamic support and responsiveness
V-Frame ribbed cuff adds strength and minimal weight
Adjust your forward lean between 15 and 22 degrees
Scarpa's Intuition Pro G liner blends customizable comfort and high performance
Fitting Indicator System makes it easier to get in and out of TLT binding systems
Follow special mounting instructions to use the Optimized Touring Pivot, an option to increase touring efficiency
Would these work with Marker Griffon...
Would these work with Marker Griffon Schizo?
These boots won't work with the Marker Griffon Schizo binding. They have a tech sole block which is not going to give you a secure connection with the toe piece, and since the sole block on tech blocks are curved it would cause too much pressure on the toe piece which will not allow the toe piece to release and could damage the binding. If you are looking for boots that will work with this binding I would check out a boot with replaceable sole blocks, like the Tecnica Chochise series or the Scarpa Freedom line which come in multiple options. If you already have these boots and your wanting alpine bindings I would check out something like the Marker Lord which has and adjustable toe piece, or the Salomon STH series with the WTR toe piece for height adjustment, but with those options you'll need to take the setup into a shop to do any needed adjustments to make sure they are set up properly to release.
Thanks a lot, R.J.

I solved the case, with BD Factor
I had a pair of these sent to my house. ...
I had a pair of these sent to my house. The foot fit is great, but I needed to adjust all the buckles to the outermost bolt to make for the widest setting. Even with this adjustment the boots are tight around the calf and I'd have to leave them unclipped for skinning. I have muscular calves, but I never thought of them to be freakishly large. Two questions: 1) Did anyone else feel this boots ran narrow around the calf? 2) Given my situation of having to skin unclipped, should I just look for a different boot? Again, I like the way the boots fit my feet.
Best Answer
Have you molded the liners yet? If not, you should definitely mold the liners. This will pack out the foam in the calf and create a lot more room for you. Also most people I know tend to skin unclipped regardless of fit because it allows a bit more movement when walking
Will these work with the marker duke...
Will these work with the marker duke epf?


The Marker Dukes will accommodate all AT and Alpine boots. You are good to go.
Rock Solid AT boot for all mountain
Gender:

Male

Familiarity:

I've put it through the wringer
I bought these boots in Nov. 2012 in size 27.5, and have about 70+ days in them. I had a pair of Garmont Axon's prior to the Scarpa Mobe. The Axon was the stiffest AT boot at the time which was what I was looking for. Unfortunately, the Garmont was a waste of a good $500+, they broke. THREE times in ONE month! Garmont didn't want to do anything realistic, so I researched and ended up in the Scarpa Mobe and could NOT be happier! THIS is the boot for me. I ski Colorado and Utah resorts, sidecountry and some backcountry. I prefer steep lines and deep pow. I'm currently on a pair of Kastle BMX 108's with Fritschi FR Pro bindings and my Mobe boots drive those boards perfectly. I don't feel like I've given up any performance on hard pack, crud or pow. Initially, I had some discomfort in my shins in these boots even after heat molding, but I noticed after about 5 days that pain was fading. And each day after that, they got more and more comfortable. I'm always grinning at the end of the day because my boots fit so perfectly and perform so well when I need them.



I've skinned and boot packed with these boots in high Rocky Mtn. terrain and these things have been phenomenal. The Skywalk soles may not be Vibram, but they are damn close in durability. I've hiked over jagged talus with barely a noticeable mark on the soles, yet they grip fantastically. The walk/ski lever works easily and is built very solid.



I love these boots and as long as they don't break like the Garmont (Now Scott), or Scarpa takes much better care of this customer than Garmont did, I'm sold on Scarpa from now on. If you want alpine performance in an AT boot, this may be the boot for you too.
my foot measures at 25,5 - what size of...
my foot measures at 25,5 - what size of the scarpa mobe would you take ? pherhaps a stupid question but any advice based upon experience would be much appreciated.

Thank you, Thor


I have not used these boots personally but a friend of mine who owns them says that they size very true. You should be in good shape with the 25.5
will this boot work with regular ski...
will this boot work with regular ski bindings ?
Hey Ed,

This boot is not going to work on the regular ski bindings- there isn't enough of a "lip" on the front and back of the boot to stay secure in traditional alpine ski bindings. You will need a tech binding for this boot.
Tech binding or any frame alpine touring binding will work. No go on Alpine bindings though as Carver said
Best Answer
It definitely won't work for alpine bindings. I think they're made mostly for Dynafit users, but I tested them with Marker Barons, and they worked well. Of course after bindings were set to tour mode.
Generally speaking, you should never use AT boots in standard alpine bindings. The hiking sole does not interface well with most standard alpine bindings. However, you can use alpine boots in AT bindings that have been properly adjusted for such.
The Mobe will work well with Marker Lord SP bindings, which are alpine bindings designed to work with rockered sole AT boots.

http://www.backcountry.com/marker-lord-sp-ski-binding
Seems like a good burly AT boot
Familiarity:

I returned this product before using it
I ended up returning these because they weren't the best fit for my foot. They felt pretty great though, definitely a relatively stiff and burly boot as touring boots go. The fit felt fairly wide in the forefoot and toe box, pretty average in the heel. Walk mode felt decent, but nowhere near as much motion as the more uphill oriented AT options.



If you are looking for a boot to use mostly (or all) in the backcountry and find that most touring boots feel too squishy for you to enjoy on the downs then this could be a great option for you and is definitely worth a look. Keep in mind though, I have never skied these so these are just my observations from wearing them indoors!
Reality check.
Familiarity:

I've used it once or twice and have initial impressions
Size 27.5 weighs 4 lbs 4 oz.; not 3 lbs 15 oz as claimed.

Also, Diamir Freeride Pro bindings don't quite lock all the way through on them, b/c of heels being too high. But the binding still holds the boot.

Otherwise, a great boot!
Will they work with Diamir Freeride Pro...
Will they work with Diamir Freeride Pro bindings?
Best Answer
Yes these will work with the Freeride Pro or any tech binding.
Initial impressions
Familiarity:

I've used it once or twice and have initial impressions
Well, I haven't yet tried those boots on-skis (still waiting for some snow to fall), but I can tell that once all buckles fastened, and a strap (and gosh, that strap DOES make a difference) in a right place, these boots are almost as stiff as my old fischer soma f8000. Also, feel like 1/2 of Soma's weight. So this is a BIG plus. And they actually do feel walkable, just make sure they're unstrapped. There's one thing that I noted that I am not impressed with, which is forward lean regulation mechanism. In order to set forward lean, you have to loosen two screws, set lean as you'd like it to be, and tighten them again. What is not good about it is that screws seem to be made of relatively hard steel, whilst those elements to which screws are being screwed are made of aluminium. This just doesn't seem right, and you'd better not play with settings too often if you don't want to destroy thread on aluminium part. On the other hand, those elements seem to be easily replaceable. Fit is a bit loose I'd say. It's right length, but there's plenty of space "on sides", so I'll need puffier sock, or/and tighten boots to max.



Pros:

+ Stiff

+ Light (for the stiffness)

+ Bomber strap!

+ Are walkable !



Cons:

- Forward lean mechanism materials



I shall have some more feedback after I try them on skis.
I have Spirit 4's in 24.5. Same size in...
I have Spirit 4's in 24.5. Same size in the Mobe?
Yeah, stick with the same size for these Scarpa boots as you wear in the Scarpa Spirit 4 boots. Sizing will be the same.
I take it they probably will but will these...
I take it they probably will but will these boots work with the Salomon Guardian 16 bindings?


YUP! Salomon made that binding to be compatible with rubber hiking soles and still release safely and predictably
You have to be really careful using these in the Guardian series of bindings. Salomon states that officially the Guardian is meant to be used with either Alpine soles or WTR (walk to ride) soles that are out there. The Guardian does not have a sliding AFD like a Duke or a Fritschi so on boots with really rockered soles the lugs won't clear the AFD and may bind up instead of release. There is a toe height adjustment on the Guardians but it will not back out enough for all rockered rubber soled boots. So to sum up, it is not officially supported or recommended. You may have to grind the soles down to make it work (still not guaranteed to be safe as its not supported by Salomon). Best bet for safety would be to do your whole setup and then get it torque tested at a shop to see if it will consistently release at the value you set.
So far they are great. Went touring with them only day this year as I bought them at the end of the season. First AT boots for me. The fit takes some getting used to. But they are very comfy and light. Can't wait to go on long tours next year!
I had to take these to Granite Chief in Truckee CA to get the fit totally dialed ($30) and it was worth every penny, they are ridiculously comfortable.

I've done several days inbounds where they performed well and I had a chance to break them in and get the fit dialed, then I took them on a week long backcountry ski trip where they exceeded my expectations!

I brought some light hiking boots, anticipating sparse snow cover for a half day on the way out and when the time came my Mobe's were so comfy I just hiked out in them. They kept my feet warm down to 17 degrees and it was easy to dry the liners in my bag each night. They worked great up the steepest climbs, on long flats and on descents they were fantastic. I was the only one out of five with no foot discomfort after 7 days and over 50 miles. I'm typically a 11.5 or 12 U S shoe size or a 46 euro, with medium width feet and I fit in the 29 perfectly AFTER the fit at Granite Chief. It took their expertise and a couple days before they were just right. Below is a pic during a lunchtime sock change... it's the best boot pic I had.
trifecta
Gender:

Male

Familiarity:

I've used it several times
Stiff, Wide, 3 Piece Design...

This is by far my favorite boot of all time. Finally a touring boot that performs as well as my old Dalbello Proton 12s. Incredibly light in the 29.5 size, easy in and out (no more end of the day boot removal with a tire iron), pretty good walk mode and can be pushed as hard as any alpine boot once the cuff is locked in. Accommodates a high volume foot with ease and comes with an intuition liner. So far this boot has exceeded my expectations. Bought it just for touring and some side country, but am now tempted to remount my other skis to work with the shorter sole length. Started with the cuff at the factory lean angle, but have since increased it to work better with the BD zealot/guardian setup I use them with and to accomodate my skiing style/position
I got these for getting aggressive on bigger skis in the backcountry and the occasional resort day. So far, so good! They don't tour as well as the Mastrale unfortunatley. The range of motion is much more restricted and they do weigh in pretty heavy. Once you lock it all down though, they deliver the performance. Seems to be more volume in this boot in general. Not as slim and narrow as most the Scarpa boots I've tried.
Awesome boots. Super lightweight and once they're broken in they feel like hiking boots. I only had to heat mold them once and work them in on a couple of tours/ hikes and they are perfect now. The switch between tour and ski mode is a little loose for my liking but they haven't switched on their own so no worries so far. I would recommend sizing down a half size for a performance fit because there is plenty of room for give in with the heat mold.
hi was wondring if these boots will work...
hi was wondring if these boots will work with marker duke bindings I''ve read they do !!!! they dont !!!!
anyone have the right answer???
Yes. You need to adjust the toe so that it is AT mode, not Alpine.
I've got the same problem. When set to AT mode the boot still does not release correctly. It acts like its in normal downhill bindings. When pushed forward it will come out normally, any side to side there's too much tension. Any suggestions?
I'm really interested to know how it is in practice, will those work with Dukes/Barons or not ? http://blog.scarpa.com/powder-magazine-gives-scarpa-3-skiers-choice-awards/ it says they should, but you claim something different..
Can this boot be compatible with ISO...
Can this boot be compatible with ISO alpine binding
No, it will only work with Alpine Touring bindings