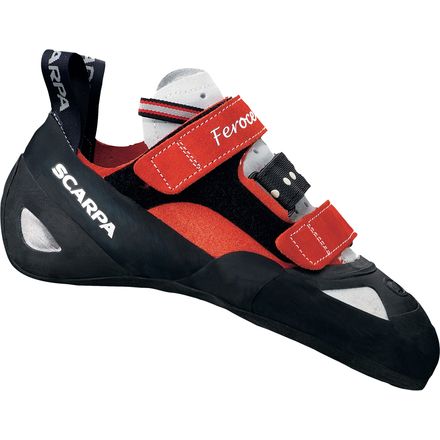 Detail Images

Videos

Community Images
Description
Send it all.
The Scarpa Feroce Climbing Shoe uses a triple closure to lock your foot in place and ultra-sticky Vibram XS Grip2 rubber to give you the performance you need for anything from techy slabs to overhanging gnar. Rock and Ice gave this shoe five stars thanks to the versatility and comfort. A combination of Suede and Lorica helps the uppers mold to your feet as these shoes break in, so they'll be seriously comfortable and fit like gloves.
Suede and Lorica uppers mold to your feet over time
Vibram XS Grip2 rubber for superior friction
Three-strap hook-and-loop closure for a precise fit in seconds
Five star rating from Rock and Ice for versatility and comfort
Unanswered Question
How does the fit compare to the Instinct lace?
Amazing shoes
Familiarity:

I've put it through the wringer

Fit:

True to size
These Scarpas have a super-supportive sole that's great for foot jams and crack climbing. I've also used them on slabs, overhangs, indoor routes... You name it. They're my go-to shoes. There's also a little ledge on the back for heal hooking, and it works really well!



Overall- very sturdy option, but definitely an aggressive angle. A great intermediate/advanced shoe.
I am a size 10 street shoe; what is the recommended Feroce size? 42 or 42.5?
Honestly, a size 43 might be best. I'm a 10 street shoe and tried the 43. My toes were smashed and I couldn't handle it. You might have better luck.
Great Shoes
Familiarity:

I've put it through the wringer

Fit:

True to size
I've had a chance to use these shoes both at the gym and at the crag. They perform equally well in either setting. The aggressiveness of the toe angle is really nice for steep routes and tiny chips and they have a solid heel for hooking and jamming. They run a little wider than Sportivas which is nice if the width of your foot is little bigger, like mine. My only complaint, albeit small, is that the heel is a little deep and occasionally suctions on and off. It's not a big deal and happens infrequently but when it does happen it's annoying.
Scarpa Feroce Climbing Shoe
how does the fit compare to the vapor v?...
how does the fit compare to the vapor v? I wear a size 11 street shoe and a size 10 in the vapor v
mike,



The Scarpa Vapor V is going to have a little more of an agressive downturn and assymetrical curvature than the Feroce, but overall they should size about the same. I would recommend sticking with a 10 with this shoe.
This is a good solid shoe with good edges...if it fits you right. i have found that it sizes a little small in length and is built for a wider foot. my first pair was my normal European size and it was way to small, i couldn't even fit my heel in so i sold them to a friend who they fit perfectly and he loves them. i bought a second pair the next size up and i could cram my foot in but i had space in width and pulling the straps tighter didn't solve that. but for the short time i did climb in the the serviced me well.
Scarpa Feroce Climbing Shoe - Vibram XS
These are some high quality shoes. Not super aggressive asymmetry make them perfect for people with slightly longer toes. All in all, a great pair of shoes. I will buy a new pair for sure, when they give out.
I wanted to love these shoes, but in the end things didn't work out. Sized half a size down from my street shoe, the toe box felt just about perfect, but were a little too tight around my small toe. Still, I would have kept these shoes except the heel was way too deep for me; the rubber squished in at least half a cm before it reached my heel. So for now, I'm sticking with my miuras.
how do you size the shoes? I wear a 43 in...
how do you size the shoes? I wear a 43 in scarpa force. street shoe is a 11(us). how should I size them?
Best Answer
I would get the size 43. I wear these in the same size as my Force which (same as you) I went down 1.5 sizes from my street shoe.
Paul. Are you saying to get a size 9.5 then? you said that you went down 1.5 size from street shoe?
The first time I slipped these on at the crag, I fell in love. I had previously worn Sportivas and dealt with the uncomfortable fit. These shoes, however, went on and felt super snug but not uncomfortable. They fit my foot perfectly and I hope they never stop making them. I have just purchased my THIRD pair of feroces. Pair one has been re-soled twice and is about to be permanently retired, and pair two is about to be re-soled for the first time to become the gym shoe. I also have recently purchased a pair of the Vapor V's. I like them alot, but they're just not the same. I think that the features that set the Feroce apart from the Vapor are the rubber on top of the toe and the three velcro straps. My foot doesn't feel as secure in the Vapor when toe or heel hooking because of the lack of these features. But like I said I still like the Vapor.

Back to the main point: If you want a great shoe, check these out.
Before this shoe, I was exclusively a La Sportiva guy. Katana's, Muira, Solutions were all my go to shoes. I decided to try on this shoe and I liked the fit a lot. I'd warn however that if you get this shoe to fit correctly, you should really cut your toenails religiously. The angle of the top of the shoe will snag your nails if you aren't careful. At any rate, this shoe lasted quite a while of outdoor and indoor climbing, and made me rethink just going to La Sportiva. I will definitely be looking at Scarpas in the future.
Hey guys, I'm looking to buy these shoes...
Hey guys, I'm looking to buy these shoes and was wondering what size may be good for me? I'd like a performance fit. Here are my sizes in some other shoes for reference:

VMile - 40.5/8
Dragon - 43/9
Five ten teams - 9.5
Boreal krypto - 40.5
sportiva solution - 40.5/41

any advice would be heavily appreciated, thanks!
The Scarpa sizing chart is pretty spot on. Go with 1/2 size smaller than your normal shoe size for a tight, but not too tight fit. The rubber over the toe keeps you from being able to go to small and crunch your toes up in the box.
Jim,
I would second Ryan's response . This model is not going to stretch a whole lot. 41 may be good for you .
Different from the 2008 model
Same great edginess and grip, no ridge for heel-hooking, but I didn't find it that useful on the 2008 model anywya. I bought this shoe to replace my 2008 version (had them resoled twice)- these have been my favorite climbing shoes. Smith climbing, bouldering, gym climbing, I love them for everything but smearing.

However, even though I bought the exact same size as my previous pair (which took about 3 weeks to break in and are still quite snug), they arrived too big by perhaps a full size. Both were size 42s, but the new version is already too big for me.

Definitely need to try these on in a store before buying on line- inconsistent sizing between the two models.
i have had three pairs of the feroce's and i love them. I wont wear anything else for sport. edging is amazing and now that they went back to there original heel the shoe can now heel hook. Way to go scarpa. Also you cant go wrong with Backcountry.com there amazing.
Totally different than the other Scarpa Feroce
first off, i am wearing it straight out of the box. right now.

i bought these shoes a little over a year ago, but they were the non-vibram xs version. after thrashing them and breaking them in very painfully, i debated if i should get a different shoe. i tried the boosters but it didnt have the neat little space for the toes like these shoes did. so i got the same ones, except i thought i needed a 1/2 euro size up since the last ones were so dang uncomfortably tight. a couple days ago the larger size arrived. i tried them on and uh-oh... they fit like i wanted them to fit... if they were stretched out! did that mean i needed the same size?

back country hooked me up with a free-shipping exchange. i got them and i just want to say, they are really tight, but i can tell these are going to be heaven-on-earth fitting climbing shoes! the heel even fits better! the leather seems more supple and the shoe is more of my foot-shape than the last pair. in fact, the last pair seemed like it was really tough to break in. it was super painful to even put on.

anyway, i'm super happy. and i cant stop grinning.

bottom line: these feroces dont fit like the ones before. they're better.
Great shoe, but hard to fit
i've been climbing in these shoes for about a month now and love them! edging is amazing and the rubber is super sticky. i really appreciate the stiff bottoms, especially outdoors on full day climbs. my climbing partner has noticed the difference in my climbing and now he wants a pair too.

on a recent trip outdoors, i switched to my old shoes (evolv defys which treated me really well) because we'd been climbing all day and i couldn't stand the pain of putting the scarpas back on. it didn't take more than a minute to regret my decision. it really made me realize how well the scarpas perform and how much they add to my climbing. in my old shoes, my feet fatigued from edging on the small stuff and they were sensitive to the pointy rock. the toe on the scarpas fit nicely into small pockets and are stiff enough to hold the move without a lot of effort from you. and did i mention the edging?! seriously amaing. yeah, it's that good.

however, i've had a terrible time getting the right size, and am still considering sizing up. they have a more aggressive fit than my old shoes, which i'm ok with, but i'm not sure they fit my foot right. i have wide feet with square-ish toes and i think they would fit better if my toes tapered like most peoples do (similar to the shape of the shoes). also, the heel is a bit roomy, except right at the top opening which is very tight on the achilles (doesn't seem to affect my climbing, but is a bit annoying). these are a really great shoe, and will get five stars if i can get the fit right.