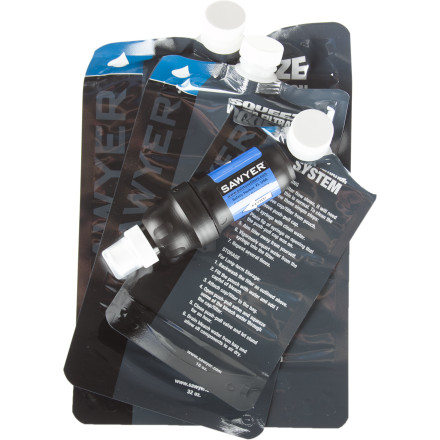 Community Images
Weighing in at just three ounces, the Sawyer Squeeze Water Filtration System simplifies water filtration and lightens your load when you're far from a potable water source. This bag filter system uses a proprietary hollow fiber membrane filter that makes it impossible for bacteria, protozoa, and cysts like E. coli, giardia, vibrio cholerae, and Salmonella typhi to pass through into your drinking water. Just pull the bag from your pack, unroll it, fill it full of water, screw the filter directly onto the pouch, and then drink directly from the filter or use it to fill your water container of choice.
The Sawyer PointONE Biological Filter has a removal rate of 0.10 Micron Absolute, at a 7 log (99.99999%) rate, which exceeds EPA and NSF recommendations
Hollow fiber filtration was derived from kidney dialysis, and Sawyer worked directly with fiber manufacturers in order to create fibers with pore sizes no larger than 0.1
Filters can be reused hundreds of times, per Sawyers 1 million gallon guarantee, and each filter can be backwashed to extend its life
Filter has a built-in push/pull cap for drinking, and it attaches onto most threaded water bottles
System includes three filter pouches (0.5L , 1L, and 2L pouch), Sawyer 0.10 Absolute Micron Hollow Fiber Membranes screw on/off water filter, replaceable pop-up drinking spout, cleaning syringe
Water reservoirs are completely BPA-free
One of the most simple solutions for getting filtered water while out on the trail.

I purchased the mini and then saw the full size on sale. Yep.. It was a no brainier to pick up a second Sawyer for the significant other.

These sold out quick.

I spoke to the local rep about the bags breaking and leaking . He said that you should either squeeze it from the middle or roll it up like a toothpaste tube. He said that twisting it causes too much pressure for the seams of the bags.

The bags are cheap and they are light. I always carry a back up with me anyhow.
Still the best
Familiarity:

I've put it through the wringer
When I started shopping for filters I understood that it may well be a significant financial investment. I was thrilled when hours of objective research pointed me to an option that was affordable. At the time I purchased it the 0.10 Micron filter was a closer tolerance than the water filter the US Navy was then issuing. The filter concept actually was derived from Kidney dialysis methods. It's simple, its wildly effective and unlike most filtration systems it is easily flushed in the field, the entire inline system can be back fed by pushing clean water through the filter to clear larger debris obstructions. (using the included syringe)
Better than the mini!
Familiarity:

I've put it through the wringer
Good flow rate. Has made filtering so much faster and easier.
Hate it. Not a fan of sawyer, either.
Familiarity:

I've used it several times
I bought this after using a pump on a 4 day trek and realizing that pumping at altitude after hiking all day was the last thing I'd want to do. It sounded like a great concept, so okay - let's do it!

The pump comes with 3 bladders - one large, one medium, one small-as-heck-what-am-I-supposed-to-do-with-this? You fill the bladder with water (which can be difficult if you don't have flowing water), screw the large connection on, and let it filter into your water bottle. The flow is slow, so yes - I would lightly squeeze the bladder to help the water through.

After about 3 or 4 uses of the largest bladder (because with the smaller ones you'll be there all day filtering water...), I noticed the bladder was leaking at the seam. Now, if you're filtering water into your water bottle, you don't want non filtered water to fall in as well - but with the leak, that's what was happening.

Now, I get that products sometimes break. However...if you're making a product for people to use outdoors, that thing better be durable. And if not, you need to get back to R&D and make something stronger, and recognize that your product isn't living up to what it should be.

Instead, when I reached out to Sawyer, they basically told me it was my fault for squeezing too hard.

Quick story... I recently had a friend change my brakes, and he bought the brake pads from Auto Zone. About a week into it, we found that one of the shims had come loose and was digging into my rotor. Luckily the pads were under warranty, but I was concerned about my rotor. I tweeted Auto Zone to see if they've seen this before, and long and short was that it got escalated to the store manager who said if anything went wrong, they would take care of everything. That is customer service, and matters more than the product itself.

Instead of standing behind their product, Sawyer blamed their consumer. Saying I squeezed too hard was essentially like telling me that my hiking pole broke because I leaned on it too hard.

In the end, the filter is an okay product - does its job for the most part, as long as you are okay with buying your own replacement bags. I now own a steri-pen. Sawyer, you lost a customer for life (but don't worry, I still love backcountry!!!).
Greatest decision ever!
Familiarity:

I've put it through the wringer
Originally started the PCT with a Katadyn Hiker Pro, but in an effort to drop some much needed lbs form my pack I switched the this filtration system. Greatest decision ever! After my experience on the trail I wouldn't recommend any other filter to someone going on a long distance hike. One caveat when it comes to this filter in that it does take slightly longer than other systems, but this is a small detail that shouldn't deter anyone from making this your go to on the trail.
adapter for platypus bag?
Want to order this filter but have platypus bags instead. Will I need an adapter to fit the two?
Filterrific!
Familiarity:

I've used it several times
This is hands down the best filter I have ever used. It's super lightweight, sturdy, incredibly fast and easy to use, and most importantly, it works! And at half the price (or less) of most other filters, which are about a hundred times more cumbersome, time-consuming, and downright annoying than the Squeeze. It's also pretty easy to clean and maintain. And shoot, it's guaranteed to filter a million gallons of water! A MILLION! That's a lot!

My only complaint (really more of a quibble) is that my bags don't seem super sturdy, but apparently they've fixed that.
Wasn't made to last
Familiarity:

I've put it through the wringer
The Sawyer filter has only rave reviews so I figured I would share my less than positive experience.



I used the sawyer for a little over 30 days on the trail, in the past I have owned a MSR Hyperlite and I currently use the Katadyn hiker pro. I bought the sawyer because of how immensely popular it became, the plethora of positive reviews, and because it won the editors choice award from backpacker magazine.



Off the bat this filter was incredibly fast and easy to use, I always finished filtering before the other members of my group. The only problem I had was the bag material makes it difficult to fill up in standing water, streams and rivers are fine but lakes are a different story.

The filter began to slow after day 7 on the trail, so I backflushed it a few times, which helped a bit so I started back flushing regularly but the filter never regained its original filter speed.



Around the 20 day mark the white o ring lost its ability to stay in the filter and I constantly had to monkey with it in order to keep the filter operating. Not long after the filter began leaking when I squeezed, dripping unfiltered water into the filtered water.



The bag sprung a leak a few days later and as soon as I hit town I returned it to the local REI and I never looked back.



In the filters defense I was running 4-6 liters of water through it every day for nearly a month, and I didn't start backflushing until day 7, but I expected more than a month of use out of it.



Bottom line: great idea, simple and easy to use, but it couldn't handle heavy use for long.
Fast and Easy
Familiarity:

I've used it once or twice and have initial impressions
This water filter is super fast to use and pretty easy. I would just make sure to keep a bandana close by so you can wipe the water off the outside of your dirty bag to avoid contamination.
What are you waiting for?
Familiarity:

I've used it several times
Absolutely the best water filtration system; so easy, light weight, compact, and tastes great! I used it for a week on the AT and didn't have any problems with the rubber stopper as mentioned in another review.
Does anyone know if backcountry will carry...
Does anyone know if backcountry will carry the mini soon? Initial reviews look sick!!
Best Answer
We do indeed have the mini in stock and it should be live on the site shortly. The item sku is SAW000A so you can put that in the search bar above and when it goes live for sale it'll take you to the product page.
If you're familar with our reviews, you'll expect this one to be...unique. Check it out. It is.
Awesome
Familiarity:

I've put it through the wringer
This thing is super light, way lighter than any other filters I've come across. It filers just as fast as other ones such as katadyn. The bags are kind of lame to fill up in still water, but if you find a stream or river or creek, this thing is super easy.



I personally love it because its so light weight and easy to clean. Its almost too easy. This is a very solid light weight filter.
The Best Backpacking Filter. Period.
Familiarity:

I've put it through the wringer
I work as a backcountry guide in Yosemite. On our guided trips a few items are actually provided by us - tents, bear cans, water filters, stoves. Of all of those water filters are the item I've grown to have the strongest opinion on. We've used Katadyn Hikers, Hiker Pros, Verios, MSR Miniworks, Steripens. I came across the Sawyer Squeeze nearly two years ago, and once I found it I've never looked back.



Cons -



It does not filter viruses. This is mostly irrevelvant in North America. There's one way to acquire a water born virus in the states - to have a virulent pile of poop upstream and nearby. For the most part, water borne virsus are not even an insignificant danger in North America, particularly if you're in the backcountry. This leads me to the second con - the filter does not have a carbon element. If the water smells going in it will smell coming out. It will be safe to drink, its just going to stink. For this reason, if you're filtering stagnant, filthy water then this isn't the filter for you.



Bags leaking? I have 3 of the 1st generation bags, and 3 of the 2nd gen bags which feel much more durable. None of them leak. This is after hundreds of days in the backcountry. The likely reason for leaks is people squeezing too hard. Maximum flow is reached with moderate pressure. You don't need to Incredible Hulk the bags. You aren't speeding up the flow.



The pros -



1. Weighs about 6 ounces with 2 or 3 bags.

2. Its compatible with many other bags and bottles.

3. Never buy a replacement filter. Ever.

4. Filters a liter in about 1 minute.

5. I've dropped mine over an 80 foot cliff and it still filters fine.

6. Easy field & at-home maintenance. Backflush with the syringe using filtered (or boiled... let it cool!) water.



Once you're home backflush it with tap water about five times, shake it for a few minutes, then set it in the sun to dry for a few days.



If you're backpacking in the backcountry there is no reason to buy another filter.
The Best Filter, One Problem
Familiarity:

I've put it through the wringer
The Sawyer Squeeze is the best filter out there, with one MASSIVE but incredibly fixable problem. I'll get to that later.



First, the bags. Don't bother with them. Seriously. Just throw them away. They will spring a leak, and you will be pissed. I didn't even bother bringing them on the Pacific Crest Trail because I knew that in advance, but many other people did, and I don't know a single person whose bags did not spring a leak. Just trust me. Use bottles or find another bladder that threads (although I'm not positive there are other bladders that thread to the Sawyer).



The actual filter is WONDERFUL. It filters well and quickly, weighs almost nothing, and is super cheap. It's great to be able to drink right from the filter, too. The one problem, and it is a BIG one, is that the white rubber stopper that creates the suction in the bottom of the filter will come out if you tighten the filter too hard. This is hard to avoid, since you need to tighten the filter enough so that it doesn't leak. Once the stopper comes out, you can force it back in, but eventually it will come out again and your bottle will leak dirty water into the clean water. However, as I said, there is a very simple solution. My friend gave me this red stopper that he said you can get for like a buck at any hardware store. It's just a ring around the outside with a large circular hole, rather than a circle with a small circular hole (if that didn't make sense, what I mean is that the circular hole in the white rubber stopper it comes with is significantly smaller than the circular hole in the red rubber stopper I am describing). Anyway, replace the stopper with that, and you're good to go. I haven't had any problems with my Sawyer since I got the new stopper, and I absolutely love it. Before then, I was about ready to trade it in for the Platypus Gravity Filter.
This has changed the way I hike!
Familiarity:

I've used it several times
This filter filters water fast, and without much pressure required. This is a game changer for backpacking, and even runs up in the Wasatch. No more carrying water and waiting for the drops or tablets to take effect before drinking. I get to a stream and can drink right away. No hassle with a heavy and slow pump filter, the Sawyer Squeeze Water Filter has changed the way I hike.