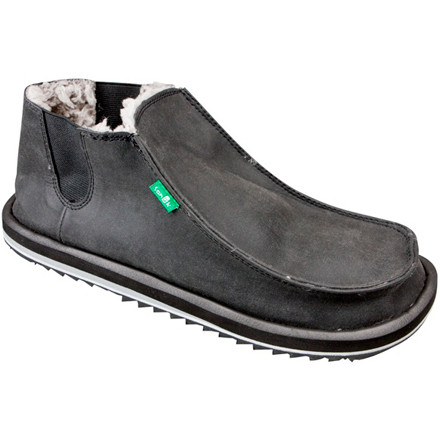 fantastically comfortable
These shoes are so dope. They are incredibly comfortable and much lighter (in terms of weight) than they look. They are warm (but not hot n sweaty). They look great with jeans and a flannel shirt or whatever else you want to wear with them. Kind of silly looking if you try to wear them with shorts or something, but I don't know why you'd be wearing them in shorts anyway. Fit is true to size and oh so comfy.
Are these shoes pretty waterproof?
Are these shoes pretty waterproof?
No they are not. You could treat them with a Nikwax or DWR finish and make them "water resistant"
I wouldn't recommend buying them with the intention of even making the Outlaw Logroller a "water resistant" shoe. They have air holes down towards the sole that make it nearly impossible to make weather proof. They are very comfortable and will keep your feet extra warm. I recommend sock (so the stink stays out) and staying out of puddles.
If you are looking for a weather proof shoe try our Winter Boots and Shoes category. Just look to the left of the screen. You should find it. I've had great success with the DVS Mikey Lablanc Munition Mid.
These shoes are pretty much your favorite sandals in disguise. The lining is clutch, keeps your feet nice and cozy. The black leather can be a little difficult to keep clean, but looks really nice. They seem to run a little wide in my opinion.
So these are awesome. They don't seem to get hot but they're still the laid back comfy shoe/sandals that you expect from Sanuk. They're not for running around out in the freezing cold, but it definitely is great for when it gets chilly outside with the sheep-wool-like lining inside. It's just warm enough for when its chilly, but not so hot that you're sweating indoors.
Do these run big or small?
Do these run big or small?
Sanuk runs pretty true to size. You may want to size up though in the Outlaw Log Roller. It has a fuzzy lining and may take up some room. If they don't fit Dogfunk will be happy to help you get the right size.