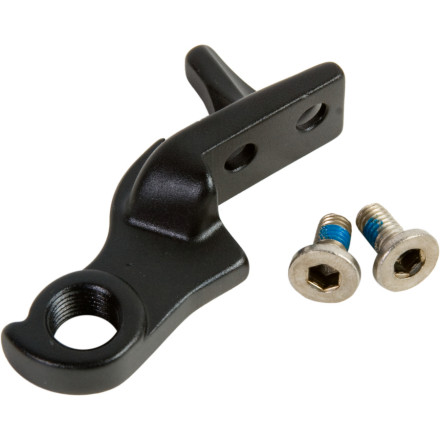 Santa Cruz Bicycles Derailleur Hanger Kit - Chameleon 4.0, Nomad 2.0, Blur LT 2.0, Heckler 6.0
View Larger Image
For accurate shifts your Santa Cruz depends on a dead-nuts-straight derailleur hanger. Replace the distorted unit residing on your Chameleon 4.0, Nomad 2.0, Blur LT 2.0, or Heckler 6.0, and shift on, you crazy diamond.
Unanswered Question
This hanger appears to fit the profile for...
This hanger appears to fit the profile for the Tallboy Aluminum. The carbon Tallboy uses a different hanger
My favorite bottle opener
Sure, a lighter will run you $0.49 at the gas station, but there's something really gratifying about opening a beer post-ride using your bike. If only SC could design a hanger that poured the beer for me, too.

And, yeah. It holds the derailleur pretty well, but I don't think that's the point here.
Metal seems a little soft
THere is no doubt that this is the cheapest hanger you will find for the Nomad, but I broke 2 in a matter of 2 hours. THe first one was forgiven, it was a log. The second was un-explainable, a rotten twig the size of a pencil... I am hoping it was a bad batch, and at this price I ordered 5 to make sure I could get through a full ride.
Search high. Search low. Search no more. The best deal on this part is here at HnR.
The hanger is a part that is designed to fail so you do not ruin your rear derailleur.
The part fits as described.

Cheers --> Spin and Grin.