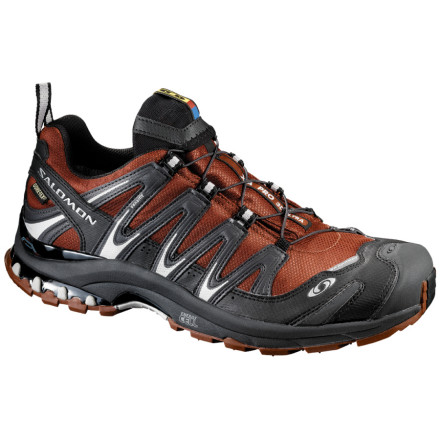 Detail Images

Community Images
Description
A treat for your feet.
Pull the KEVLAR® Quikfit lacing on the Salomon Men's XA Pro 3D Ultra Trail Running Shoe for grueling adventure races and rocky trail runs. The Gore-Tex XCR seam-sealed inner booties keep your feet protected from moisture and trail debris while breathing out moisture. Ortholite insoles and triple-density EVA midsoles cushion your feet, while the 3D Advanced Chassis protects and stabilizes. The protective toe and heel caps brush off rocks and roots and increase the shoe's durability.
Share your thoughts
What do you think of the
Salomon
XA Pro 3D Ultra GTX Trail Running Shoe - Men's
? Share a...
Running in these puppies for a little over three years and they still manage to retain their waterproof ability. Originally they were my all purpose shoe for all running purposes. There was no more fear of trampling through mud or puddles that was at just below ankle level. They also managed to be a great trainer for street running at the time. I also used them as a lightweight hiking shoe as they are simple for slipping on and off, and I could depend on their waterproof/ breathable capabilities to keep me comfortable.

Normally I wear a size 10.5 street shoe size and somehow I managed to fit into a size 10 of these. That is unusual because usually I need to go up in size if anything. Everybody's foot shape is different and the ultimate test of size is actually trying the shoe.

One factor that I love/hate is the weightiness of this shoe. Generally running shoes are some of the lightest pieces of gear you will own. These badboys weigh in at a hefty 1 lb. 10 oz. After a couple days of running I could feel it in my joints. Just one modification I would suggest.

Maintaining full disclosure, I am affiliated with Gore for product testing of Gore-tex products for the purpose of product review and recommendation. I do receive items from Gore for these purposes.
Lacing System Failure Guarantee
Familiarity:

I've used it once or twice and have initial impressions
I am writing this preemptively. I know you, lacing system. Many mountain bike shoes I've owned used a similar BOA system, and I know that you like to quit after a month or three. You won't like to work as hard, and will constantly shrug off the tension I apply. At first it will be gradual, but eventually, I'll be crouching to tighten you every few minutes. Then, there will be that well-placed branch you just couldn't resist picking a fight with as it drew near as I tore through thick brush. You will end your short life, entangled in a prideful struggle for companionship with that innocent branch. Then, mortally wounded, you will leave me to skitter back to the car after several awkward miles. Though this shoe fits like a dream, and was amazing to try out, I will never buy these due to the lacing system. It will betray me for its own designs.
Lace loops wore out pre-maturely
The lace loops on my pair wore our pre-maturely - I was pretty easy on these shoes and did not get a whole lot of wear before the lace loop decided it had enough and needed to retire. Seems like it is a pretty common issue on these otherwise bomber pair of shoes - and there is no way to fix it... I would not buy another pair of these until the issue with lace loop is remedied. (The lace cord, where it normally attaches through a hole in the shoe is attached it a little loop of nylon webbing like material - there is just too much friction on the nylon to nylon with no reinforcements like the others on the shoe has, that it just rubs right though.
First Impression: Amazing. Long-term: Disappointed in lace system.
If I had written this review the first week I owned them, it would be a 5-Star glowing review.

Alas, it is a 2+ month review and a few glaring setbacks have made themselves evident.

We'll start with the glowing parts first...

The fit on these shoes is incredible. Hands-down the most comfortable shoe I have put on to date. Slip your foot into a pair of these and you'll never understand how you wore other, less supportive shoes, ever. Incredibly comfortable to both be active in outside, or even wear around all day.

So if they are so comfortable and fit so wonderfully, why are they not 5-stars?

The lace system.

It was brillant for the first month or so. Then it started to lose it's luster. The laces loosen on their own very easily at this point and I find myself crouching down quite regularily to retighten them, only to find them loose again a few minutes later. Secondly, the bottom two loops are lacking the plastic reinforcements/guides. While the fabric has yet to let go, it is showing signs of wear and I question it's ability to survive a full year.

Final verdict - While I LOVE the fit and feel of these shoes, I am incredibly disheartened by the failure of the lace system so early in it's life and am further concerned by some of the wear that has been caused by the system at this point. At $140, they are a pricey shoe and they should be a perfect product, and perfect they are not.
My second pair to replace my XA Pro models after the lace had a tear after 3 years of use.

Perfect fit out of the box (well after a day of walking around). If I had to take one shoe with me anywhere, it would be these!

GTX works superb, but stepped in a 4in rain puddle in Bangkok and sock did get a little wet. Dried over night after I pulled the insoles out. Get rubber rain boots if you plan to be walking thru flooded streets.

Some minor cosmetic defect (scuffed portion of cloth on the ankle area) out of the box. But not a big deal.

Would definitely buy another pair. Love 'em!
They are light weight, they keep your feet dry but squeak like crazy because of the lace system. I but a little WD40 on them and they don't squeak anymore. But do watch the sizing on them they do run a little large.
If they didn't squeak they would be five stars.
Salomon Pro 3D Ultra GTX Trail Running Shoe
Great fit and comfortable. Right out of the box I took them on a trail run/walk. Have become my everyday shoes now. Love the cinch/tie system.
Watch out for lacing system failure
I purchased a pair last fall, used them on hikes, trail runs and just around town. Last week the loop closest to the toe on the outside of the right shoe began to fray. The frayed loop then began to wear the lacing system, to the point where it actually broke the lace. Now the shoe can not be used for trail running or hikes, as the lacing system will not tighten the shoe. I loved the shoes until this fail.
I run on the beach in puget sound. Over 1000 miles in salt water and sinking tide flats, these are still great. Never rinsed them with fresh water. I never cleaned them more then a couple of smacks together to shake off the sand. These are the best. Never a leak.
After reading Born to Run, I've switched...
After reading Born to Run, I've switched to barefoot-style running (mid- to ball strike/no heel). I now use minimalist shoes but am looking for something more sturdy for ultra running. Can Saloman fit the bill?
I love the Salomon XA series. I have an older version (non-Goretex) and the kevlar lacing is still holding strong. It's a solid shoe and many Backcountry members give it high props.
I'm looking for a light, durable shoe for...
I'm looking for a light, durable shoe for backpacking across China, Europe, and South America. I hope to do some hiking, but it probably won't be anything more than a day or two and although I expect a good amount of rain, I doubt we'll encounter much snow. Is this shoe breathable enough to wear for long, hot days with a lot of walking/hiking? Thanks!
Best Answer
Any of my trail runners that I have that use Gore-Tex breathe very well. I use a pair of merino wool running socks and I'm cool and comfortable the entire day, and most importantly, DRY!
Great shoe, extremely comfortable, great grip great waterproof system.
Perfect for Winter Everyday use, running and everything!
I am looking at buying this show but I...
I am looking at buying this show but I need some advice on whether this will handle 40-45 pound packs on 4-5 day backpacking trips. They seem very light but I usual wear Montrails Hurricane Ridge trailrunners. Will they be stable and keep my feet comfortable for 10-12 mile days?
Hey Scott,

This shoe will work great, but the 3D chassis will put you closest to the ground. This will give you great feel and stability, but not the greatest amount of protection.

For hikes with packs, you may want to look into the XA Comp's or something a bit more boot like, like the Quest 4D.

Hope this helps!
Nick
I love this shoe, I can use it for anything. Great in muddy conditions, it kept my feet dry and on the trail. And they look great. I get lots of compliments on them. If you have any question, just do it, this is a great shoe.
First off let me say that I like everything functionally about these shoes. The Gore-tex is great, I stood in a puddle for a few minutes and my feet stayed dry. I over pronate when I walk and they are a big improvement over most of the other shoes I've tried. The lace system is awesome, it works just like it should. The insoles that come with them are ok, not enough arch support and to soft for my liking.
The issues that I have run into with these are that they are quite narrow (I have wide feet also). the toebox is smaller than most shoes that I have encountered. The downside with the Gore-tex is they get quite warm.
I do like these shoes alot, I'm hoping to find the right insole/sock combo to suit my needs. Bear in mind I have only had these shoes for a few days so I'm hoping they will break in and my problems will magically go away.
I do not use these shoes for running, however they are great for hiking and backpacking. They have lasted me a solid two years of constant use and abuse. They are light and supportive, love the lacing system, and bomber toe cap. Goretex does restrict breathability, but that is the trade off you make for a waterproof shoe. I have owned these shoes for three years now and they are now too worn for serious use. They are not my primary hiker anymore, however, they are not dead. I still use them for work and light outdoor pursuits.
does this shoe or any of the Solomon running...
does this shoe or any of the Solomon running come in width sizing? I need a DD or E
Best Answer
They do, but backcountry doesn't always have width sizing on them... Rei usually does, though, so check their site. I hope this helps.

http://www.rei.com/product/807599/salomon-xa-pro-3d-ultra-2-trail-running-shoes-mens
Best shoe ive ever owned!
The title says it all.

These are my everyday shoes, but ive also hiked in them many times, climbed in them a few times. They have seen salt water on many occasions. The Gore-Tex is amazing! I live in the Pacific North West, and we see rain on a daily basis, so have a waterproof shoe was absolutely essential to me!

I personally have had no issues with the laces, and love the setup. I have heard others have had issues with them, so i wanted to clarify that, from me.

Great shoe! Great build quality. Great fit(they run true to size). You wont reget it if you buy a pair!
Best shoes I've ever owned. I'm replacing my 18 month old pair with the exact same shoe. I couldn't ask for anything more from a shoe. They're great when its 110 degrees out, and good in the snow, too.
When I first got them I thought they might be too snug, but they quickly broke themselves in to fit my feet perfectly.
Seriously, there's nothing more I could ask for from this shoe.