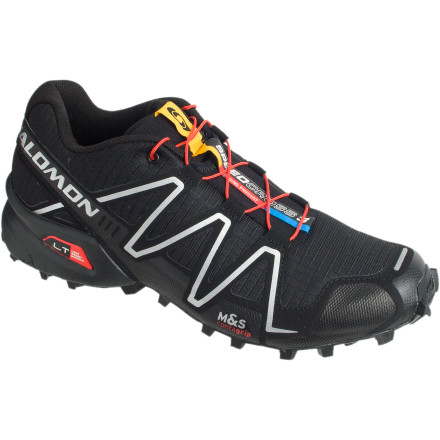 Detail Images

Videos

Community Images
Description
For your quick, calculated steps during a race or heart-pounding solo mountain loop.
The race course may follow a long and winding mountain trail, but you welcome each coming mile thanks to the aggressive, lightweight Salomon SpeedCross 3 Trail Running Shoe. With less bulkiness to slow you down, this race trail shoe provides just enough cushioning and and excellent grip to keep your strides strong and true whether or not you're racing toward an established finish line.
The Lightweight Muscle chassis features two layers of EVA in the midsole for reducing the constant impact of running, without more junk to slow your pace
Mud, slick rock, and fresh snow are no problem thanks to the non-marking Mud & Snow ContaGrip rubber outsole sticking you to the terrain
An anti-debris mesh and water-resistant textile upper with mud guard help you master the trail, even if it's not in perfect condition
Sensifit outer design uses a one-pull Quicklace system to ensure the shoe wraps tightly around your foot and doesn't move throughout your many miles on the trail
Ortholite footbed cradles your foot with shaped foam and an EVA heel cup for additional impact absorption
Love these!
Familiarity:

I've used it several times

Fit:

True to size
These shoes are great. They fit and look awesome. I always get asked about them whenever I wear them.
A shoe that wont stop..until you do
Familiarity:

I've put it through the wringer

Fit:

True to size
These shoes fit true to size..but kinda stretch a touch after a while.. I bought these as a replacement to my normal running shoes while I was in El Paso / Fort Bliss. Can't Beat the Grip these shoes provide on sandy / dirt trails around the base. The shoes provided more cushion that I was used to, but that's not a bad thing. the quick lace system never failed on me or broke at any time and they are still going strong. the only negative I can say is don't run on pavement / roads. The sole wore out kinda fast when I did have to run on those surfaces.
Great for trail running
Gender:

Male

Familiarity:

I've put it through the wringer

Fit:

Runs small
Great shoes for running & hiking in loose dirt, mud, rocks, scree, talus, etc. These have a lot of padding around the ankle, great upper stability, and surprisingly good proprioceptive feedback/ground feel. I will definitely repurchase when these wear out.

Minor complaints:

1) They run slightly small, mostly because the toe box is narrow. I rarely wear socks with these and all my toes make contact. They'd definitely run noticeably small with thick socks.

2) Not the most breathable shoe.

3) The rubber soles are far too soft for daily wear around urban environments... clearly they aren't made for that, however.
Great lightweight offroad shoe
Familiarity:

I've put it through the wringer

Fit:

True to size
These are great lightweight offroad running shoes - which is exactly what they're built for. I've run and hiked in them through muddy and slippery conditions and they have been great.
They do have a lightweight sole and I have noticed that I get sore feet if running/ walking over particularly rocky terrain as these dont have the same level of protection underfoot as say the heavier XA Pro's - but they are a lot heavier.
I will definitely buy another pair of these shoes in the future.
2nd pair of these dependable work horses
Familiarity:

I've put it through the wringer

Fit:

True to size
Im on my 2nd pair of these. I pull them out of the closet anytime I plan on hitting the trail, wether im running, hiking, backpacking. They dont do so well on rock as approach shoes, but thats ok. At least im comfortable when im falling on my face on the way to the crag. beyond that, no gripes and will continue to buy them for a long time.
First Trail Runner
Familiarity:

I've used it several times
These are my first trail running specific shoes. So far I have been pleased. They are definitely a little lose in the heel compared to your typical runner. The 12 was a little snug on the sides of the toe box. I spoke to someone at Salomon and they confirmed there would be a little lateral stretch in the material. I was nervous how they would feel after running a while, and if they would be too tight once foot swelling took over. So far so good.

Overall I am happy with them. Depending on how they hold up, will be the deciding factor as to whether the next pair are the same.
3rd pair
Familiarity:

I've put it through the wringer

Fit:

True to size
Love these shoes. I have a lower arch on one foot which created chaffing in the inserts. I cut away some of the foam and they work perfect.
Hi, any chance you'll get these in in men's black size 13?
Hey Hayden,



We'll have them in stock in about a month. I'll do my best to alert you once we have them in stock.



Ben

brabinowitz@backcountry.com

801-746-7564
Great Lacing System
Familiarity:

I've used it several times

Fit:

True to size
I don't do a whole lot of trail running. I use these shoes to walk the dog on gravel and mud, as well as for pre and post shred sessions on the hill. I'd say out of the box they have a true to size fit. Mine seem like they got tighter the more times they experienced wet/dry cycles though. Walking on the tall tread is a unique experience. It feels like you're floating on rubber.
Awesome Shoes!
Familiarity:

I've put it through the wringer

Fit:

True to size
This was my first pair of trail running shoes. I actually never knew there were shoes made specifically for running on trails. I've been a moderate runner, mostly on the treadmill at the gym and hiker. I've found myself wanting to run trail rather than hike them, so once I heard there were trail running shoes, I read through reviews and ended up buying these. They are awesome shoes!

The first time I took them out, I went hiking and found myself complementing the shoes the whole time to my friend. The were comfortable from the first time I put them on, so no break-in period was needed. The lace system is pretty cool. They're easy to tighten and loosen. Added bonus is that there is a small slot on the tongue to tuck the laces into. I didn't know about this at first but once my friend told me, I couldn't imagine a better thought out shoe.

I've taken these shoes on some 5-6 mile hikes as well long trail runs (8 miles) and they still feel like my feet are in clouds. I've considered buying another pair as a spare just in case I can't find the same pair in the future.

I'd highly recommend these shoes! I haven't had to test them in mud or rain since we're in a drought in California, but for whatever I'd put them through so far they've been great.
Dirt, Rock, and Water...
Familiarity:

I've put it through the wringer

Fit:

True to size
I bought these before a trip from Grand Canyon to Zion. These bad boys went through grass and mud in the Canyon wash, over rocks on Angels Landing, and through water in the Narrows. They held up like champions every step of the way and the grip was like superglue. I did nearly roll my ankle a few times along the way, but I am a clumsy hiker. Go for something with a little more ankle support if you stumble around like I do. I bought a size 10 (my normal size) but I should have gone 10.5; I only notice it when I stub my toe which is not often. Fantastic shoe and it still looks brand new.
The best
Familiarity:

I've put it through the wringer

Fit:

True to size
I use these for both hiking and trail running and absolutely love them. they are a little tight/narrow at first, but break in nicely. I love the lacing system.... most of the time I just keep them loose unless i'm on some especially tricky/loose terrain.
I usually wear and 8 in most shoes (Nike, Vans, etc.). Went with 8.5 in these and it was perfect. a little space is good to keep from smashing your toes, so I would say when in doubt, size up in Salomon trail runners.
Still my favorite shoes
Familiarity:

I've put it through the wringer

Fit:

True to size
Wore through my backcountry.com exclusives from 2014 in about a year. Still some tread but starting to leak through. They are a high wear shoe, but unparalled comfort and grip in my opinion. Hundreds of miles on them, so one season of use is reasonable.



This time around I opted to bump a half size down which is a very snug performance fit for me and went for the non Gore-Tex version. After several days of use I can tell they are slightly cooler than the Gore-Tex version, but do get slightly wet jumping through puddles etc. Where I miss the water protection, they make up in quicker drying time. These are last years model, but design remains the same.
Hit the Trails
Familiarity:

I've put it through the wringer

Fit:

True to size
This shoe fits true to size. It has a very aggressive out-soles which works great on any dirt surface. This is my go to running shoe since I live close to a trail network. I have had a couple pair of these and they last a long time if used on soft/dirt surfaces etc. I love mine and have put them through the wringer. Will buy these again and would suggest to a friend.
Speedcross 3
Familiarity:

I've used it several times

Fit:

True to size
I just used these shoes on a 50 mile hike in pisgah national Forrest . These shoes worked really well for me! My pack weight was about 25lbs when I started and I never had any problems or fear of rolling my ankle. These shoes are very light and grip well in all conditions but you will have to watch out when treading on wet logs or rocks because you could slip. I got these shoes wet and they dry out very quickly. After 4 days of hiking I did not even have one blister. I would recommend these shoes to any lightweight hiker, just look out for slippery rocks and logs. These shoes run true to size. I wear an 11 in Nike and the 11 was about the same
JDleaf
Great cold wet muddy trail runner but...
Familiarity:

I've put it through the wringer

Fit:

True to size
I've put mine through the ringer and I love them. The lugs however are quite soft and wear quickly if you do mixed surface running like me. Way too warm for summer running but you should know that already. I sized up a bit having a EEE foot
Great show w/ awesome traction
Gender:

Male

Familiarity:

I've used it several times

Fit:

Runs small
Great shoe. I own a few Salomon's and noticed that this shoe runs a tad bit more narrow then other shoes. But a slight loosening of the laces corrects that. Great shoe and very durable.
These have turned into my favorite shoe to wear.



I have people remark about them everywhere I go. "Nice Shoes"



They don't have any waterproofing but they are great to wear while working out.



I have said it before.. They grip like crazy in the right conditions. They will also lay you out flat on your ass in the wrong conditions. They aren't great in wet and smooth conditions. You could be running down a trail and if you are in the loam you'd be fine. Step on a wet log or rock and you could end up on your ass.



I still love them.
Slow pitch softball
Familiarity:

I've put it through the wringer

Fit:

True to size
I originally picked these up as a trail running show until one faithful day where I was running late to a slow pitch softball game (yes this is what my lifelong baseball career has come down to... old man beer league softball.) back to my review I went straight from the trail to the softball field and they were amazing! They provided plenty of grip while running the bases on soft loose and dry dirt. Needless to say my whole team now plays in these and they are amazing! We win a lot of championships in these shoes not because of the shoes but they do help us win in comfort and style..