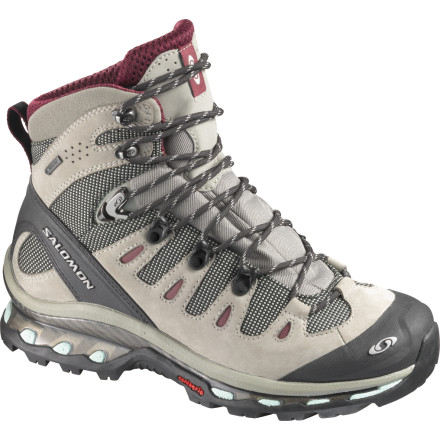 Detail Images

Videos
The extra-light Quest 4D GTX Hiking Boot form Salomon utilizes Gore-Tex technology and the 4D Advanced Chassis to create a waterproof boot that is tough enough to handle the weather yet feels more like a trail-running shoe. The fit is optimized for a woman's foot, and the foam heel cup absorbs shocks so your feet don't feel a sore after a long day on the trail.
Rubber heel and toe caps protect your foot from those pesky rocks
Extra-light construction means you can walk for hours without exhausting your legts
Durable Ortholite foam liner with EVA heel cup provides support and creates a dry, comfortable space for your foot
Rad
Familiarity:

I've put it through the wringer

Fit:

Runs large
20 miles on with no breaking in needed. Completely waterproof and warm. Not worried for the 50 miler coming up.
Hello! Are these good for mountaineering and are they crampon compatible?
I'd say no. IMO They're more like a high top running shoe\ hiking boot. That said, a "strap" crampon (Grival G10 or BD Contact) will fit from approach shoes to snowboard boots.
Best Hiking Boots!
Familiarity:

I've used it several times

Fit:

Runs large
I love these boots! So comfy and gives a lot of support!
How would these be for light snowshoeing with thick socks? Not sure if the full shank is needed for snowshoeing. I'm trying to find one pair of boots that I can use predominantly for backpacking and hiking but once or twice a year use for light snowshoeing. Any advice helps! Thanks!
Hey hea105309437,



These would be a great boot for some light snowshoeing and hiking. The boot utilizes Gore-Tex technology which will provide an excellent waterproofing to the boot. Along with that, the fit is optimized for a woman's foot, and the foam heel cup absorbs shocks. I would highly recommend this boot for what you're looking to use them for.
Protective, Supportive & Comfortable!
Gender:

Female

Familiarity:

I've put it through the wringer

Fit:

True to size
I'll admit, I've always been partial to Salomon boots, but the Quest 4D GTX only affirms why. Once again, Salomon has succeeded in designing a boot that is super supportive, offers strong protection in some punishing terrain, yet not at the expense of heat, weight or comfort.



After some deliberation between these and some lighter weight boots, I finally chose the Quests for a scouting trip into the desert mountains of southwest Texas - in AUGUST! Needless to say, my concern was that the price I would pay for the support and protection I needed in this steep, rocky and rugged terrain that is home to a variety of cacti, tarantulas, scorpions and rattlesnakes, would be far too little airflow in southwest Texas' extreme summer temperatures. I'm happy to admit I was wrong.



These boots protected my ankles when the inevitable fatigue of an ongoing ascent over jagged rock, in 100+ degree temperatures caused some sloppy foot planting. The toe box allowed just enough room for my plantar region to function efficiently, while my ankles benefitted from much-needed support. Despite the heat and the terrain, I came away with no blisters, hot spots or bruised toe nails. In fact, I didn't realize it until after the trip, but I never gave my feet - or my boots - a thought while on the trail. That's always a good sign!



Like many people who do a lot of running, hiking, packing or working on their feet, I have a wide plantar region in comparison to my heel. To complicate matters, I have a high arch and instep, which isn't too uncommon for a woman. All in all, this makes fitting a boot challenging, to say the least. But the Quests provided adequate support and grip in the arch and heel cup without putting pressure on my instep. Beyond that, unlike a lot of women's boots, they offered ample width where needed.



All around, an excellent fit right out of the box with support and protection that proved it's meddle on the trail. I won't hesitate to wear these boots again!
excellent right out of the box
Familiarity:

I've put it through the wringer

Fit:

True to size
I just returned from an 8 day camping/hiking trip to Glacier/Waterton Lakes. These boots performed perfectly - over shale & scree, on trails through dewy meadows & wet berry bushes (my socks stayed dry! Hallelujah!! I cannot function in wet socks, and I did not once need to pull the extra socks out of my pack). I have a wide forefoot and a narrow heel (and I have had multiple ankle reconstruction surgeries). Salomon's last fits my foot shape, and the construction gives me the extra support where I need it. I think that they run true to size with a hiking sock on, and feel large with a regular sock, but since I only wear them with hiking socks ("Darn Tough" Merino wool) the fit me perfectly. I hope to enjoy many more adventures in these boots.
You Love Salomon, You Love These
Familiarity:

I've used it several times

Fit:

True to size
I love salomon. I love their running shoes, snowboard boots... Everything they do fits my foot well. Yet again, Salomon does not fail! I have a flat, narrow foot, but I went up a half size from street shoes, which I generally do for hikers. They fit like a dream! They're wide in the toe box, but the perfect amount of wide for a hiking boot!
I will be hiking about 15 miles a day this...
I will be hiking about 15 miles a day this summer in 90-100 degree weather for three weeks. The terrain ranges from mountains, to hills, to dirt and gravel roads, to pavement. Will these boots help me out or will they be too hot and bulky to wear? If they are not the right boot to wear, what would be?
Hey Therese, I just sent you an email. Long story short, yes I think these would be a great option for you to consider.
Salomon Quest
Familiarity:

I've used it once or twice and have initial impressions

Fit:

True to size
I bought these to replace a pair of well-loved Asolo backpacking boots. My feet had grown a 1/2 size and I couldn't do another trip in the Asolos. After a lot of research, I found the Salomon Quests were well-reviewed for the type of multi-day backcountry trekking that our family plans to do this summer. Many reviewers (on this site an others) commented that consumers should buy a 1/2 size up, however I disagree. My running shoe is consistently an 8 medium, so I ordered a 7.5 medium (my regular size) in this boot. They fit perfectly-an 8 would have been too big. I have a narrow heel, narrow foot and with some lacing adjustments, they fit well. I love the wide open toe box-no more jamming my toes on the downhills! Many reviewers also commented that they didn't need to break them in before using. I have to also disagree with this-the high-top portion of the boot is stiff and so was the foot bed. They were comfortable to wear walking around my property and town and I didn't develop any hot-spots, but you should definitely break them in before backpacking. They are clearly made of high-quality materials (sorry Asolo, but they beat you here!) and seem like a boot that I will be able to wear for many years.
one do they come in 8.5 wide (in the blue)...
one do they come in 8.5 wide (in the blue) and is the only place to buy them is here?
Paige,

The Salomon Quest 4D GTX Backpacking Boot does come in an 8.5 but not in an extra wide. Backcountry.com is not an exclusive carrier of this boot so you may be able to find them in an 8.5 elsewhere.
BINGO! YATZEE!
Familiarity:

I've used it several times

Fit:

True to size
It's a tough job to fit my wife for nearly ANY shoe, boot etc. And after at least 4 pair I finally came across this boot and reviews. They were spot on - the boots AND reviews in terms of fit. True to size and extra toe room. Great looking too. Ya gotta have curb appeal, ya know?
The bonus is she LOVES THEM!
So comfortable!
Familiarity:

I've used it several times

Fit:

Runs large
I loved these shoes when I tried them on. My feet are wide at the balls of my feet and toes. The toe box is wide and was perfect for me. I tried on some other trekking shoes in the store and they did not fit as well because the cuts were too narrow and would have hurt my feet (as is usually the case for me). I got an 8.5 and still have room in front of my toes. My low-top hiking shoes are Merrell Moab size 9 and I usually get a 9 for athletic shoes. The cut is higher than other boots which I discovered I like better. They feel very supportive and I've been wearing them at work too. I tried them out on a 10 mile hike yesterday which was mostly a beach walk, including tidepool rocks (I spent some time testing them out here) and a mile of cliff trail. They gripped the rocks very well, even when slightly wet and sandy. I also submerged them in seawater and they did not leak. Water also rushed over the top and the part of my socks sticking out got wet but water did not seep inside. No blisters the day after with minimal breaking in. I also like the grasp hook for the laces. They are supportive in the ankles yet flexible in the soles and I am very happy with them. I bought them for a week-long trekking trip and I think they will serve me well!
These boots are made....
Familiarity:

I've used it several times

Fit:

Runs large
For walking, hiking...heck, I even did a little "running" in them. It was one of those chasing the sunset (like dracula) scenes. "I must get to the campsite before dark".



I am in love with Salomon products. I have been ever since I bought my first Ultra Trail shoes last year. The uppers fit perfectly, lacing holds well, and I have zero blisters or hotspots. And I love that they come in a color other than pink. Although I like pink, I don't want it on my feet!



These boots do fit a little large (I wear a 9 in them, though my feet size as 9.5). But, if you've worn Salomon before, that's not unusual.


A great present for her!
Gender:

Male

Familiarity:

I gave it as a gift but have feedback to share

Fit:

True to size
I bought this for "her" after buying my own pair.



She actually first recommended this boot after trying it out at a store but thought it wasn't a necessity. I then bought mine to test her testinomial and she is right. Goretex, 4D chasis, and mudguards really help keep your feet in good shape on hikes. The boot feels good and is light that it makes me want to run in them. As a gift, I figured this will be great because she climbs as well.



It is not as light as the cosmic, but the extra weight helps justify it's durability.
Got Problem Feet? Get These Boots
Familiarity:

I've used it once or twice and have initial impressions

Fit:

True to size
After two foot surgeries last fall, I was on my usual quest to find supportive pain free hiking boots. I needed some that were wider through the toes but narrower in the heel. I tried on many top brands, even bought one that I had to return. If it was pinching in the house, I knew it would hurt on the trail. These Salomen's were recommended to me, so I thought I'd give them a try. They felt good right out of the box, and really good on the short mostly downhill hike I tried them out on. I like the ankle support, the ample room in the toe box without being sloppy, the stay tight laces, and the snug fitting heel. No smashed toes on the downhill either. Based on that I wore them next on a nine mile hike, and they were great. No blisters, no hot spots, just great supportive boots. Stayed dry on the stream crossing too. I did order my regular size, which fit just right. Plus Backcountry has them at a nice price. Looking forward to wearing them with no worries on our camping trip to Glacier National Park. My problem feet and I are very happy with these boots.
Wicked Awesome Boots
Gender:

Female

Familiarity:

I've put it through the wringer

Fit:

True to size
I have two pair of these, one I keep at work and one at home. I love them so much I bought my husband a pair for his birthday. In all 3 instances they fit perfectly out of the box with nearly no break-in time needed. I am a forester and put many miles doing field work on my boots so comfort and support are key. They are a bit wide across the toe and if you have bunions like me, you will greatly appreciate the extra room. My husband does not have the same issue but still loves the fit and comfort. (I listened to him complain about his old ones for over a year) One nice feature that I love is the locking laces, it allows you to easily tighten them and keep them snug even if you don't want to lace them all the way up. The ankle support is fantastic as well. The only one thing that I will note is that I usually wear a 6.5 women's but ordered the boots in a 7 (mainly due to the pounding my toes get during a steep down hill trot in the Adirondacks.) My husband usually wears a 9.5 but he ordered a 9. We both feel the size we got was the right one,not sure if that is helpful or not but I figured I'd mention it. My suggestion is to order your usual size to start with. (we both found them at a local retailer and tried them on before ordering from backcountry.com- gotta respect their guarantee, can't beat that!)
Great boots, fit is slightly large
I'm very satisfied with these boots. Not a single blister after spending two weeks hiking around the Schell Creek mountains in Nevada with very little break-in ahead of time. Since they're not full leather I was skeptical about how well the Gore-Tex would keep out water, but my feet stayed dry through thunderstorms when the rest of me was soaking wet. I love the lace-lock feature at the ankles, and the roomier toe box-- I have skinny ankles and slightly wider toes, so the fit was perfect to give me extra toe room yet keep my ankles secure. The sizing seems to run larger than other brands I have tried; I usually get an 8 in hiking boots, but got my normal size 7.5 in these and they were perfect. Highly recommend them!
Great Boots and no Break In Time!!
Gender:

Female

Familiarity:

I've used it several times
My husband and I had planned a trip to New Zealand - the first portion being a hunting trip - so I needed a good pair of good hiking boots. In the past I've worn a popular brand for men based in Oregon - and even though they claim to make a women's boot - they will not change the 'last' they make them on which is narrow. I had purchased Salomon in the past and did like them - so I decided to try this pair. I did get the brown (not sure why Salomon would make a blue boot) - so it would coordinate with both hunting clothes and hiking clothes. They were immediately comfortable and never gave me any of that pinching feeling I usually get at the bottom of my foot due to a narrow boot. No rubbing anywhere - I am so impressed!!! The guys at BackCountry were great at getting them to me quickly as my time was running out!
Salomon Quest 4D GTX Backpacking Boot -
Great, Tough and Well Designed
Gender:

Female

Familiarity:

I've used it several times
Initially I was skeptical because I have never owned a pair of Salomon boots, but now all I have to say is good things about them. I have worn these day hiking and backpacking, they have kept my feet dry in the creek crossings and walking in the snow. The feature I really like is the grasp hook for the shoe laces, once you tighten the lace and hook them it stays tight while you tie the upper lace. This feature keeps your heel in place so these is no slipping and is a great design. I found these boots true to size with decent room in the toe box.