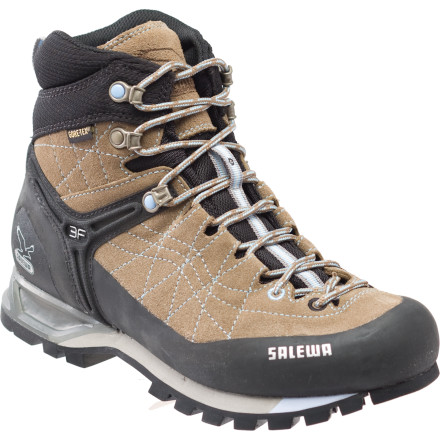 Detail Images

Videos

Community Images
Get the most out of your hiking trip, whether it's a major once-in-a-lifetime event, an annual tour of your favorite peaks, or a weekly exploration of the trails in driving distance of your house, with the comfortable, yet highly technical, Salewa Women's Mountain Trainer GTX Mid Boot. This Salewa favorite has been given a top-to-bottom overhaul to enhance its comfort and performance, not matter where you trek or how many miles you cover.
Gore-Tex Performance membrane blocks water and lets your feet breathe so you stay dry and comfortable
The 3F system uses a steel cord to transfer lace support around your feet, giving you exceptional support and fit without hampering movement
EVA midsole and PU shock absorber cushion your foot on descents, and the Multi-Fit Footbed allows you to adjust the volume of the footbed in the shoe for a perfect fit
360-degree rubber rand protects your foot from impact and abrasion and provides grip when climbing
Extended climbing lacing towards the front allows you to dial in your fit
Technical Vibram Mulaz outsole provides maximum grip and edging on the approach and via ferrata climbs
Fantastic Right out of the Box
Familiarity:

I've used it once or twice and have initial impressions

Fit:

True to size
After reading several reviews I was worried that the first few outings in these boots could be rough. Because of that I opted to break them in on a fairly flat 6 mile hike in Teton National Park. It was a thin single track mud/dirt trail with minimal rolling elevation change. Less than a mile in the group walked into a horribly mosquito infested area and decided, to avoid being eaten to death, to run through it. Here the Salewa's did great! They were surprisingly comfortable to run in, kept ankle support over uneven terrain and didn't leave a single blister. While not standard hiking conditions, it was great to see they remained comfortable through the duration of the run.

The rest of the hike was incredibly comfortable. The buttressing protected my toes countless times when I stopped paying attention to the trail while starting at the Tetons and kicked into any number of rocks. While definitely stiff they allowed flexibility while maintaining ankle support (great for a recovering ankle injury). I ordered my normal casual shoe size (6.5) and found them to fit perfectly. I was wearing thinner athletic socks but there was definitely extra room for thicker hiking socks. While they initially felt a little clunky I quickly got used to having them on and by the end of the hike felt as if I was in a much less heavy duty boot.

Pros: Comfortable, supportive, protective. Hefty Vibram sole. Gusseted tongue kept nature out of my boots.

Cons: So far none. Though I haven't tested them on a sufficient uphill which is where other reviewers experienced problems. They are a little clunky but avoid being burdensome. I'm used to a desert hiking shoe with more ventilation so these felt a little warm but nothing that took away from the boot.

Overall: Loved the boots for my first outing. Not a single blister, no soreness and they managed to be comfortable while running through a mosquito infested two mile stretch of trail. I'm excited to try them out on a more technical outing/longer multi-day distance and will check back with the results.
Unanswered Question
How do these run size wise compared to other Salewa shoes? I normally wear a 10.5/11 but had to get a 10 in the Firetail EVO. What size would you suggest in these?
The worst waffle stompers
Familiarity:

I've put it through the wringer

Fit:

True to size
I wore these boots on day hikes (that I thought I may have needed more support) with minimal problems for the past couple of years. They were not the best hiking boot, but they weren't the worst either. Until I took them on a 4 day backcountry trip in the Wind River Mountain Range. We probably hiked a total of 35-40 miles and by the end of the trip I wanted to chuck them in the camp fire. I decided to wear them because I cranked on my ankle a few days before the trip and thought I may need the extra support. They gave me no ankle support, in fact, if you have thin ankles these are not the shoes for you. I rolled my ankles (yes the angry one too) several times. I had monster blisters multiple places on both feet, with thick socks and tape. And the nails on my big toes eventually fell off from banging these heavy things into rocks over and over again. I have to admit... I hate these shoes. They are the reason I will probably never buy another hiking boot again. Mostly because honestly a tough trail running shoe is kinder on your feet than any waffle stomper.
Love these boots
Familiarity:

I've put it through the wringer

Fit:

True to size
I've been wearing these boots constantly for about a year now. I'm in them 40 hours a week and I'm always on my feet. I've taken them through mud, muck, gravel, snow, everything. It was only until this harsh winter that they've started to wear away. The sole has started to peel off at the toe and I've gotten cracks where the toe bends. They've also lost their waterproofing due to the breaks.



All in all I really liked this boot, they've lasted longer than my other pairs with the amount of wear I do on a daily biases. There was barely any break in time and they were pretty comfortable with some wool socks. The boot is pretty stiff but I had no problems with it.
Good boots, but heels beware
Familiarity:

I've put it through the wringer

Fit:

True to size
My girlfriend has had these boots for six months and has worn them in all conditions in all terrain: wet, dry, snow, rain, heat, sand, rock, etc.



When she first tried them on with her podiatrist-made orthotics they felt perfect. On her first hike, without breaking them in beforehand, we were about three miles into a steady trail climb before the pain was so bad in her heels that she had to ditch them for the rest of our 20-mile trek for Chacos. She still has heel scars from the initial blisters. She has worn them a lot since (200 miles and numerous climbs) and they have broken in little by little and now fit better, but still not perfect.



Everything else about these are great: Super comfy on flat terrain, grips rocks super well, great in the snow (dry and warm).



Conclusion: The heels with these boots are rough; you just can't get away from it. If she could go back in time she wouldn't have bought these because of the heel situation, but they've gotten better (but not perfect) with wear.



Good boots, be patient, and heels beware!
Regarding the sole, is this boot flexing...
Regarding the sole, is this boot flexing as you walk, or is it stiff?

And is the ankle support strong enough for good protection from lateral movement?
This boot is pretty stiff, but the ankle support is good. I wish I could wear it without getting blistered on uphills because it is the most comfy boot ever on level ground.
What is the weight of these boots?
What is the weight of these boots?


These should weigh in at 2lb 6 oz for the pair
This was boot #6 (I think) on my quest to replace my old boots, and they felt FANTASTIC for the first week. I wore them pretty much everywhere. Then I went for a short hike and got heel blisters. I let my feet heel while wearing them everywhere I went that was flat. Then I took them on the trail. In just over a mile, one heel was open and the other was trying. Have tried different lacing and locking (the doggone laces go to your toes, so the options are limitless). I finally emailed Salewa (the blister proof people), and after 2 weeks, they replied - wanting to know what country I am in. Really???? I will deal with them tomorrow. I am so sad they haven't worked out, but I haven't totally given up. They are comfortable (on level ground, for me), well made, light .... I'm not going to whine too loudly because my feet are a real pain in the butt, but we will have to see how this problem is resolved. I knew there was a reason I carry Five Fingers in my daypack.
Salewa Mountain Trainer GTX Mid Boot
I have worn these boots on at least 10 different day hikes, including one on the very first day I bought them. Not only did they not blister my feet, but they also allowed for a previous blister to heal. I have taken them mainly through red rock and desert terrain, as well as snow and rain.

I have also worn them for quite a bit of bouldering and climbing (too poor for proper climbing shoes) and they do quite well for a hiking boot!

Long story short, I will wear these boots to the grave. They fit well, they are LIGHT, they have reliable ankle support, they glide through rough terrain, and they're overall a GREAT BOOT.
Best hiking boots ever!!!
Gender:

Female

Familiarity:

I've used it several times
I have worn these on 2 backpacking trips and multiple day hikes, even two days walking around Disneyland because it was supposed to rain, and I was quite comfortable in all circumstances. I have a very hard time finding boots that fit due to a very narrow ankle, a wide toe box and flexible/flat arches. Even though I wear a 7.5 street shoe, I almost always have to wear an 8 in athletic and hiking shoes and I wear an 8 in these. There is still a little ankle slippage, but when i tried the 7.5, they were too tight in the forefoot, so I am just dealing with them because frankly they are so much better than the other 12 pairs of boots I have tried on the trail over the years. This is the FIRST pair of boots that I have not always gotten blisters in, which is saying A LOT. I have put my own insoles inside the boot, but I think the ones they came with are probably fine for people with normal arches. I think the best thing about these boots are how supportive they are for the weight. They have a very rigid but lightweight sole and the ankle support is unmatched. Oh, and they are attractive, which is a real plus.
A great boot choice deserving of the awards it's gotten.
Very comfortable boot, fits very secure and no blisters. I found them to be waterproof as promised but I did slip on some slick, wet rocks in the edge of a creek so be careful with that. Overall this was a great choice in boot and I've very glad I got them!
For what it's worth, I found these boots to run small in size. My dress shoe size and Merrell barefoot type shoe size is a 7.5 and I'm returning the 8.5 size I ordered for a larger size. My toes were just hitting the end of the boot with a mid-weight wool sock on. But I do really love the way the boot feels. Very flexible ankle for a new boot which I haven't found in any other boots. I love that you can really lace it down around your ankle too.
Another super comfortable and versatile boot from Salewa
After having such a good experience with the Salewa Rapace GTX Boot, I bought this boot as a lighter alternative for summer alpine forays. To date these boots have seen about 70 miles and over 20,000 feet of elevation gain. All 70 of these miles have been comfortable and blister free with great, customizable ankle support. I use these boots for when I'm wanting more support than what an approach shoe provides, mainly rocky or steep scree terrain or with a heavy pack where I want to protect my ankles

SIZING / FIT:
True to size. My street shoe size is mainly 6.5, and the the 6.5 Salewa Mountain Trainer fits like a dream. No heel slippage or toe bang, plenty of ankle support.

PROS:
* Comfortable - whether it's 15 miles and 7,500 feet of elevation gain in a day or several days in a row with weight on my back, so long as my feet are in these shoes, I've not experienced any discomfort, much less any hot spots or blisters.
* Flexible yet very supportive - the feel of this boot isn't too far from wearing sneakers, yet provides enough support through the sole of the shoe and for the ankles. The lacing can be customized and these boots have saved me multiple times from rolling my ankle.
* Waterproof - I can cross streams and creeks with abandon! (So long as the water doesn't rise above the top of these boots.)

CONS:
* Stickiness of sole - these soles are sticky enough and I've done some exposed Class 3 confidently in these boots, but the boots would be even more versatile with something as sticky as Five Ten rubber!