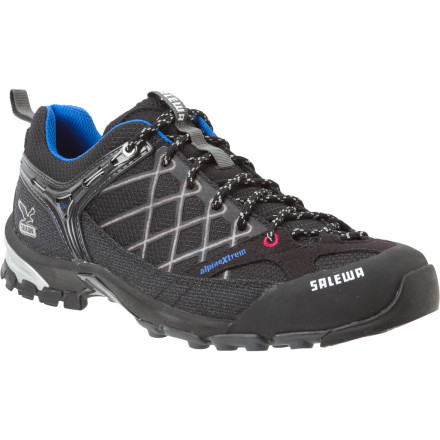 Detail Images
Mountaineering footwear takes a revolutionary step forward with the Salewa Men's Firetail Hiking Shoe, which combines alpine technologies (Vibram, climbing laces, rands) with the lightweight comfort of running shoes. The state-of-the-art Firetail can handle approaches and descents on the most technical trails.
3F System distributes the lacing power over the whole foot for unmatched heel retention, so you enjoy a friction-free, blister-free precision fit as well as excellent ankle support
EVA midsole and PU Shock Absorber cushion your foot on descents, and Multi- Fit Footbed allows you to adjust the volume of the footbed in the shoe for a perfect fit
All-around aramidic fiber and rubber rand protects the shoe from impact and abrasion and provides grip when you climb
Climbing-style lacing extends further towards the front to allow you to dial in your fit
Proprietary Salewa Vibram Approach outsole provides maximum grip and edging on rocks and helps you put on the brakes on steep descents
Armored mesh protects the shoe against abrasion while enhancing breathability on hot summer hikes
Fell apart the first day
Familiarity:

I've used it once or twice and have initial impressions

Fit:

True to size
The good news: very comfortable and climb great. Almost as comfy for hiking as a trail-running shoe, on or off trail. Climbed a few pitches of 5.5-5.6 in them without any trouble. However, the stitching on both sides of both shoes fell apart on the very first day after climbing granite and descending on scree. I've never encountered such lack of durability in any other shoe.
Good construction, firm ride, need 12.5
I was looking for another approach shoe to complement my la sportiva boulder x's which I discovered gave blisters on longer (5+ mile) approaches. Picked these up in a 12 and 13 knowing I'm a 12.5. Unfortunately neither fit the way I had hoped and I had to send them both back. These have great construction and design expected from a company with such a pedigree of footwear. The removable sole is interesting, though nothing special, I think. They fit a narrow heel, high arch well and leave ample room for the forefoot. they have a very firm ride so if you're looking to feel solidly connected to the rock below you, this is an option (if it fits), if you're looking for a lot of cushion, maybe not. I ended up going with the la sportiva wildcat and love them but they're really a different beast.
Awesome, except the insert
Familiarity:

I've put it through the wringer

Fit:

True to size
Awesome shoe. Good grip and support. However the insert is thin, basically like cardboard. I put a superfeet insole in, and the shoe became 100 times better! Interestingly, every mountaineering boot I have ever purchased has needed this upgrade as well. 4 stars because of the paper thin insole.
Bullet proof and very comfortable.
Planned to use them for trekking around the Catskills. But the trip got cancelled, and since I already started breaking them in, I just continued to use them. They are fantastic around NYC, and excellent for the Fall and Winter. When I finally did use them for some light day trekking (10 miles), they proved their worth.


Incredible alpine shoe
Gender:

Male

Familiarity:

I've put it through the wringer
never had a shoe ive like as much as this. It climbs like a beast and when you tear out the sides its easy to seam grip the sides. As a hiker by itself it would be worth it. The shoe is SOOO well desigined for big walls too (right where the shoe wears out for jugging theres plastic in the toe. If there wasnt plastic, my foot would have been bleeding after 35 pitches.) Right under foot is some plastic support which makes standing in slings made to be aiders not so bad. toe cap also helps durablity. The metal lacing system makes it easy to cut the laces at the last hole so be careful. Breath really well! Totally perfect for a back country playground like Tulomne Meadows. used it trail running to on sight free soloing to 5.8 on alpine peaks and long travel across sloping rock slabs.
salewa fire tail
Gender:

Male

Familiarity:

I've used it several times
I have a lower volume, narrow foot, size 10. These shoes fit me perfectly. For reference, I wear 10.5 Puma, 10.5 La Sportiva, 10 adidas, 10 nike. 9.5 to 10 Salomon. This shoe has very little arch support. I have a middle to lower type arch and like a shoe to push back a little in this area. I suggest your own insole. Definitely for rugged, specific types of terrain. Not a trail running shoe, at least for me. Very stout. Love 'em
Good Shoe Decent Fit
Gender:

Male

Familiarity:

I've used it several times
I really like how stiff these shoes are. It feels like I'm wearing a mountaineering boot that is low cut. The sole was not as grippy on the approach as my 5.10's but they definitely feel better over longer distances. They do have a narrow fit but I bought my regular size and have had no trouble.
Best Hiking Shoe I've worn to date
Very nice shoe, particularly for narrow feet with high arch. People have noted they should get a size larger. My running shoes are 10.5 (1 size larger) and got 10.5 but think I could have gone with 10's. Just a little extra length in the toe (toe box is snug the way I like it) so no chance of banging my toes on descents.

Note: These shoe are NOT water proof and do not drain quickly. However they are still very good when wet due to the unique two piece insole.

Very sticky on rock ... fine gravel and sand will find a little slippage ... you don't have big lugs to dig into this junk.

Quick and light (relatively speaking). Not a lot of cushioning in the toe are but the sure footing and agility make up for it on long descents.
Stable, comfortable and a very good value. This is an excellent hiking shoe. It is true to size.
I wear an 11.
I have Danner Mountain Lite II's in 11's that I can wear with thick rag wool socks.

An 11 in the firetails was half a size too small.

Be advised.

Can't comment on shoes themselves because I had to return them.
I love these shoes. From Hiking, Walking, Running, Approach and I have done some 5th class climbs in these. I have beat up my pair with 400+ miles and cranked on them in cracks and face climbs. They are my favorite shoe.

They do run narrow, like most euro shoes and that is perfect for me as I have long narrow feet and swim in wide shoes.
Brought these shoes on a RTW trip with my family and have been using for light hiking. They're holding up great and are very comfortable so far. They breath well and have a good grip on they trails we've taken to date. We're only 1 month into the trip, but I'd recommend for light hikes and walks.
I was not familiar with this brand but decided to give it a try after reading some positive reviews. It fits like a glove, is extremely light and can be adjusted in so many areas. Despite it being very light, it has great support. I wore these shoes backpacking in the Sawtooths with a 20 pound back over 2 nights...about 14 miles total. It was perfect. I also wore them on a 10 mile day hike with significant vertical and they were great. They also clean up well with a damp cloth and look as good as new. The only reason they aren't perfect is I am considering whether to include a new after market foot bed....the padding is slightly thin. I have noticed that only a few times when on rocks.
Approach lacing and Salewa lacing system is the best. Lightweight yet rugged enough for a full hiking season, even for hiker over 200 pounds. Perfect model between hiking and mountain running. Never a blister but I went a size larger to prevent hot toe on downhills. This shoe breathes so perfect for warm dry summers. 2nd pair in two seasons; see more of these in my future.
I would rate these at a 5 because they have yet to let me down. I was using a pair of Asolo Fugitive boots as my primary hiking boot until I bought these. They stay comfortable from mile 1 to 22. The heel cup is deep and keeps my foot from moving. The lacing system is secure and allows you to fine tune the tightness. The sole is flexible enough to scramble up rocks, yet stiff enough to use as a casual bike shoe, and carry a fully loaded back pack. I will continue to wear these for all of my adventures, including the urban ones with my kids. Thanks Salewa
I use these as my guide shoes and so I'm wearing them frequently. I enjoy the fact that they are a little more casual looking than other trail/approach shoes. These shoes don't require you to break them in before they become comfortable. I was able to throw them on for the first time and go hiking several miles with absolutely no issues with my feet. They've also been very durable and I haven't seen any signs yet of tearing, ripping, or general falling apart. I've been guiding in them for several months now.
These are extremely well priced in my opinion for the quality of shoe you get. I would recommend these to anyone looking for a good quality, inexpensive, comfortable hiking/approach shoe.
I've had two pairs of these shoes. The first suffered a bit of a durability issue. I wore a hole in the side of the rubber surround right at the flex point. Since Backcountry.com rocks, I returned the shoe and got a new pair. This is my daily shoe. I have weird foot problems that seem to make most shoes uncomfortable for any length of time. Not so with these! I can wear these all day and my feet feel comfortable the entire time. They are a great hiker/approach shoe although not quite as sticky as a true approach shoe. Since these claim to be a bit a of a hybrid between a trail runner and an approach shoe, I guess they've hit the nail on the head. I've had my current pair for about 7-8 months and I still love them. I'm definitely going to be buying a new pair in the spring and I'll probably add the gore-tex pair as well for the wet days. I love these shoes and wish Backcountry.com would import more of Salewa's hiking boot line. There are a couple boots I would love to try when I go backpacking...
Do these run true to size?
Do these run true to size?
Best Answer
Yes. For most people, Salewas match their typical shoe size.
This shoe looks great and feels light AND supportive. However, even after bumping up a half size they are still just way too narrow so for me, and I have fairly narrow feet. I've never seen a mens' shoe that narrow Look closely at the top view picture on this page before buying.
I have owned a lot of approach shoes and was looking for one that hikes and scrambles and climbs well. This shoe does it all...almost. There are many advanced technical features in this shoe that make it light and nimble while being protective and supportive. The only downside, and it's a big one for me, is that the well designed sole is not very sticky on rocky surfaces. In dry conditions it's about equal to the stickyness of an average hiking shoe. When it's wet or dusty footing becomes slightly insecure----that's why I gave it a 4 and may not keep them. Still, I'm very impressed with Salewa's quality and design.