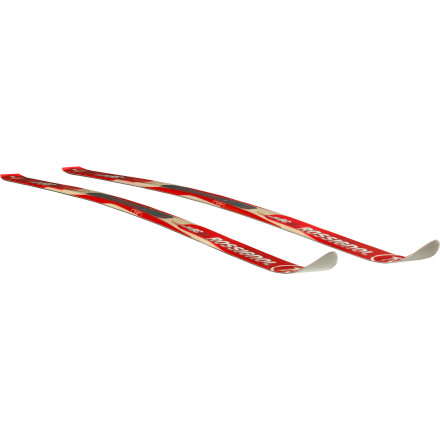 Videos
Description
A ski that will take you anywhere, to the chagrin of hermits and mountain men everywhere.
Ever since your brother moved to the forbidding wilderness of Montana's Beartooth Range, you've heard rumors that he's been raising pet wolves and making tents out of squirrel pelts. He hasn't been home for the holidays in over eight years, but this year, you bought the Rossignol BC 90 Positrack Ski, and plan heading into the mountains to take the Christmas party to him. The BC 90 has a weight-saving Wood-Air so you can afford to load up your pack with presents like a backcountry Santa Claus, and Positrack waxless technology that grips and glides superbly, letting you get up the mountain quickly and run away with equal speed when your misanthropic bro points a rifle at you.
Once you two have sorted out your differences over the whiskey that you hauled up, you can tell him how easy it was to get there, thanks to the BC 90's Activ Cap, which combines flexible RossiCap technology with a multi-directional fiberglass laminate, creating a ski that can float over uneven snow and plow through chunder equally well. And when you mistakenly bring up the "incident," you'll be thankful for the full-length metal edges, wide sidecut, subtle rockered tip, and slightly taller camber profile of the BC 90 that allow you hightail it out of there before he can sic his wolf on you. Maybe he just needs another eight years.
Lightweight Wood-Air core
Positrack waxless technology
Active Cap construction
Subtle tip rocker with tall camber profile
Full-length metal edges
Wide sidecut
Share your thoughts
What do you think of the
Rossignol
BC 90 Positrack Ski
? Share a...
The wrong ski for most conditions
Familiarity:

I've used it once or twice and have initial impressions
If you want a waxless ski with no grip on the uphills, this is for you. If you want a metal-edge ski that's hard to control on downhills, this is for you. Experienced skier with all kinds of skis and conditions, 200# plus gear on the 190 cm ski so exactly the right weight range. Mounted the Rottefella NNN-BC binding with appropriate boots. Had rented and skiied the 70 mm version no problems. The 90 mm version was a disaster: had to wax heavily for any kind of uphill traction. Went to a real store and did a side by side comparison: the 70 mm has a much longer section with grip pattern and the pattern is more substantial and deeper, for better grip overall. Returned the 90 mm and bought the 70 instead. Re: comment below: yes, a "real" skiier can ski anything on barrel staves. Most of us have less than perfect technique, and when you're paying $280 for skis, you want something a little more forgiving. I do think that if you bought this ski in a weight/length range where you were heavy for the ski, it would probably be fine, but you would sacrifice glide.
Could you mount these with dynafit bindings?
Hey knighorn1282361,

This has a flat-mount binding requirement so it can work with any bindings except NIS.
Awesome for winter trails
Familiarity:

I've used it once or twice and have initial impressions
Last season I bought some snowshoes and I had such a good time that I decided to get these skis to go for winter walks with. I wanted to move with more ease and efficiency than snowshoes (butI keep them for backup). These skis worked perfectly for my intended use. I have taken these out a couple times to do some trails in the Uinta's. My first day out I went 6 miles no problem. The other reviewer that says the up hill is no good. I don't feel that is quite the case. This was my first time on BC cross-country skis and after getting a little technique down I had no trouble climbing moderate inclines. My technique was making sure my weight was over the right part of the ski (if you're in the back seat the positrack can't grip) I did this by holding my poles out in front of me a bit more to bring my weight forward. Steep sections I had to Herringbone, but so did everyone else I observed. I had a lot of fun using these skis. I would recommend them to anyone. And I would also tell people who enjoy snowshoeing to look into these skis as and addition to their snow travel options even pair them up by skiing the flats and low inclines (it's fun going down especially) and using the snowshoes for steep climbs or deeper snow.
no up hill
Familiarity:

I've used it once or twice and have initial impressions
good down hill. fair to poor on level.
Will not go up even small inclines with out skins
Rossignol BC 90 Positrack Ski