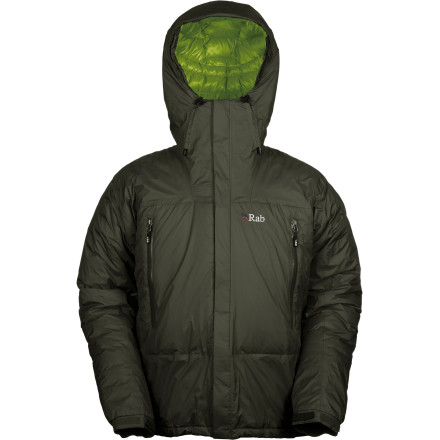 Rab fused a waterproof breathable eVent shell with its ultra-warm down Microlight jacket to create a puffy jacket that is not afraid of cold, nasty weather: the Men's Microlight Alpine Event Down Jacket. You're warm and dry even when the temperature drops to 15F or you're getting dripped on at the ice-climbing station.
Fully taped 2‐layer eVent shell blocks snow and rain yet allows water vapor to escape before you overheat
Top-quality 750-fill European goose down delivers superior warmth
Helmet-compatible hood features a wired peak for better vision
Large A‐line hand-warmer pockets with water-resistant zips are placed higher for better access when you're wearing a harness or backpack hip-belt
Elastic cuffs with hook-and-loop tabs, as well as a hem drawcord, seal out drafts
very warm.............totally water repellent............. great jacket
RAB really got this one right. The eVent fabric sheds water really well, and the high-loft down is very warm. I can toss this on over a light shirt and walk comfortably around when the temp is in the 20's. I add another layer underneath when it's colder than that. i recently walked around in 9 deg F weather (windy, too) and I was comfortable. he main zipper was a bit tricky at first, but now I have little trouble with it. It likely was because the UK standard is reverse from the US.
Can this be used as a layering piece under...
Can this be used as a layering piece under a shell? Or is it really designed only as a jacket?
dro3233111,
Thanks for your question. The Rab Microlight Alpine eVent Down Jacket would be redundant if used as a layering piece. To illustrate, you would have a shell on top of another shell that has a down insulator built into it. If you are looking for a technical waterproof/breathable jacket that features fixed insulation, this is a great option. Rab does make some killer shells that you would want to layer under to toggle the warmth of the jacket. Check out the Latok series, if that is type of jacket you are looking for. I hope this is helpful for you.
Had this jacket for a few months now
I can honestly say that I love this jacket. It fits great - no long arms, nor does it feel like a big, huge parka. I bought a Large and am 5'10"/165 lbs. It is very slimming, if you will. It's VERY lightweight and also warm - worn it in single digits with a cotton sweatshirt and had no problems. I've worn it in the rain and stayed dry all day. And most importantly, I wore it while working (shoveling snow and cutting wood) and did NOT sweat inside it. The eVent actually works like advertised. It's been awesome and I'm so glad I bought it. Worth every penny!!!

Only thing I don't like is that the hand/side pockets are too high up.
This is a fusion of two great jackets: an excellently made down sweater and a lightweight, eVENT hardshell. It's not as durable as some hardshells, but it's more than suitable for most jobs you can throw at it. The price tag is a little steep, but considering just the sweater is $215, it's not a bad deal overall. One correction for Backcountry though; on their website, Rab says this jacket has 850 fill down by US standards, apparently it's 750 fill by EU standards. No idea how that works. This jacket has around 5 oz. of 850 down in it, so while it's fairly thin, it's also surprisingly warm. I wish BC would stock just the sweater, I had to buy mine somewhere else, which was dissapointing.
Sturdy construction while still being really light weight. The zippers are pretty small but work well and I think will be pretty durable. Purchased here after comparing it to a similar items from patagonia and the north face and think that for the price it's better then those. The outside is a thin water / wind / tear resistant shell, the big difference. I tend to wear the jacket with a sweater or sweatshirt underneath a lot of the time. Nice hood that adjusts a few different ways. My only gripe would be the design of the pockets being to high on the chest it's a bit awkward feeling standing around with your hands in them, and the openings are so big that they let air flow around your wrists. I have not yet worn this climbing though so don't know if it's going a different story once you've got a harness on.

Would go for the black personally,

jeff