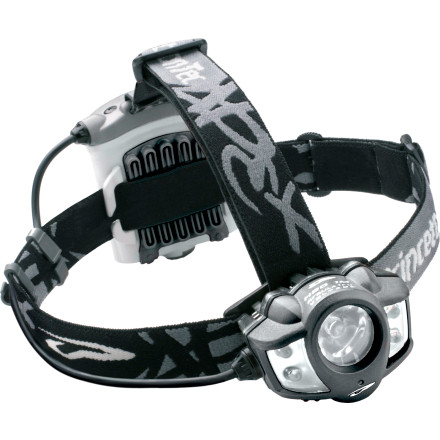 Colors
Description
Turn night into day.
Your thirst for the unknown draws you deep into pitch-black caves and moonless nights in the woods; luckily you remembered the Princeton Tec's 275-lumen Apex Headlamp. Extending up to 116 meters, the four Ultrabright LEDs and a Maxbright LED can pierce even the thickest darkness for hours on end. Using four AAs, the Apex will burn for about 200 hours on the lowest setting and 90 on the highest. For spelunking, nocturnal ascents, poorly-lit hiking, and twilight backcountry trips, strap on the burliest and brightest constellation of LEDs in Princeton Tec's outdoor line.
Four Ultrabright LEDs
One Maxbright LED
275 lumen
Four AA alkaline batteries included
200 to 90 hour burn time
116 meter range
Heavy, clunky, goes thru battery's too fast. I like my bd rechargeable sprinter way better.
Great lamp, great light, a little heavy!
Familiarity:

I've put it through the wringer
Have used this lamp for three years on multi-week treks. And when we ended up on the trail on dark dark nights in the rain and cold in temps down to five or ten degrees we were glad to have this solid gear. If you need serious illumination in the dark this tried and true lamp does a great job! The light it puts out is just amazing!
Afraid of the dark.
Gender:

Male

Familiarity:

I've used it several times
This head lamp is a bright one. Weather your hiking down a trail on a summers night or just Afraid of the dark, This head lamp is for you. And Blinding your Buddies in the face is no problem, But it is a mean thing to do. LoL. This head lamp will not let you down. It's on the heavy side (4 AA Batteries). But well worth the extra weight.
Will this work with rechargeable batteries,...
Will this work with rechargeable batteries, or will it be considerably dimmer? What is the length of time on high and low with rechargeables?
Your Own Spotlight
Familiarity:

I've put it through the wringer
Holy. Crap. This thing is bright. From shoveling out the driveway at ten at night to working the night shift on the fireline to late walks with the dog, this light gives you the ability to see and to be seen. After retiring (breaking) my old PT triple LED headlamp from 2008, the step up is incredible. This light offers excellent battery life which is metered so you do not experience the slow tapering of illumination, it stays bright, then dims rapidly. Personally, I like this. Especially since there is a blinking battery indicator that lets you know when you're at >40%, <40%, and <5% so it's easy to keep an eye on your power level. The brightness settings differ enough in their illumination powers to actually encourage you to utilize this function. The two buttons for switching between the maxbright LED and the ultrabright LEDs takes a little time to learn, but it's easy enough to figure out. You can then go from high to low setting in either light source. The light and battery pack are a little on the heavy side but for the light output, it's a small price.
High Beams For Your Head
Familiarity:

I've used it several times
I went through my current collection of headlamps for the winter and found that they had all died miserable deaths at one point in time. Now, I thought, is when I go big, so I got the

Princeton Tec Apex Headlamp - 275 Lumens. I showed this off to my amazed extended family and after some use, i know why.



This lamp is STRONG. I can't believe how much power and sight can come from such a small bulb. I've been using this on dawn patrol ascents AND descents along with anything that I need to do in the dark. The regular bulb and the red caution bulb has two settings (high turns on first, then press again for the lower setting and once more to go back to high. holding in turns the light off) and a battery pack in the back.



Durability is still in question, but so far so good so long as I don't snag the cord on anything. The weight is a bit heavy, especially for those who like their heads unweighted. But, the power one gets from this light is well worth the weight penalty. Will update durability and helmet use soon.