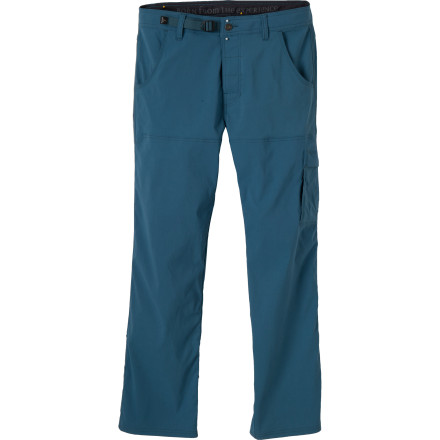 Detail Images

Videos

Community Images
Whether you're scrambling up a vertical climb, figuring out the sequence on a roof section, or hiking in to camp, the prAna Men's Stretch Zion Pants keep up. The stretch nylon fabric and gusseted crotch provide a natural range of motion for all your scramble-loaded adventures.
Durable, abrasion-resistant Stretch Zion fabric dries fast after sweaty climbs or rain showers
Standard fit is relaxed without being overly baggy
Ventilated inseam gussets gives you A/C comfort in balmy weather
Adjustable waistband offers a custom fit
Roll-up leg snaps lift your hems for stream crossings
I want to buy these for my husband but how can you tell which inseam is which? He is a 32X30
The S/M/L is the Waist Size and the number is the length. Depending on how he likes them to fit he could wear a small or a medium.
Best Do-It-All Pant
Familiarity:

I've put it through the wringer

Fit:

True to size
Seriously, every good accolade thrown these pant's way is well deserved. The pants are super stretchy, and while the fabric isn't thick, the durability on them is impressive. I've had mine 3/4 of a year and wear them AT LEAST 3 times a week, and haven't noticed wear anywhere. And I wear these as my go to hiking and climbing pants.

Hiking, due to the fact that I don't like shorts, and won't over heat in these due to the thinner fabric and breath ability. The integrated waist belt is something I most definitely would have made fun of my dad for having on a pair of pants, until I realized just how damn useful it is. Seriously, a great feature that I forever overlooked until I found the convenience, and subsequent justification, of having the belt integrated. It is just nice to make micro adjustments without having to think about it. The side pocket on the thigh is great thanks to having both a top and side entry point. (I tend to store trash I pick up on the trail there)

Climbing in these things is just as good. The thin fabric made me weary, but these things just hold up. The gusseted crotch and stretch of the fabric make mobility extremely easy and comfortable.

Everyday, these are great, because I can transition from outdoor activities to regular life without even needing to change. These are form fitting and sleek enough (in certain colors) to rock as an everyday pant. And they will quickly become an EVERY day pant.
I bought two pairs of these pants. One for my husband and one for my brother. They are now a favorite for both of them. They always talk about how nice the fabric is. Both are thin so I bought them medium 32.
Go-to climbing and hiking pant
Familiarity:

I've used it several times

Fit:

True to size
I approach my hiking and climbing outfits like Steve Jobs: one outfit, every time. No need to overthink anything when I'm trying to get to the trail-head early. I needed some new pants for said outfit, and I heard a lot of good things about these pants. The hype is real. These things are dope. I wear a slim cut jean (levi 511, 30 x 30), and these are close in terms of fit (a bit looser), but they have plenty of stretch and give for high stepping logs or getting the legs out for those wide stems while on the wall. Love the option to roll up and snap 'em for capri style when you need to air out those calves.
Cooler than shorts
Familiarity:

I've used it several times

Fit:

True to size
The Zion stretch pants fit so comfortable you hardly no they are on. The cooling vents throughout the pant make it perfect for those hot summer days! I climbed a nasty 5 pitch off width and the Devils tower with them and they still look new! I wish they were a little cheaper but quality cost and I've been filling my pants drawer with them.
Great Pants
Familiarity:

I've used it several times

Fit:

Runs large
These pants are great. Stretchy material gives you a fantastic range of motion. I've used them rock climbing and hiking multiple times and they perform fantastic. Also are great to just wear around town. As others stated, they can get warm if you wear them above 55 degrees, but they're the perfect weight for a cool fall day.

The fit runs just a little bit big. Waist strap is super convenient and allows for the waist to always be adjustable. The pant legs are a little long for my liking as well as super baggy below the knee. This is the only reason I have to drop a star.
Hi, these look great for my boyfriend who enjoys camping and climbing. He's 5'8, 135 pounds, 30" waist. Which size should I order?? thanks!
Best Answer
I would say a small waist then pick the right inseam length. They come in three inseams 30, 32, 34.
The small will definitely be on the looser/baggier side; I'm 5'11, 155 and a size small feels a touch loose on me. My boyfriend who's about the same dimensions as yours wears an extra-small and they fit him really nicely. Remember, these are stretchy. Hope this helps.
Solid Pants
Familiarity:

I've used it once or twice and have initial impressions

Fit:

True to size
The Good:
Pants fit well (small 34). Length is good and the waist fits well, plus is adjustable.
The material is great! Pants feel soft and are super comfortable, quick drying, and resistant to dirt.
They look and feel good.
Pockets are nice, and the dual opening cargo pocket is a nice touch.

The Bad:
The material can get a little warm. I wore these for a fall trip where the temperatures got kinda low and they were perfect but I could see how these might be a bit too warm in the summer and the heat.
The built in pseudo-belt could potentially be problematic. It's a nice addition to dial in the fit but if wearing a backpack with a hip belt, the plastic adjustment buckle that is off center to the right COULD be in line with the hip-belt and that would cause it to dig into the wearers hips. Wasn't an issue for me personally but it came close and could be an issue for some.

Overall good pants though.

Great for travel - seem to run big
Familiarity:

I gave it as a gift but have feedback to share

Fit:

Runs large
Bought these for my fiance for long business trips and he really likes them. He is 6' and the longs are a little too long for him - next time I order them I will get the regular. I normally buy 33 or 34 waist and feel I could have ordered a 32 in these and they would have fit perfect.
Hike or climb
Familiarity:

I've used it several times

Fit:

True to size

Size Purchased:

Medium x 30" Inseam
I bought these pants when my other hiking pants weren't breathable enough in the hot weather and kept sticking to my legs. The Zion Pant solved all those problems and more. Tested them out on a twelve mile hike in the mid 80's and I was never hot, felt no chaffing, and was comfortable the whole time. Pants fit great over my books, and were nice to roll up and snap into the 3/4 length when we got back to camp to cool down. Second outing was a 24 hour endurance event with temperatures in the 90s. Again, these pants breathed well throughout the whole event. The gusset and stretch allowed great mobility in movement, squats, knee touches, and they were quick to dry after swimming across a reservoir. The stretch and gusset are great for climbing. I'm able to bend and move to reach footholds, edges, and smears. Pants have held up great so far and can't wait to get them out for more testing.

Fit is great. I'm usually a 32 to 33" waist and went with the Medium with the 30" inseam.
Cant go wrong with them
Familiarity:

I've put it through the wringer

Fit:

True to size
I originally bought these specifically for climbing. I used to wear Kuhl Revolvr pants and they restricted movement a bit much for comfort. So after seeing someone wearing these I decided to get a pair. I was surprised at how comfy they were. Soon after climbing in them I decided that they were so comfy I should wear them more. So I did but then they were always dirty so I sold all of my other pants and bought three more pairs of these. Best pants ever can't go wrong in any situation.
Favorite All Around Pants!
Familiarity:

I've put it through the wringer

Fit:

True to size
I love my pRana Stretch Zion Pants. I have used pRana Stretch Zion Pants for tactical and outdoor activities. They have been durable, comfortable, quick drying and very flexible. I would check out the pRana Stretch Zion Pants if you are looking for a low key looking tactical/outdoor pant. Hiking, backpacking, tactical it works for it all!

http://www.captainberz.com
https://twitter.com/CaptainBerz
http://www.facebook.com/CaptainBerzFanpage
http://instagram.com/captainberz
Only pants you need for adventure
Familiarity:

I've used it several times

Fit:

True to size
I've had these pants now for a month or so, and I couldn't be happier. A few camping trips, and trips to the lake have allowed me to test these out, and they are great. The pants are very durable, yet the material is light enough to not get too hot. They shed dirt and water well enough that I can wear them for several days without completely stinking my wife out of the tent. I was looking for a pant that could last for several days and allow me to not pack anything else, and these delivered. I like them so much, I also bought the shorts. The pants seem to run a little more true to size, whereas the shorts run a little large. I'm 5'10", 180 lbs, and wear the L-32 in the pant, and medium in the short.
Fantastic pant!
Familiarity:

I've put it through the wringer

Fit:

True to size
Solid pants! Rolls up into 3/4 length or shorts easily. Durable. Comfy. What else could you ask for! Also, the pockets are sweet.

I dig these pants
Durable yet comfortable
Familiarity:

I've put it through the wringer

Fit:

True to size
Used these on a climb of Rainier (1 attempt and one summit) so I wore them for 4 days and then washed in a glacier stream. They felt great the entire time!!! I only washed because I wanted to not because they needed it bad.

Also they were warm enough on the Summit of Rainier without long johns. I will buy another pair for my next climb so I can change after a day or two :)
MUST HAVE CLIMBING PANTS
Familiarity:

I've put it through the wringer

Fit:

True to size

Size Purchased:

Medium - 34 Inseam
What else can I say other than I FREAKING LOVE THESE PANTS! Fit, stretch, roll up buttons, integrated belt, durability, comfort... all top notch! I have taken these on long hikes, off-width climbing, around town, and if I could I would wear them to work! Favorite pants ever. So glad they have 34 inch inseam for taller gents like myself. They are light and stretchy but still durable. Long days of jamming my knees in cracks hasn't left much wear. One recommendation if you want a pant with a little more versatility, the Zion Convertible might be for you. Same great pant, but with the ability to zip off the legs when it gets hot. One less item you need to pack!
5th Pair & Counting
Familiarity:

I've put it through the wringer

Fit:

True to size
I use these pants for everything from hiking to climbing to casualwear. They are hands down the most comfortable pants that I own. I have 5 pair, in 5 different colors, and can't speak highly enough about them.
great hiking pants
Familiarity:

I've put it through the wringer
these fit true to size and my go to pants when hiking.
They fit great and are super comfy.
They dry quick too.